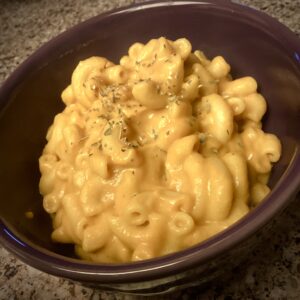 I've been experimenting with nutritional yeast lately, and found this recipe from Deli Devi.
Cook 12 ounces of macaroni.
Steam:
2 C chopped carrots
1 C cauliflower florets
1 C potato cubes
Add to a blender with:
3 C of plant based milk (I used oat)
1 T olive oil
1 T maple syrup
1 T balsamic vinegar
1/2 C of nutritional yeast
1 t onion powder
1 t garlic powder
1 t smoked paprika
1/2 t ground turmeric
Salt and pepper to taste
Maybe add a little bit of the pasta water to the blender if you'd like.
Once the mixture is blended smooth, heat it in a sauce pan on medium for five minutes or so until it thickens, and then combine well with the cooked, drained pasta.
I added a little hot sauce and soy sauce for flavor and umami.
This turned out super tasty, ooey gooey, and is a lot healthier and more nutritious than a Kraft box.