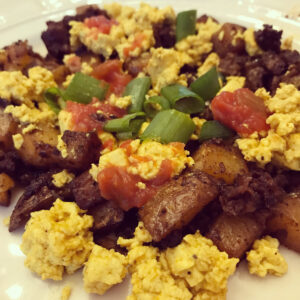 Whenever I run across recipes from Weber Grills these days, my first thought is often "I don't eat that." When I am conscious, my second thought is "How can I adapt this to not use meat?"
This Chorizo and Potato Hash with Egg recipe is a perfect example. It's the sort of thing that would have had me running to Jewel for Chorizo and firing up the Genesis back when I was carnivorous. So when it hit my inbox, I was intrigued, then momentarily disappointed. Then I realized that I already had a recipe for Chorizo made with plant-based meat that I'd been wanting to try. I'd also had good luck with Tofu Scramble in the past, and although it's not quite the same as a gooey, runny egg yolk dripping over the potatoes, I figured it would stand in nicely.
So I filed the recipe away in my Evernote, hoping I'd remember to get around to it. On a recent trip to Aldi, they had Beyond Beef  bulk burger on sale, so we picked up a couple packages, and I finally remembered to put this meal together for Sunday Dinner this week. I opted for cooking indoors, just for the sake of efficiency, but I'll definitely make this again on the cast iron plancha out on the Genesis this summer.
The Chorizo seasoning comes from America's Test Kitchen's Cooking With Plant Based Meat.
4 t Ancho Chile Powder
4 t Paprika
2 t Ground Cumin
1 t Ground Coriander
2 t Dried Oregano
2 t Sugar (I used Turbinado)
1/2 t Garlic Powder
1/2 t Cinnamon
Pinch Cayenne Pepper
Pinch Ground Allspice
This is supposed to be enough for 12 ounces of ground plant-based meat, but it did fine to season a full pound of the Beyond Burger.
I used two pounds of potatoes, cubing them with the skins on, and soaking them in a bowl of water with a little salt and white vinegar until I was ready to cook. Once they were in the pot and about starting to boil, I sautéed the Chorizo in my wok with a little olive oil. When it was done (five or six minutes) I removed it to a bowl, deglazed the wok with a splash of vinegar, and then sautéed a diced green bell pepper and yellow onion. Once those were done, I removed them, and added the drained par-cooked potatoes. I debated on using another type of oil, but at the temps I was cooking the olive oil was just fine. The potatoes were seasoned with cumin, paprika, Ancho Chile powder and black pepper. They cooked for about fifteen or twenty minutes, and then I added the onion and pepper back in to cook for awhile, and then finally added the Chorizo.
My tofu scramble turned out good, although I added a bit too much dry mustard. The recipe calls for prepared Dijon, so I should have cut back a bit using the powder. Once it was on top of the hash, with a little salsa and scallions, it was fine.
This was a hit even with the carnivores in the household, though Claudia did make actual scrambled eggs for herself and her mom. She brought out some soft corn tortillas and folks were putting the hash and scramble into those for seconds.
The hash turned out better than any I've ever made. It occurred to me that I could adapt this recipe for Corned Beef Hash using my Pastrami seasoning instead of the Chorizo spices. I might add a little Vegan Worcestershire next time.
I will definitely make the Chorizo again as well, and use it this summer when we cook Paella.