Sunday Dinner – Mothers Day – 13 May 2018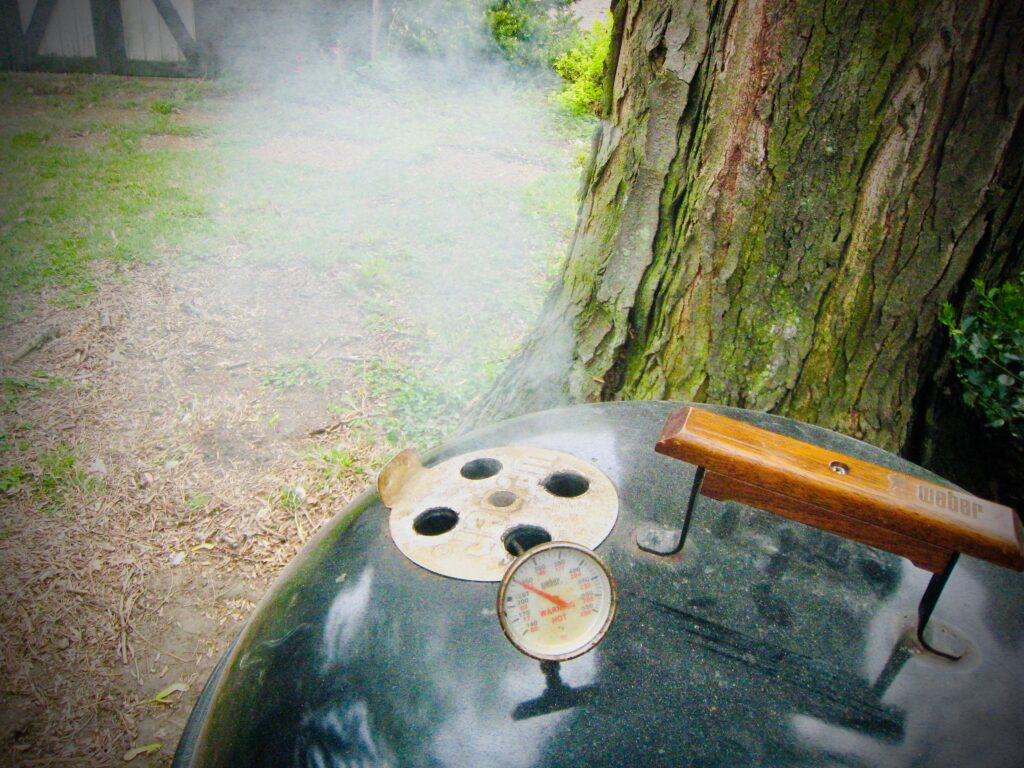 For dinner on Mothers Day, along with the regular Sunday Dinner crew, we were pleased to welcome Claudia's cousin Dan and his partner who were visiting from Florida. I prepared St. Louis Style spareribs, baked beans and coleslaw. Dan brought macaroni salad and Aunt Pat made an Angel Food Cake with macerated strawberries. Claudia also prepared some nice appetizers, including skewers of fruit, veggies and cheese. We also grilled some small peppers stuffed with cream cheese filling.
I got the grill going early, around 7:30 AM, and had the ribs on the rack by 8. I'd removed the silver skin and rubbed them the night before with my usual mix of Kosher salt, black pepper, Turbinado sugar, cumin, paprika, garlic powder and onion powder. The grill was set up with ten unlit coals on each side of a water pan, five lit coals on top of each side, and some chunks of apple and hickory. Bottom vents started with two open and one closed, then I damped one as needed to keep the temp at 250°F. The sweet smoke smelled heavenly as we enjoyed our morning coffee.
I had knocked out both the coleslaw and crock pot baked beans on Saturday evening, but there still seemed little time for relaxation. Attending the ribs meant monitoring the temperature, adding coals as needed, and mopping the slabs every hour with a combination of apple juice, coffee and Schlitz from a spray bottle. We also had to attend some last minute gift wrapping for the moms, and Claudia and our daughter did some tidying and cleaning to prepare for company.
The cook was a classic 3/2/1 (three hours on a rack over smoke, two hours wrapped in foil, one final hour over smoke again to finish) and the ribs turned out great. The rest of the meal was fabulous as well, likewise the conversation.
In fact, we enjoyed ourselves so much that we failed to take food photos, so you'll have to use your imagination. 🙂
We had a bottle of Alma Andina Malbec first, which was just sort of alright. Then I opened a California Zin from F. Stephen Millier. It was scrumptious.
It's hard to beat a long cook, particularly when you're sharing the results with good company. I'm especially appreciative of time spent with Claudia's family, and the opportunity to honor her (and her mom) again this Mothers Day. She has created an exceptionally happy and loving home. Very literally a dream come true.