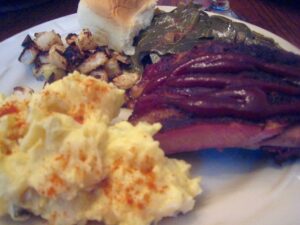 For Fathers Day this year I did another long cook. Our Jewel store had St. Louis Cut Spareribs on sale two racks for the price of one, so ribs it was.
I started the Weber Kettle early in the day, setting it up with ten unlit coals on each side of a foil pan filled about halfway with water. I added four or five lit coals to each side, along with some apple and hickory chunks. One bottom vent was wide open, one completely closed and one open about halfway. Top vent was wide open as well.
Once the temperature stabilized at around 250 F, I put the slabs on a rib rack over the drip pan. I'd seasoned them the night before with my usual rub recipe. From then on it was a matter of monitoring the temperature and spraying the ribs each hour with a mist of apple juice, cider vinegar and coffee. After three hours, I wrapped them in foil and moved them to the Genesis to finish.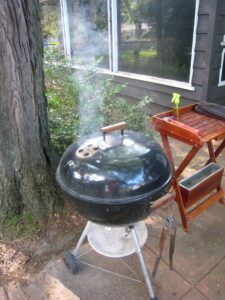 There's something magical and Zen-like about a long cook. The smell of the smoke and the sight of it wafting over the patio is an experience unto itself. It's satisfying to know that you've acquired the skill necessary to maintain an even temperature over several hours of cooking, and the other fairly specific skills needed to turn out a perfect plate of ribs. The pace of the cook affords time for relaxation and proper anticipation of the delicious meal to come.
We're in the Gray Farms CSA this year, and one of the cool things about it is that we get a lot of produce that we likely wouldn't think to try otherwise. It's like this lovely surprise package every week. This week, we had both turnips and collards, which neither of us had ever cooked before. We diced the turnips and roasted them on the plancha, and the collards we cooked in a Lodge cast iron Dutch Oven on the Genesis. I cooked up some onions and garlic in the pot for starters, then added the collards, a dried cayenne, some stock and a couple of smoked ham hocks and let them simmer for a long time.
These turned out really delicious and they're something we'd definitely make again.
I also melted some Brie on a cedar plank with a little blackberry jam drizzled over the top for an appetizer.
It's always a pleasure to cook for the folks on Sunday, but it was especially fun to do a full day of cooking for my wife's dad on Fathers Day. Since my own father passed away when I was very young, I feel especially grateful to have a wonderful father-in-law in my life, and appreciate every chance we have to spend time with him.