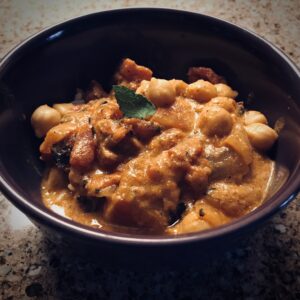 Claudia makes an incredibly delicious curried chickpea dish with spinach and all sort of other goodies, so I was a little hesitant to even try this simple recipe, but it seemed like an easy weeknight meal, so I finally decided to give it a go.
I took a few liberties, but kept it simple.
I sautéed a chopped onion, some diced fresh ginger and a few minced cloves of garlic in some olive oil.
Then I squeezed in some tubed tomato paste, and added my standard curry spices, stirring everything together until it all was toasted and fragrant.
2 t Garam Masala
2 t Curry Powder
1 t Mustard Seed
1 t Coriander
1/2 t Chili Powder
1/2 t Paprika
1/2 t Turmeric
Some Red Pepper Flakes
Finally, in went two cans of diced tomatoes, two cans of chickpeas (drained), and a can of coconut milk. Then it was just a matter of letting it combine and heat up well while making the rice to go under it.
From start to finish, this took a little more than half an hour to prepare. It fed three of us, and there was plenty left over.
It certainly didn't measure up to Claudia's recipe, but it wasn't half bad.