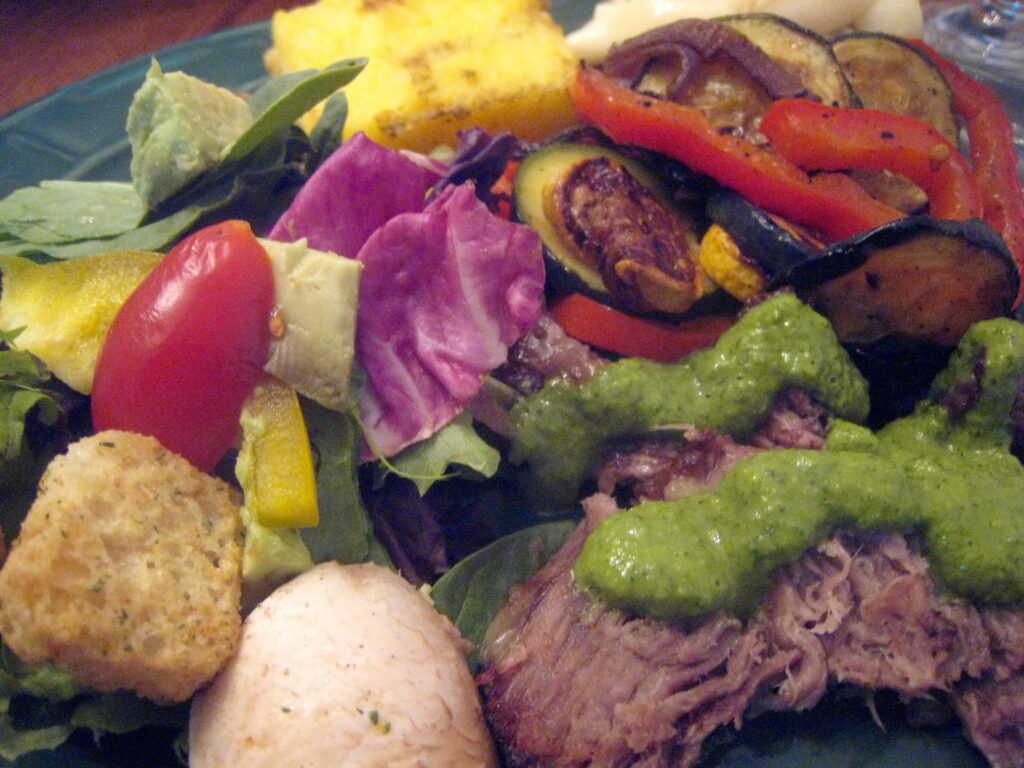 This week for Sunday Dinner I had planned to do a long smoke with a less expensive alternative to beef brisket, a chuck roast. Having recently watched an episode of Barbecue Addiction where Bobby Flay did an Argentine cookout, I decided to try Chimmichurri sauce for the first time. The rest of the meal developed from research on typical Asado sides.
On Saturday night, I prepped the 3 pound roast with my usual rub. Since chuck is similar to brisket with a lot of connective tissue, it lends itself to a low and slow cook, so the plan was to cook it the same as I would a pork shoulder, with several hours at around 225 F on the Weber Kettle, than finishing it up wrapped in foil on the Genesis.
I also baked some polenta with parmigiana in a shallow two quart dish that night. It was the first time I'd ever made it, but it turned out great. I used this recipe from Martha Rose Shulman, adding some shredded Parm before the last stir and bake.
On Sunday morning, I set up the kettle with a water pan in the middle of the bottom grate and ten unlit coals on each side of it. Then I added eight lit coals and some Hickory and Cherry chunks.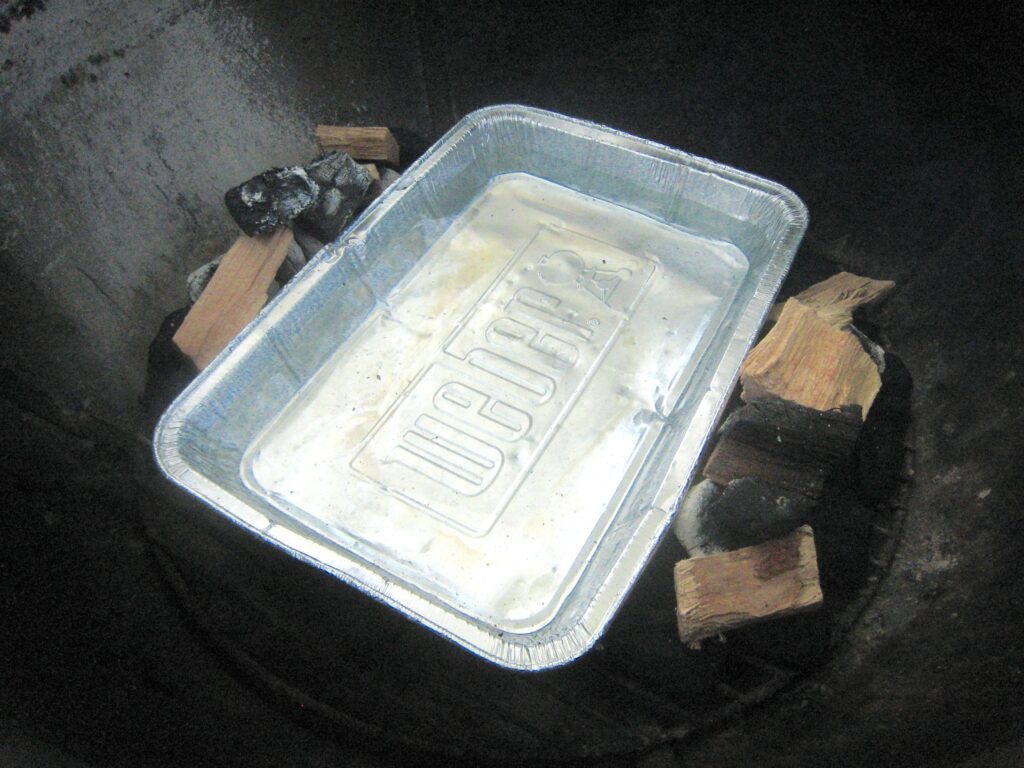 Once the Weber was up to 200 F and the top grate was clean, I placed the roast over the water pan, and kept an eye on the temperature, adjusting vents as needed to keep the grill around 225.
I opened the grill at the end of each hour, adding coals and wood as needed, and checking the internal temp of the roast. I'd planned to take it up to 165 on the kettle, then wrap it in foil and move it to the gas grill to go up to 195, but I was delayed at the grocery store during the third hour and when I got back the coals in the kettle were completely cold. The roast only registered 135, but I wrapped it and moved it anyway.
The Chimmichurri sauce was dead easy. I put one bunch of flat leaf parsley (minus the stems) in a blender, along with some fresh oregano, ten chopped garlic cloves, 1/4 cup of red wine vinegar, 1/2 cup of olive oil, a little diced red onion and some salt and pepper. Once it was blended smooth, I gave it a taste and it was a little hot, so I added about another 1/4 cup of canola (we were out of EVOO) and that tamed it some. I thought that the heat was coming from the garlic and onion, but realized later that it was the oregano. If I make the sauce again, I'd use dried oregano instead.
While the roast continued to cook, I cut the polenta into squares and grilled it on the plancha in the Genesis for three or four minutes per side with a little olive oil spray.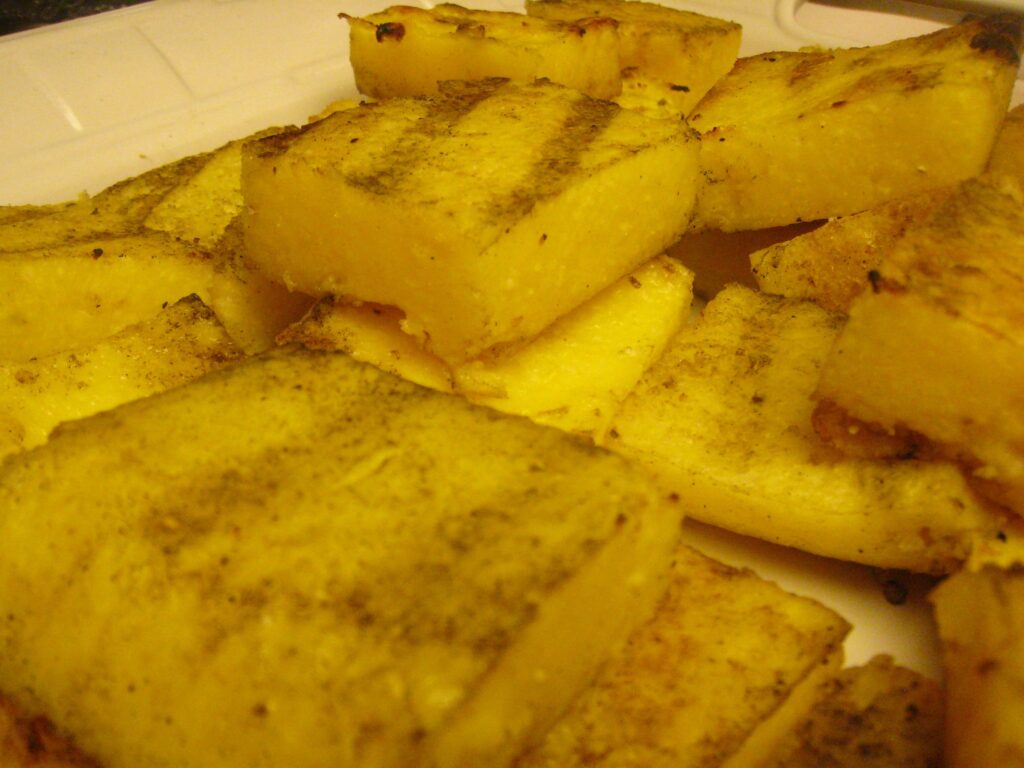 I also cut up a red bell pepper, a couple of zucchini and yellow squash, and the rest of the red onion and grilled them in a veggie basket. This mixed grill turned out to be the best thing about the meal, for me. The only seasoning was salt and pepper, but it was really delicious.
I grilled a few Andouille sausages as well, meant to be appetizers, although we ended up eating them with the meal instead.
The final side was a hunk of Provolone cheese, melted in an iron skillet on the Genesis with some Herbs de Provence. It turned out to be a combination of gooey and crispy goodness that we spread on slices of baguette.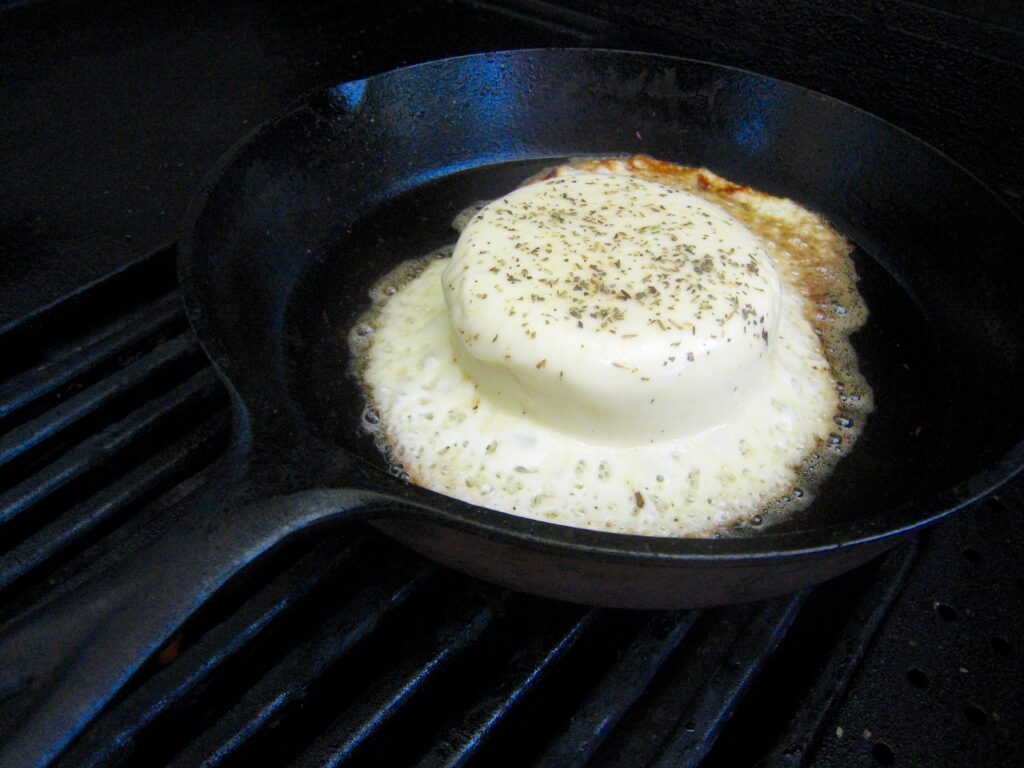 Mrs. Noe made a nice salad, and I also used some of the Chimmichurri as dressing for that.
The roast was tender and flavorful, although if I'd left it cook just awhile longer it might have been a little better. I'd hoped for fork tender so we could shred it, but settled for slicing into servings and bite-size chunks. In any case there weren't any complaints around the table.
What Asado would be complete without Malbec? We served a 2011 Alambrado Gran Seleccion that was the perfect pairing – deep and fruity with nice soft tannins.
I've not smoked brisket because it's so damnably expensive, but I can't imagine it being more flavorful or tender than the chuck roast, at nearly triple the price. Perhaps once I have the technique down pat I'll be tempted to try one, but in the meantime roast will be my go-to cut of beef for a long cook.