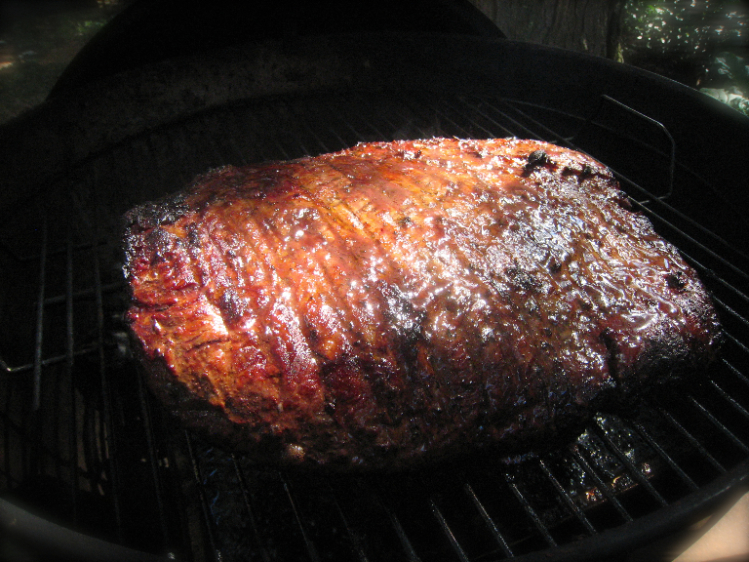 There are several cuts of meat that are almost synonymous with "barbecue" depending on region. In Texas, they're known for brisket. Considered by some to be "The Mount Everest of Barbecue," this was the last of the large cuts that I was determined to cook this Summer. As it turned out, we sat down to Sunday Dinner just as Autumn rolled in for 2013.
I prepared the 7.5 pound flat-cut brisket on Saturday evening, salting it, slathering yellow mustard and Worcestershire Sauce on it and then applying a homemade rub of 2 t paprika, 1 t black pepper, 1 T turbinado sugar, 1 t cumin, 1 t garlic powder, 1 t onion powder, 1 t nutmeg and 1t Herbs de Provence. Come Sunday morning I removed it from the refrigerator and set up the Weber Kettle, putting a foil drip pan full of water on one side of the charcoal rack and spreading a chimney full of unlit charcoal on the other side. I then lit about a third of a chimney of additional coals, and poured them on top of the unlit ones, adding some Hickory and Cherry chunks for smoke.
Once the grill was up to temperature, I put the brisket on over the drip pan, fat side up. Using a dual probe thermometer I received for my birthday, I did my best to keep the temperature in the grill to around 250 F, adjusting the vents as needed during four hours of cooking. Every hour or so, I sprayed the brisket with equal parts brewed coffee, dark beer, apple juice and cider vinegar. I also rotated and turned the meat to ensure even cooking. After four hours the meat was measuring 160 degrees, so I pulled it off, wrapped it in foil and put it in the gas grill on indirect heat (again, at 250) to finish. After another hour-and-a-half, the meat had risen to 195 degrees and was ready to come off. We let it rest inside the foil for another hour prior to serving.
It turned out moist and flavorful, though at this point I made a rookie mistake, cutting it with the grain to serve it. My wife noticed this later as she removed the fat cap to store the rest of the brisket. The part that she carved against the grain was much more tender to chew. She poured the juices that we had reserved from the foil packet over the leftovers. The beef was still delicious today for lunch.
We served the beef with grilled asparagus, and a wonderful green bean & red potato salad with Dijon dressing that she made.
Other than proper carving, next time I would use more smoke, more pepper and more salt. Also, I think I might be tempted to cook it just a bit longer in the foil to get it "melt in your mouth" tender. This was good for a first attempt though, and I wouldn't be intimidated to cook this cut again.