Sunday Dinner – 17 February 2019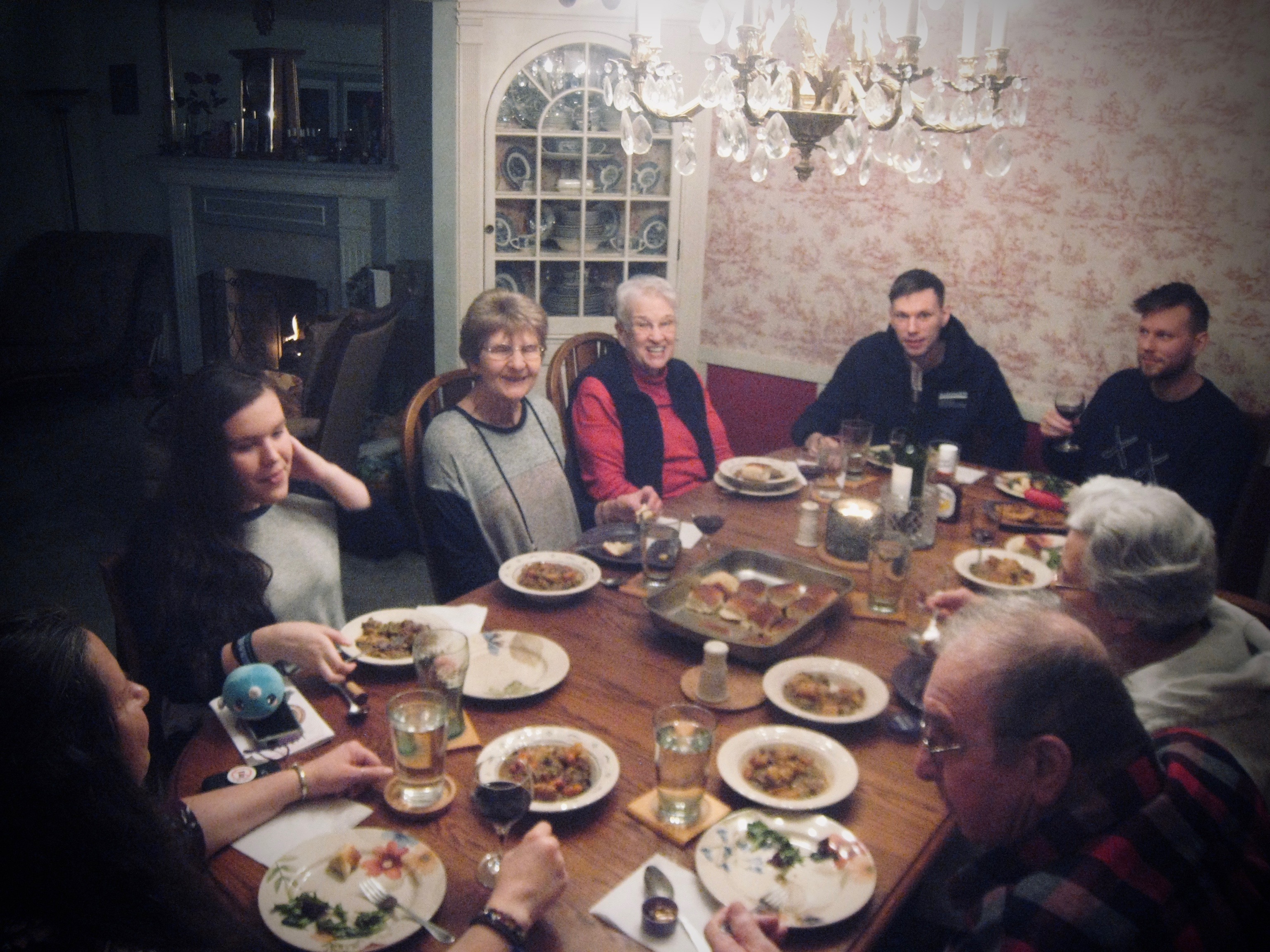 Like the title of this post says, it was a busy Sunday, and apparently the week following was no less hectic based on how long it's taken to get this blog post done! I have a much greater appreciation for my husband and how he wrote every single blog post last year. Why did I decide I should guest host again???
We had tickets to see the last performance of KVTA's Little Women for the afternoon (fantastic production, by the way) so there wasn't a lot of spare time for meal prep that day. What better tool to use than the handy dandy crockpot? In the winter we use it at least once a week. I know there's all this talk about the Insta Pot, but really, both require preparation. It's just a matter of when you want to do it, in my opinion.
We hadn't had beef stew for a while, and I don't think we had it for Sunday Dinner since we started documenting. I don't actually have a written recipe for beef stew – I learned from my mom and have adjusted it a bit over the years. But I thought I should do a little research anyway. I normally don't brown the stew meat first, but Brian does, as apparently everyone else that has a recipe on the internet. So after cutting the beef into bite size pieces, the meat was lightly flowered and browned, and then the pan was deglazed with some frozen red wine cubes (handy tip for left over wine, not that we have that occur very often!). Along with the beef, carrots, onions, potatoes and garlic were added to the crockpot along with some beef stock and bay leaves. The other thing that I did differently was to add some worcestershire sauce. About 2 hours before serving time, fresh mushrooms were added, and then 1 hour before serving, frozen peas. As soon as we got home, I made a quick slurry to thicken the sauce.
What would Sunday dinner be without the salad? I dressed it this week with a raspberry vinegarette, and we served Hawaiin rolls.
My inbox is regularly spammed by Betty Crocker, and it turns out that they had an interesting cake that I thought I'd try out.  This Chocolate Chip Cake doesn't use actual chocolate chips. Instead it requires lots and lots of grating of semi sweet chocolate. Thank goodness Thomas was willing to help me out with that task. The marshmallow butter cream frosting in the recipe is to die for. I was afraid it was going to be way too sweet, but everyone seemed to like it.
We had an unusually full house for dinner this week as dad's youngest sister, my Aunt Mary Lou, joined us for the musical and dinner, and the boys were here for a visit as well.  It was hectic and loud with lots of laughter and talking over each other, but it was wonderful to have everyone around the dinner table. It reminds me of Sunday dinners at my Grandma Wulff's house.
The wine that accompanied the meal was a 2015 Le Grand Chai Médoc, at the request of the boys, and there may have been after dinner drinks of Rumchata and Kahlua by some of the adults around the table.