Sunday Dinner – 4 March 2018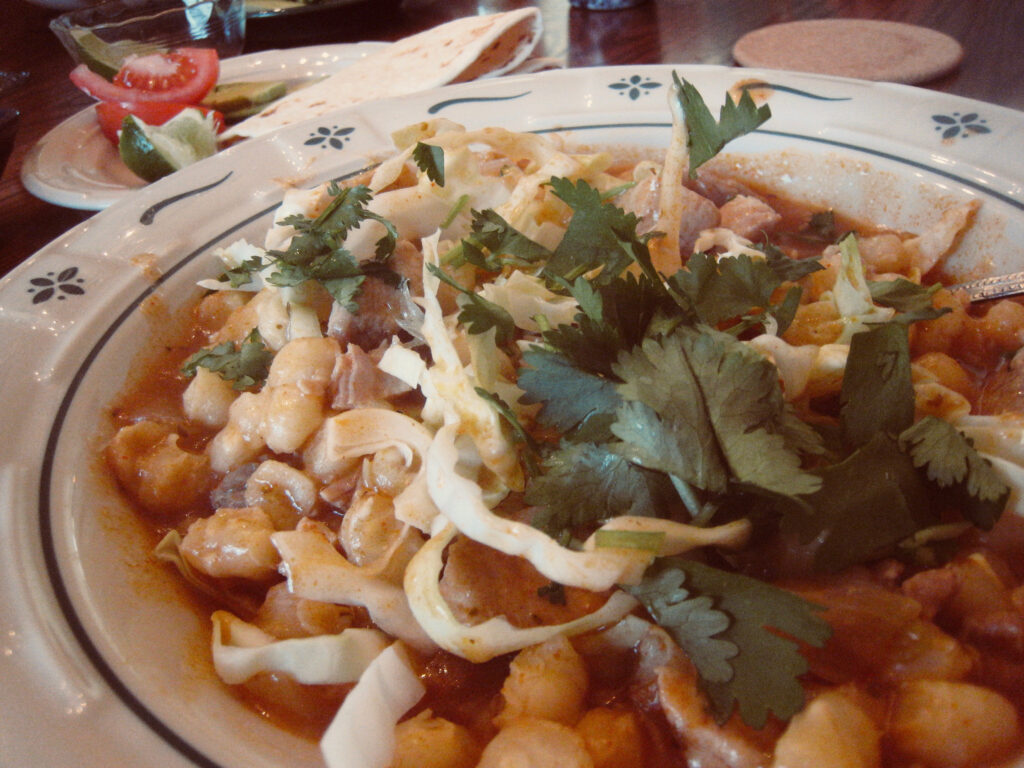 Several years ago, my friend Christopher was kind enough to send me his recipe for posole, a hearty stew of hominy and pork loin that originally comes to us from the Aztecs. I experimented with it some and finally arrived at a version that maximizes authentic flavor while paring down prep time and kitchen cleanup somewhat. There's no doubt that Chris' original, which creates the red sauce base from stock and powdered chilies, gives you a better opportunity to control the heat and flavor. I think it would also be interesting to slake my own maiz blanco at some point. But this version does quite nicely. In fact, when we sampled the authentic posole at our parish Día de la Independencia festival a couple years ago, Claudia commented that it tasted nearly identical to mine.
We started this Sunday morning with  2 pounds of boneless pork loin that she was kind enough to cut into cubes. I seasoned it with salt and pepper, and browned it awhile in a skillet.Then it went into the bottom of the crock pot and got covered with a large can of enchilada sauce. Next I added a couple of small chopped onions, four or five cloves of minced garlic, two teaspoons of oregano, three large drained cans of hominy, and one small can of chopped green chilis.
Some folks also like to add cayenne, but I'm cooking for some older folks whose constitutions prefer we leave it out. It turned out plenty spicy anyway. I used some chicken stock to deglaze the sauté pan and added it to the crock to make sure everything was swimming in liquid. I also seasoned with just a little salt and cracked black pepper.
After cooking on high for three or four hours, we checked for doneness and to adjust spices. The stew meat was tender, but the broth was pretty spicy, so we added another can of hominy, including its liquid. Part of the thing about this dish is the interaction of the starch from the corn and the fat from the pork creating a silky gravy consistency, so the canning liquid doesn't hurt. I also added another teaspoon of oregano. We let it finish cooking for a total of 6 hours on high in the crock.
We had shredded cabbage, cilantro, (queso fresco for Claudia) and fresh limes to squeeze on top. We also served tomato wedges, green onions, avocado slices, and tortillas on the side.
There's really not a single thing I'd change about this recipe. It's rich, tasty comfort food that ought to find its way into everyone's home.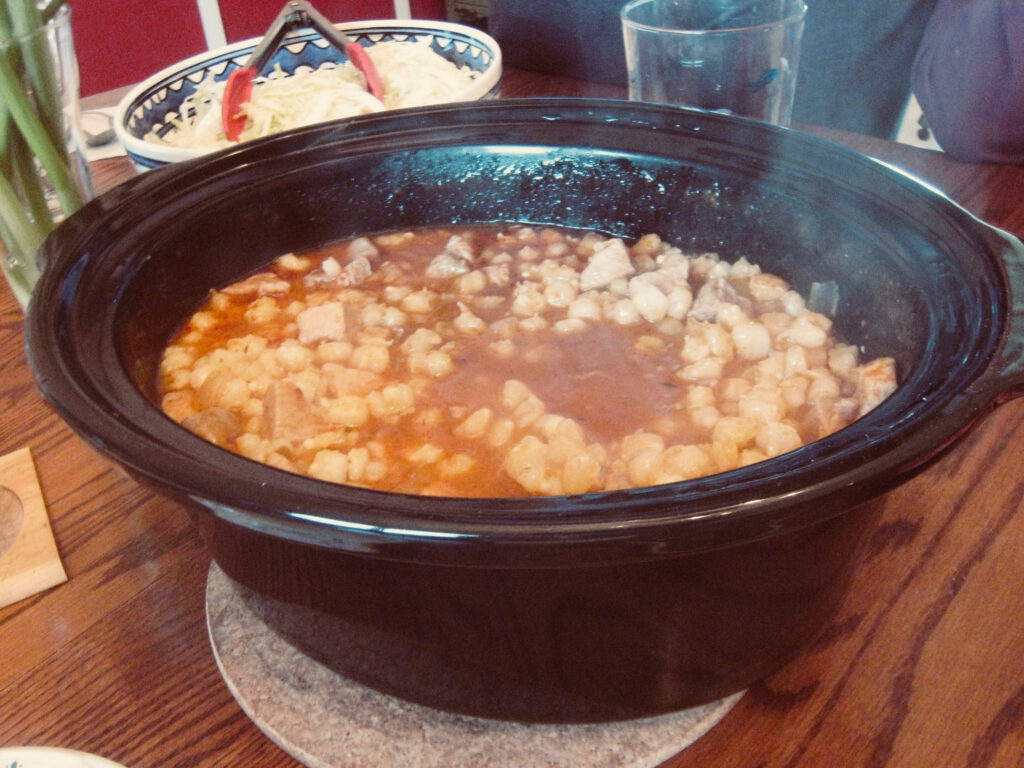 We served Sayanca Malbec with this meal, which was decent and paired nicely, especially considering that it's dirt cheap from Aldi's. Micheladas would also have been a good choice. 🙂
Mrs. Noe mixed up a batch of her awesome Mexican Brownies for dessert, using coffee as the liquid, espresso chocolate chips, plus a little bit of cinnamon and cayenne for the kick.
Here's what you'll need to make the posole.
2 LBS Boneless Pork Loin, Cubed – or Chop Suey Meat
1 Large Onion
4 Cloves Garlic
4 (29 oz) Cans Maize Blanco
1 (28 oz) Can Enchilada Sauce
1 Small Can Chopped Green Chilis
2 t Dried Oregano
S & P To Taste
Brown the meat, add everything to a large crockpot and cook on high for 6 hours.
Serve with tortillas, shredded cabbage, tomatoes, cilantro, lime juice, sliced radishes, avocado, chopped onions, etc.