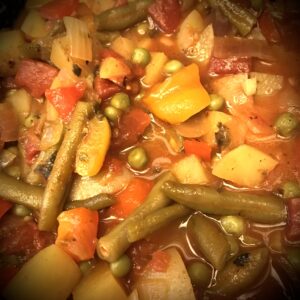 I've been listening to the Spirit of the Camino podcast lately on my morning runs. In the first season, there's a lot of discussion about the culture of Portugal, where Nick and Wendy live. They mentioned Cataplana at some point, and I was intrigued.
I researched recipes online and ran across a couple that were either Vegan or nearly so, and adapted them.
It seems like the three essential ingredients are tomatoes, bell peppers and onions, so those feature prominently in my version. I'd love to try the "authentic" dish one of these days, to learn whether or not my spice and herb mix was close. I can't vouch that this recipe would pass as a genuine Cataplana in Portugal, but it sure was tasty.
I didn't have an actual Cataplana dish to cook in, so I used a 6 quart stock pot.
Sauté:
2 Large Onions, Chopped (I used 1 yellow and 1 red), Salt and Ground Black Pepper
5 Cloves of Garlic, Minced (after the onions are pretty well cooked)
Season With:
2 T Paprika
2 T Cumin
Some Red Pepper Flakes and Oregano
1/2 Can Tomato Paste
If you wanted, you could probably use Tarragon instead of the Oregano. It might be a little more typical of Portuguese seasoning.
Once all of that mess is combined and fragrant, I added some garden fresh green beans that we had on hand, and stirred them around in the mixture.
Deglaze:
1/2 Cup Sherry (you could use white wine if you want)
2 Cups Veggie Stock
Add:
2 Cans Diced Tomatoes (fire roasted is nice)
2 Bell Peppers, Chopped
6 Medium Potatoes, Cubed
Some Miso Paste
1 Sheet Nori, Cut Into Small Pieces
Cover and cook until the veggies are tender. I added some frozen peas toward the end, so they could warm through, but not get mushy.
You could also add or substitute whatever other vegetables you would like. Zucchini and Eggplant would be good choices. Perhaps Snow Peas or Chick Peas as well. If you wanted to add some spicy peppers, they should work fine too.
We served this with some "take and bake" Italian bread from Aldi. The soup was savory, tangy and nicely sweet. It must've been beginner's luck, but this goes right onto my list of favorite soups.
If you're not Vegan, you could add some shrimp, clams or whitefish.
Here are links to some of the recipes I reviewed.
https://vegancooking.livejournal.com/3345350.html
https://www.veganbearchef.com/vegan-cataplana.html
https://food52.com/recipes/41744-portuguese-cataplana
http://yumblog.co.uk/archives/9727
https://www.luisa-paixao.us/blogs/life-in-portugal/cataplana-the-5-best-recipes