Sunday Dinner – 25 February 2018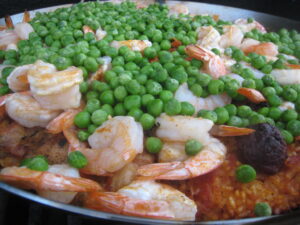 Santa brought me a paella pan for Christmas this year, and we'd been waiting for decent weather to give it a try. Although it's still fairly cold here (in the mid 40s) the forecast for Sunday was clear so we figured it was as good a time as any. I seasoned the pan well on Saturday in anticipation.
I worked from another BTE recipe.
The broth started with a sauté of five cloves of pressed garlic in a little olive oil. After a minute or so, I added 3 tablespoons of tomato paste and a teaspoon and a half of paprika. Once that started to thicken and darken, in went a bottle of clam juice, 2/3 cup of sherry and 4 cups of chicken broth to boil for a bit.
Claudia had picked up some boneless and skinless chicken thighs from Aldi. They got seasoned with garlic powder, paprika, salt and pepper, and then grilled for about 7 minutes, and reserved.
Next, I got the pan good and hot on the Weber Genesis (all three main burners on high) and sautéed a chopped onion in a little olive oil. Then came a jar of roasted red peppers. After five or ten minutes, it was time to add the rice. There was no Bomba or Arborrio to be found here, so I used a medium grain rice from the Hispanic foods aisle at Jewel, pouring three cups over the onions and peppers, then mixing things together well, coating the rice with oil, and spreading it out evenly over the pan. The chicken pieces went around the perimeter, and the juices from the plate, plus the broth, went on top. Dollops of chorizo went on as well, and this cooked, with the grill cover down and the burners on medium, for maybe 15 minutes.
We used shrimp that had already been cooked, so they were added late in the process, along with a bag of frozen peas. I'd coated the shrimp with olive oil and seasoned with paprika, garlic, pepper and salt. From this point on, it was really just a matter of rotating the pan a quarter turn every five minutes or so to make sure things cooked evenly. Toward the end, I scraped a spoonful or two from the edge to check for seasoning and doneness.
We covered the pan with foil to rest a bit at table while enjoying a nice tossed salad, some toasted baguette slices, thin slices of Manchego cheese, olives and some small grilled red and yellow peppers that had been tossed with sherry and olive oil.
Claudia's parents and Aunt Pat joined us again this week. Pat had eaten paella once while traveling with her daughter in Spain, and hadn't been impressed, but she loved this batch. I honestly think that it was beginner's luck that it turned out at all. My guess is that the main trick is to not stir the rice once you've added the cooking liquid. All of the ingredients were done properly, and there was a good socarrat on the bottom of the pan, which, similar to Persian tadig, is a hallmark of the dish.
We enjoyed the last bottle of Cariñena Garnacha that was in the cellar, with Pandora's Flamenco channel streaming all afternoon to help the mood.
Claudia tried her hand at flan for the very first time as well, and it was exceptional. She used this recipe from The Spruce adding chocolate dipped espresso beans for garnish.
This meal is definitely a keeper. The only things I might change would be to use more onion, maybe add some whole garlic cloves, and perhaps add some clams (and more chorizo) to the paella. I didn't keep precise notes on timing, so I hope we'll be able to replicate the dish this summer. It would easily serve a dozen or more, so a party may be in order.