Sunday Dinner – 8 April 2018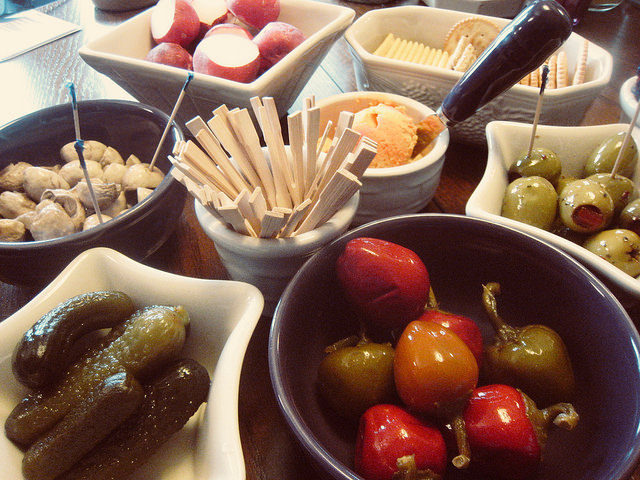 This Sunday was Claudia's parents' wedding anniversary, so we decided to celebrate by grilling steaks.
The rest of the family went to a children's production of our local theater group. I wasn't interested in this particular show, so I stayed home and prepared dinner.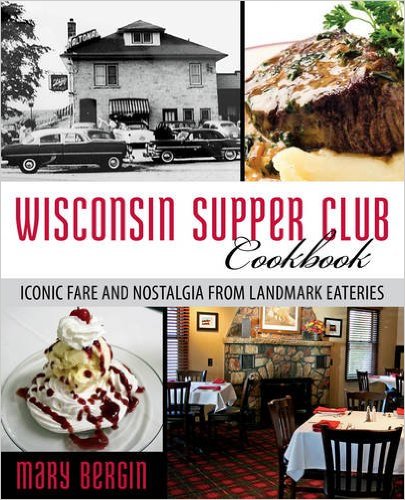 The main course menu was t-bones, baked potatoes, asparagus and salad, but I also decided to do a traditional "supper club relish tray." The Easter Bunny brought me a copy of Mary Bergin's Wisconsin Supper Club Cookbook, and there were several recipes I could barely wait to try.
The big hit was marinated olives from the Chippewa Inn. I drained a jar of pimiento stuffed olives, and added minced garlic, some olive oil, some balsamic vinegar, a little sugar, oregano, basil, red pepper flakes and dry vermouth.
I also fixed the cocktail mushrooms recipe from No No's Supper Club. After blanching a pound of white button mushrooms for a couple minutes, I simmered some vinegar, sugar, garlic salt, Worcestershire and Tabasco and poured it on. These turned out just a little sweet for our taste, but Aunt Pat loved them and took the leftovers home.
The rest of the relishes were sweet cornichons, radishes (served with Lawry's salt), pickled cherry peppers, and cold pack port wine cheese with crackers.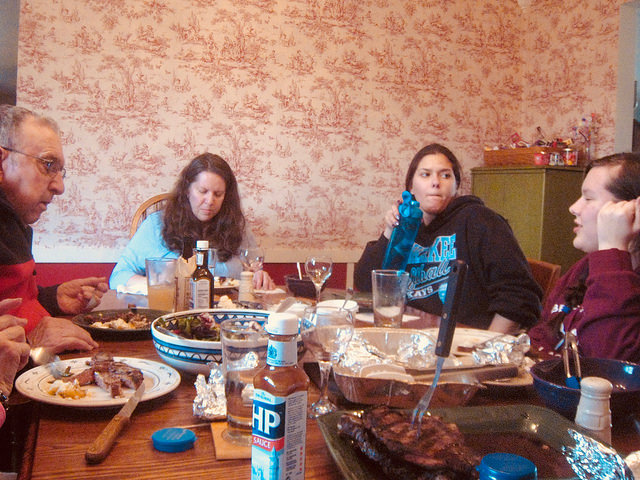 Our Jewel had t-bone steaks on sale, and they were each more than 3/4ths of a pound and decent thickness. The Weber Genesis was blazing hot – all four burners got it upwards of 600 °F before I killed the sear station burner – so the steaks cooked quickly. After the first two minutes I rotated them 90 degrees for quadrillage, and then flipped them after another two, turning the burners down to medium. Two more minutes and they came off to rest a bit before serving.
I'd also done baking potatoes, using our typical method of coating with olive oil spray, kosher salt and pepper before wrapping in foil to bake. We served them with whipped cottage cheese (another recipe from the Bergin book, courtesy of the White Stag Inn). It's simply cottage cheese, chives and Lawry's Seasoned Salt whipped up in a blender. This was another hit around the table, with several folks saying they preferred it to sour cream.
I also grilled some asparagus with olive oil, salt and pepper for about 15 minutes, and served it with doctored Knorr's Hollandaise. Yes, I am still too timid to make the sauce from scratch. Shudder if you must. Claudia made another nice Wulff Salad to round out the meal. The wine was a 2011 Alambrado Malbec from Argentina.
Claudia's niece, Emily, joined us this week as well, along with our usual crew, the folks and Aunt Pat. After dinner, the two older ladies had Brandy Alexanders and the two younger ones had Pink Squirrels, which are getting to be a fixture here on Sundays. Dessert was a peach pie and DQ soft serve that Pat brought.
This turned out to be a meal where I really needed (and got) a nap afterwards.
I'm still making my way through the supper club book, and look forward to trying some of the mains and sides. We'll definitely keep this meal's recipes in our repertoire.