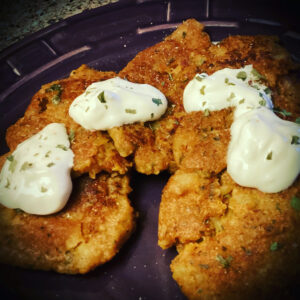 I had a few potatoes that needed to be used, so I made these Indian potato cakes for a quick brunch on Saturday Morning.
Using the recipe from Tiffin and Tea, I left out the corn starch and green chilies.
I peeled and cubed three potatoes and boiled until tender. After draining, I mashed them with the remaining ingredients.
Juice of 1/2 Lemon
1 t Chilli Powder
1/2 t Turmeric
1 1/2 t Cumin Powder
1 1/2 t Coriander Powder
1 t Ginger Powder
1/2 t Garam Masala
1 T Coriander (I used Parsley)
4 T Breadcrumbs
Salt to taste
2 T Avocado Oil
These were easy to form into patties, and frying in the iron skillet didn't take long. They were delicious. Three potatoes made a nice plate each for Claudia and I. We topped with a dollop of sour cream, but I would use cashew cream spread next time to keep it vegan. In India, they would likely top with yoghurt.
As a child, I always loved it when my mom would make potato pancakes from left over mashed potatoes. This was like that, but with the nice warm flavor profile of Indian spices.