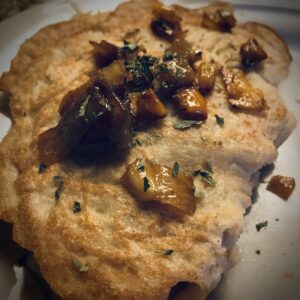 For Sunday Brunch this week I made my second run at dosas, which are sort of like crêpes, except made from plant protein sources instead of eggs. Chana Dosa is a delicious and nutritious version using chickpeas as the batter base.
We had these last summer at the ISKCON Temple in Naperville during their vegetarian food festival, and have been wanting to make them ever since.
I adapted a recipe from the Bhusanur Cooking YouTube channel.
1 c raw chickpeas
1/2 c uncooked rice (we used brown Basmati)
1 t Fenugreek
1/2 t Asofoetida
3/4 t salt
Rinse the chickpeas and rice a few times, then soak for at least 8 hours.
Drain, and place in Vitamix with 1 c water and the other ingredients, and mix until batter consistency.
Let mixture rest and ferment in a bowl at least 8 hours. After this, add a few tablespoons of water at a time and mix by hand until it's pancake batter consistency.
I added probably 6 T of water total, and think I could have used more.
The first time I made these, I used a crêpe pan to cook, and had issues with sticking and trouble getting the thickness correct, so I opted for a cast iron skillet this time. I got the best results on medium/high heat using olive oil spray.
Add a dollop of batter to the hot pan and use the back of the ladle to spread it thin in a circular motion. Cover the pan with a lid and set a timer for 1 minute. At that point, the dosa is nearly done, it just needs to be flipped for a few seconds to toast the other side a bit before adding the filling.
I used a sauté of onions, bell peppers and celery, with savory seasonings and just a bit of the Fenugreek and Asofoetida. We also added some freshly shredded Swiss Cheese. After spooning that on half of the dosa, fold the top over and let things get hot and gooey.
This recipe made six nice size dosas, and they were delicious and surprisingly filling. Definitely a keeper.
Thank you, India.