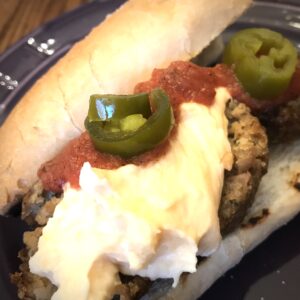 I love to cook outdoors. Before I quit eating meat, I was obsessed with learning to prepare new recipes on the Weber Kettle and Genesis grills.
I still get emails from Weber, and my first reaction when I received the one with this recipe for Grilled Albondigas with Charred Salsa was "this looks really interesting, too bad it has meat." I sometimes still forget that there are decent plant-based ground beef alternatives available nowadays.
Meier's happened to have Beyond Beef on sale for a little over $5 a pound, so we picked up two pounds and adapted the recipe. The meatballs turned out really well. I used a little olive oil in place of the egg. I did use sour cream for the crema, since we haven't left off dairy yet, but I imagine that you could easily substitute a little nut or oat milk for that.
For the salsa, I used two cans of fire roasted diced tomatoes and seven or eight slices of pickled Jalapeños along with the onion and garlic in the recipe. It turned out great as well.
I'll have to work on the queso. I followed the recipe pretty much as is, and it came out thick and globby. I really would like to find decent alternatives to dairy cheese, but haven't experimented enough with the products available to find things that we like yet.
The family, including the carnivores, seemed to like this recipe a lot. Along with a nice green salad, it fed four of us for Sunday Dinner, and there were leftovers enough for one evening meal for Kid this week, and snacks as well.
If I make this again, I'll probably try it with Impossible Burger, as I like the texture of that product a bit better. Otherwise, the recipe is "a keeper" and something that the entire family can enjoy together, regardless of whether they are meat-eaters or not.