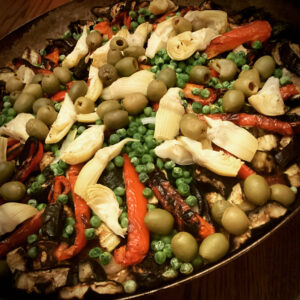 Paella is one of those dishes that seem to put everyone in a festive mood. When I first began making it five years ago, I did my best to keep it as authentic as I could, which I thought meant including pork, poultry and shellfish.
As our family moved more and more toward plant-based cooking, I substituted Vegan Chorizo for the pork, but always included shrimp and chicken atop the pan for the folks around the table who still consumed them, thinking that it really wouldn't be Paella without them.
I was delighted to learn recently that Paella de Verduras is also a traditional dish in Spain. I decided to try this vegetable-only version for supper the last evening that my sons were back in the US for a visit. From start to finish, the meal took about an hour and a half to prepare, so it's not a quick weeknight meal, but I was still able to pull it off in time to eat at a decent hour even beginning after the work day ended.
Broth for the Rice
Sauté 5 cloves of garlic in some olive oil. Add 3 T of tomato paste and 1 1/2 T paprika and let it caramelize just a bit. Add 2/3 cup of Sherry and a quart of veggie stock. Since I was leaving out clam juice this time to keep things Vegan, I added a splash of apple cider vinegar and some soy sauce to kick up the umami a bit, and then let this boil for a few minutes to bring all the flavors together.
On the Grill
I fired up the Weber Genesis gas grill and started by grilling some strips of Red Bell Pepper, and some chunks of Zucchini and Eggplant that I'd hit with olive oil, salt and ground black pepper. Then I got my Paella Pan good and hot, and sautéed a couple of Spanish Onions in some olive oil. 3 cups of medium grain rice went in next, and then the broth. Once it cooked with the grill closed for 15 minutes, I rotated the pan a quarter of a turn and put the grilled veggies on top. After another 15 minutes, I turned the pan again and topped it with jarred artichoke hearts, some pimiento stuffed olives and frozen peas. From there on, I just checked and rotated the pan every five minutes or so until it looked like things were pretty well done. I grabbed a spoon of rice to check for doneness, and then brought the pan in to rest at table for a little while before we ate.
I think everyone enjoyed this, as there were few leftovers. It was every bit as tasty as the meat and seafood version. The only thing I will change next time is to get a little more seasoning into the broth. Maybe some salt and some red pepper flakes or cumin or somesuch.
Ingredients list is below, in case you want to try it yourself. If you don't have a Paella pan, you could use a large iron skillet or Dutch Oven and cut the recipe in half or thirds. One of the tricks is to not stir the rice after you add the broth. The dark, almost burnt crusty rice closest to the pan is part of what makes the dish unique and tasty.
Ingredients
5 Cloves Garlic, Crushed and Diced or Pressed
3 T Tomato Paste
1 1/2 T Paprika
2/3 C Sherry
1 Quart Vegetable Stock
3 Red Bell Peppers cut into strips
1 Medium Eggplant cut into rounds, then quartered
4 Small Zucchini cut into rounds, then quartered
1 Jar Quartered Artichoke Hearts, drained
1 Jar Spanish Style Pimiento Stuffed Olives, drained
2 Cups Frozen Peas
¡Buen Apetito!