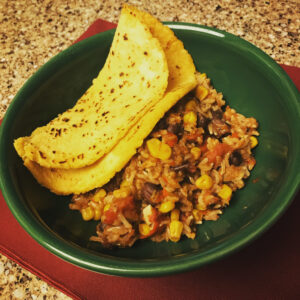 This made for a tasty weeknight meal, that came together in about 45 minutes.
I chopped up an onion, a green bell pepper and a red bell pepper in the Cuisinart, and sautéed them in a 6 quart pot with a sprinkle of salt. Once they were caramelized pretty well, I added a couple cloves of minced garlic. Spices went next (some red pepper flakes and about a teaspoon each of paprika and cumin), then a can of fire roasted tomatoes.
Once those flavors started to meld, I added a cup of vegetable stock, a can of drained black beans, a can of drained sweet corn and a cup of brown Basmati rice. When this mess began to boil, I turned down the heat and put on the lid.
As the rice was cooking, I mixed up some Masa Harina, water and a pinch of salt and pressed it out into tortillas, cooking them in an iron skillet with a tiny bit of vegetable oil.
The rice wasn't done at 30 minutes, so I covered it again and left it another ten before killing the heat.
The recipe I adapted said that it serves 4, but two of us ate our fill and there was a lot left over, so I think you could probably feed six with this, especially if you include tortillas or other sides. The dish reminded me of a grownup version of the "Spanish Rice" my mom used to serve when I was a kid. Same basic flavor and texture profile, but a lot heartier and more complex.
Would highly recommend making the homemade tortillas, by the way. So much better in all ways compared to storebought, and worth the time it takes to mix the batter, press them out, and fry. Claudia gave me a Victoria tortilla press for Father's Day this year, and it makes the process a breeze.
I wasn't sure what to call this, because it's not authentic Mexican cuisine, and not even really Tex-Mex. Gene Autry's "Mexicali Rose" came to mind for some reason while I was cooking, so there you go.