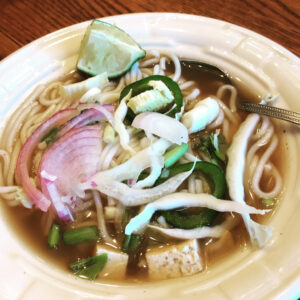 I love Pho. It's one of those foods that is not only tasty, but also soothing and comforting.
I learned to make it using beef bones and round roast. Since we have several folks in our family who do not eat meat, I had considered trying to make a vegan version, but since I thought there was no way that I'd be able to duplicate the satisfying richness of the "real thing" I didn't attempt it until recently.
Lately, though, I've been moving more and more to a plant based diet myself. So I reviewed as many recipes as I could, and ultimately realized that I might be able to adapt the beef-based recipe that I already knew and loved.
Once the broth was done, here are the first impressions that I posted on Facebook:
I tried a plain cup as I doled it out into quart jars. Tastes pretty much exactly like the classic version, but lacks a teeny bit of the richness. Thinking that a little ghee or olive oil at table would fix that, if anybody notices. Maybe a little soy to kick up the umami. By the time I load my bowl up with scallions, hot peppers and sriracha, I don't think it will matter to me.
This turned out to be true, but I really wanted to get it to the point where I could say "this is every bit as delicious as the original, and I don't miss the beef at all."
So I added a little more soy, some MSG and a teeny bit of olive oil to the broth, and it was perfect!
Ingredients
1 (3-inch) cinnamon stick
1 1/2 teapoons whole cloves
1 1/2 teaspoons allspice berries
1 1/2 teaspoons coriander seeds
3 whole star anise (or 1 1/2 teaspoons anise seed and 1 1/2 teaspoons fennel seed)
3 red onions, quartered
4 medium carrots, rough chopped
1 (4-inch) piece ginger, cut in 8ths
7 Tablespoons Turbinado Sugar
4 Tablespoons fine sea salt (not iodized)
1 1/2 Gallons Veggie Stock (I used the organic version from Aldi)
Soy Sauce
MSG
To Cook
Step 1:
Char onion, carrots and ginger either under the broiler or on the grill.
Step 2:
Toast cinnamon stick, cloves, allspice, coriander, and star anise in a dry skillet over moderately high heat, shaking pan occasionally, until spices are aromatic, about 1 minute.
Step 3:
Bring stock to a boil in a large pot. Add onions, carrots, ginger, and Turbinao sugar. Simmer for half an hour.
Add spices, and 2 1/2 tablespoons salt; simmer until spices are infused, about 1 hour.
Step 4:
Pour broth through a fine wire-mesh strainer. Stir in remaining 1 1/2 T salt, a little MSG and soy sauce.
This makes a lot of broth. I think next time unless I was serving a huge crowd, I would cut the stock down to a gallon. The good news is that it stores well, in quart jars in the fridge, or even frozen.
To Serve
Prepare dried thin rice noodles (banh pho) per package directions.
Place noodles in the bowl with sautéed mushrooms, tofu, or whatever else you would like, and add hot broth.
Top with:
julienne of  Napa Cabbage, bok choy, broccoli or such
thinly sliced red onion
basil leaves or small basil sprigs
chopped fresh cilantro
sliced scallions
Fresno Chiles or Jalapeños, thinly sliced into rings
bean sprouts
lime quarters
sriracha
I'd love to hear back from you if you try this recipe, and any ideas you have for improvement. It definitely goes to the top on my "favorite recipes" list right off the bat, and I can't wait to cook it again for the folks in our family who weren't here during this first attempt.
I also look forward to sharing more plant-based fare on this weblog. As someone who has loved flesh-centric cooking for decades, it is both a challenge and a pleasure to work on alternative dishes which are just as satisfying, but fit a little better with a life devoted to health, spirituality and environmental concerns.
I'd always told folks that if I ever post "I'm enjoying this tofu" on social media, it's code for "Help! I've been kidnapped!" But after trying it in this dish, I'm looking forward to what else I can do with it. 🙂