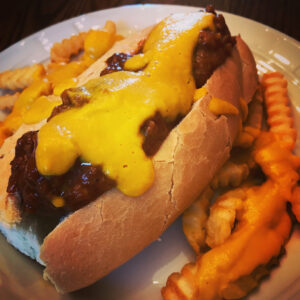 There is a "hot dog and root beer stand" type of restaurant in our town that is renowned for their Coney Sauce. They are called Jaenicke's. They're only open in the warm weather months, so opening day each spring is a much anticipated event here in Kankakee.
When Claudia and I were first dating, it was a sort of rite of passage for our relationship to have a "sauce bun with cheese" together at Jaenicke's.
I still miss the sauce buns, and feel a little nostalgia for "Wiener Wednesdays" in the summer months. So I figured I would try to replicate the fare using plant based ingredients.
I had used the Jaenicke's knockoff recipe from Geek Eats TV before, substituting black lentils for the ground beef. Although I like the lentils as a substitute in Moussaka, I wasn't nuts about the sauce. This time I used Beyond Burger, and it was quite a bit better, and very close to the original, except for that characteristic BB aftertaste. I think Impossible Burger may be the way to go, and I'll try to make the sauce again using that product soon.
Two other components that were not quite spot on this time. First, I really should have steamed the buns. Our teenager, Caro, says that one of the great things about the buns at Jaenicke's is that they are so soft that it's always a risk that they will fall apart in your hands.
Secondly, the "cheese" sauce came out a little too thin, and just a tad vegetal tasting. I think that this is because I added a splash too much of the steaming water to the Vitamix.
All in all, not a bad attempt. Field Roast franks stood in well for the dogs, and I have no complaint at all about those.
Stay tuned!