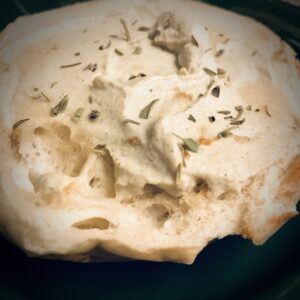 I purchased a Vitamix blender with some Amazon points and a gift certificate that I received from work, and have now tried several plant-based cheese recipes. So far, this one is my favorite.
It starts with 2 cups of raw cashews, soaked overnight in water.
After draining, the cashews go into the blender for about 45 seconds with these ingredients.
1/2 C Cold Filtered Water
1 Clove Garlic, Diced
2 T Fresh Squeezed Lemon Juice
2 T Nutritional Yeast
1 t Apple Cider Vinegar
1 1/2 t Thyme
1/2 t Salt
1/4 t Ground Black Pepper
This is another recipe from Deli Devi. I've also tried their Vegan Mozzarella and their Veggie Nacho Sauce. All great recipes, and this is not a paid endorsement. 🙂
This Cashew recipe is good as a dip for crackers or chips, and also serves as a decent substitute for cream cheese on a toasted bagel.