Sunday Dinner – 18 February 2018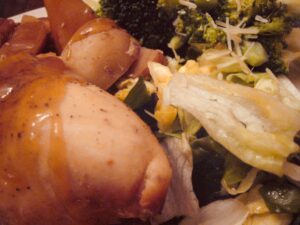 This week we were attending a performance of The Hunchback of Notre Dame by our local theater group, so crock pot cookery was indicated. Claudia made Honey Garlic Chicken with potatoes, a side of steamed broccoli, a green salad and a nice apple crisp for dessert. We'll eventually link to the full recipe, but for now I'll just say that this was a meal worthy of Jim Harrison, in that it had 12 cloves of garlic in it.
We love cooking in the crock, and not just for the convenience. Although it may seem like a modern contrivance, cooking a variety of ingredients together at a low simmer for hours is a time honored technique that predates Rival by thousands of years. Whether fireside, on the hearth, on the range or in the oven, some of humankind's very favorite meals are slow cooked in a closed pot.
The gravy for this dish, which used the strained drippings from the pot as the base, was absolutely delicious.
We drank a very nice Lodi Verdelho from Ana Diogo-Draper with this meal. The label says "fruit driven, well balanced, concentrated and bold." All true. It stood up well to the deeply flavorful funkiness of the main dish.