Sunday Dinner – 10 June 2018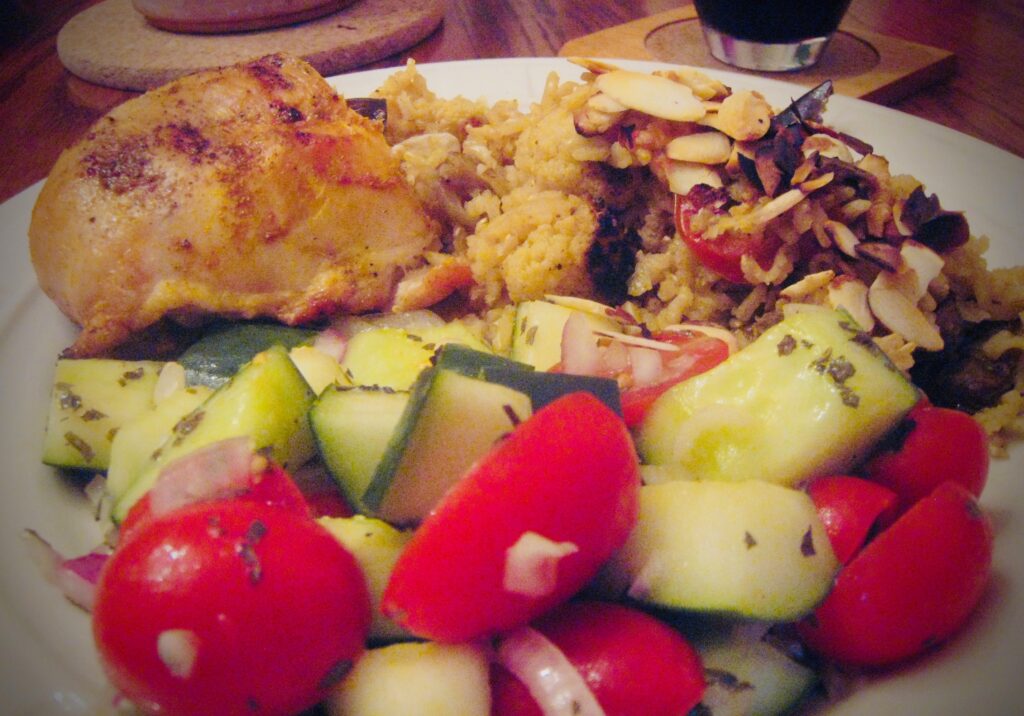 This week's Sunday Dinner was a classic from the Middle East, Maqloubeh.
The passing of Anthony Bourdain prompted feelings of sorrow, followed by a binge of Parts Unknown. One of the first episodes I revisited was his trip to Jerusalem, which also included a segment in Gaza with his Palestinian host, Laila El-Haddad. He was treated to Maqloubeh, a dish of rice, spices and other delicious goodies.
"Maqloubeh" is the Arabic word for "upturned" or "upside-down." Although family recipes vary greatly, the main ingredients seem to be long-grain rice, eggplant, cauliflower, onions, garlic and lamb (or sometimes chicken). I reviewed seven or eight recipes online, and tried to get to the essence of the dish.
While we were cooking the main course, Claudia served some roasted red-pepper hummus that she'd made earlier, along with crudités and pita chips. I'll try to goad her into adding the hummus recipe here at some point, but it is basically chick peas, fresh lemon juice, tahini, garlic, a roasted red pepper and some other seasonings. If you've only ever had store bought hummus, you are missing out. She also roasted some chick peas with spices in the oven on a cookie sheet. Those were super tasty and surprisingly crunchy.
We had a lot of help from Aunt Pat in the kitchen this week, as usual. The prep work on these dishes was pretty time consuming, so it was great to have another capable pair of hands at the cutting board all afternoon.
مقلوبة
Maqloubeh Recipe
Ingredients:
Chicken Pieces
2 Eggplants, Cut Into Cubes
2 Cauliflower, Quartered Then Pulled Into Florets
2 Yellow Onions, Rough Chopped
Several Cloves of Garlic, Smashed
2 Tomatoes, Sliced
2 Cups Basmati Rice
Toasted Almonds
Yogurt with Mint and Seasoned Salt
Seasonings:
Coarse Salt
Black Pepper
Cinnamon
Cloves
Cardamom
Coriander
Cumin
Turmeric
Garlic Powder
Although the ingredients are usually either fried or roasted, I decided to cook them on the Weber Genesis. After seasoning 4 leg quarters, they went on the indirect side of the grill for 40 minutes, then were moved directly over the burner for another ten minutes to finish. Internal temperature was between 175° and 185° F when I took them off. The boneless, skinless chicken breasts got the same treatment, except for a shorter length of time (and more time over direct heat) until they registered 165° F. We covered them with a tent of foil until time to serve.
The eggplant and cauliflower pieces received the same seasoning, and were grilled with a little olive oil on a veggie sheet for a bit, just to soften them up and get a little charred flavor into them.
We hit a 6 quart pan with olive oil spray, and Claudia placed a layer of tomato slices on the bottom. At this point, the traditional version of the dish would get a layer of meat, but we had so many vegetables that we decided at the last minute to keep the chicken out and serve it alongside. We added some of the grilled cauliflower and eggplant, and some onions and garlic that Claudia had sautéed. Then a cup of brown Basmati rice, the rest of the veggies, and one more cup of rice went into the pot, and finally 4 1/2 cups of stock with a little Turmeric mixed in. We covered it and boiled it for ten minutes and then simmered for another thirty.
I was nervous when it came time to invert the pot.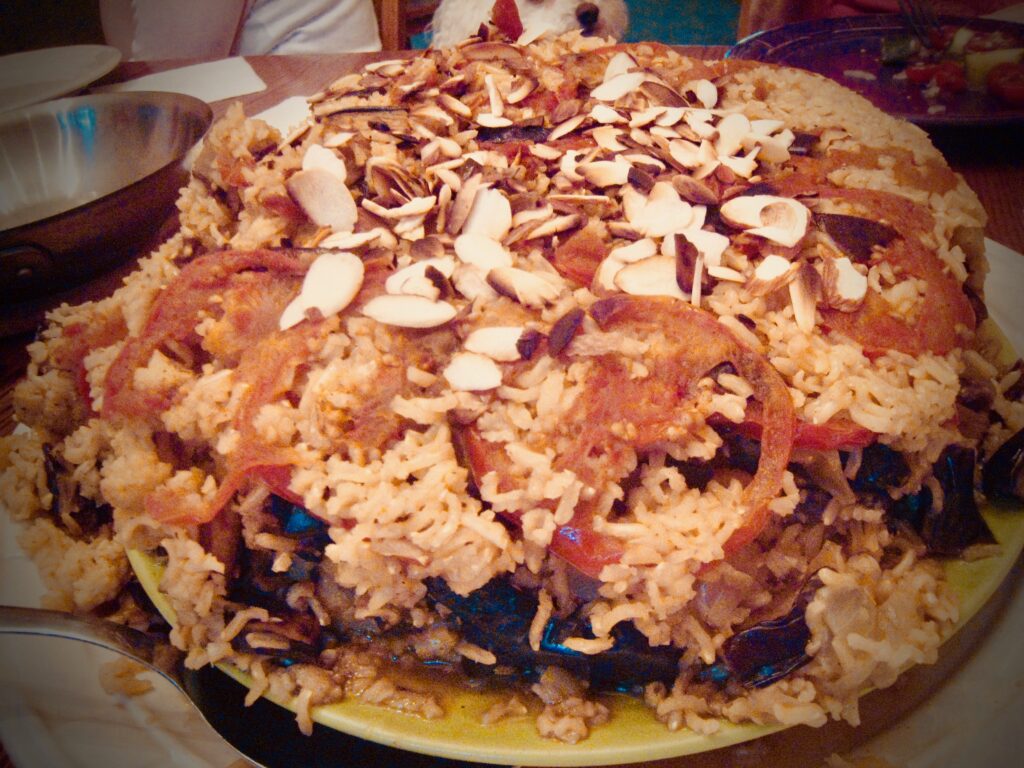 As you can see from the photo, it did collapse a bit on one side. Next time I'll do my best to leave it sit awhile longer once inverted before removing the pot. I think I would also heat the stock before adding it to the pot next time, to give the boil a head start. Otherwise, there isn't a single thing I would plan to change.
I toasted some almond slices in a dry skillet, and sprinkled them over the top. We served the Maqloubeh and chicken with some Greek Yogurt (I'd stirred in some dried mint at my friend Mazen's suggestion, along with a little Lawry's). It was a delicious combination. Claudia also made a traditional Arab salad to go with.
سلطة خيار الطماطم
Cucumber Tomato Salad
3 cucumbers, cut into 1-inch chunks
grape tomatoes, cut into halves
1 onion, chopped
several cloves of garlic, minced

2 tablespoons crushed dried mint

4 tablespoons extra virgin olive oil

juice of 1-2 lemons

coarse salt and freshly ground black pepper, to taste
Mazen suggested that we add thyme to the salad, but it slipped my mind, so we'll have to try that next time. This was one of the most vibrant, fresh-tasting salads I've ever eaten. Just delightful.
We served a couple bottles of my favorite bargain wine, Yellow Tail Shiraz, with the meal. It was a perfect compliment.
بسبوسة
Basbousa
When we were planning the meal, Claudia asked "what's for dessert?" This is something I always seem to neglect. After a little research we settled on Basbousa, which is a yellow cake made from Semolina flour. She used this recipe for the cake, and topped it with a cinnamon simple syrup and coconut shreds as described here. It turned out just lovely as well.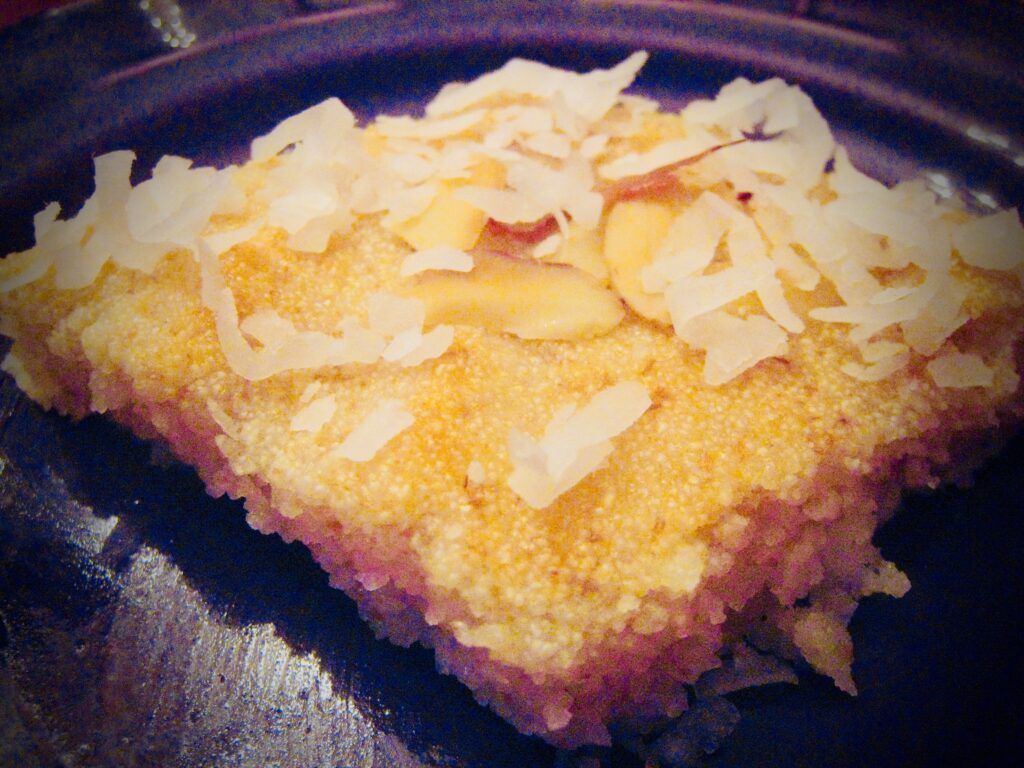 The music stream for the day was a traditional Arabic and Andalusian station from Pandora, which added a special dimension to our gathering.
We eat to live, we eat to remember, but we also eat to learn. One of the things that has always impressed me about Bourdain is the way he seemed to foster such deep connections with people wherever he traveled. He wasn't just a journalist conducting an interview. He was a friend, sharing a meal and some conversation.
We see our own Sunday Dinners as opportunities to celebrate cultures, times and places that we likely might not consider or examine otherwise. It was particularly nice to approximate and experience the aromas and tastes of a Palestinian kitchen this week. We'd not delved much into the food of the Eastern Mediterranean. Now that we have, I'll be anxious now to find other dishes typical of the region.
Long live Palestine.