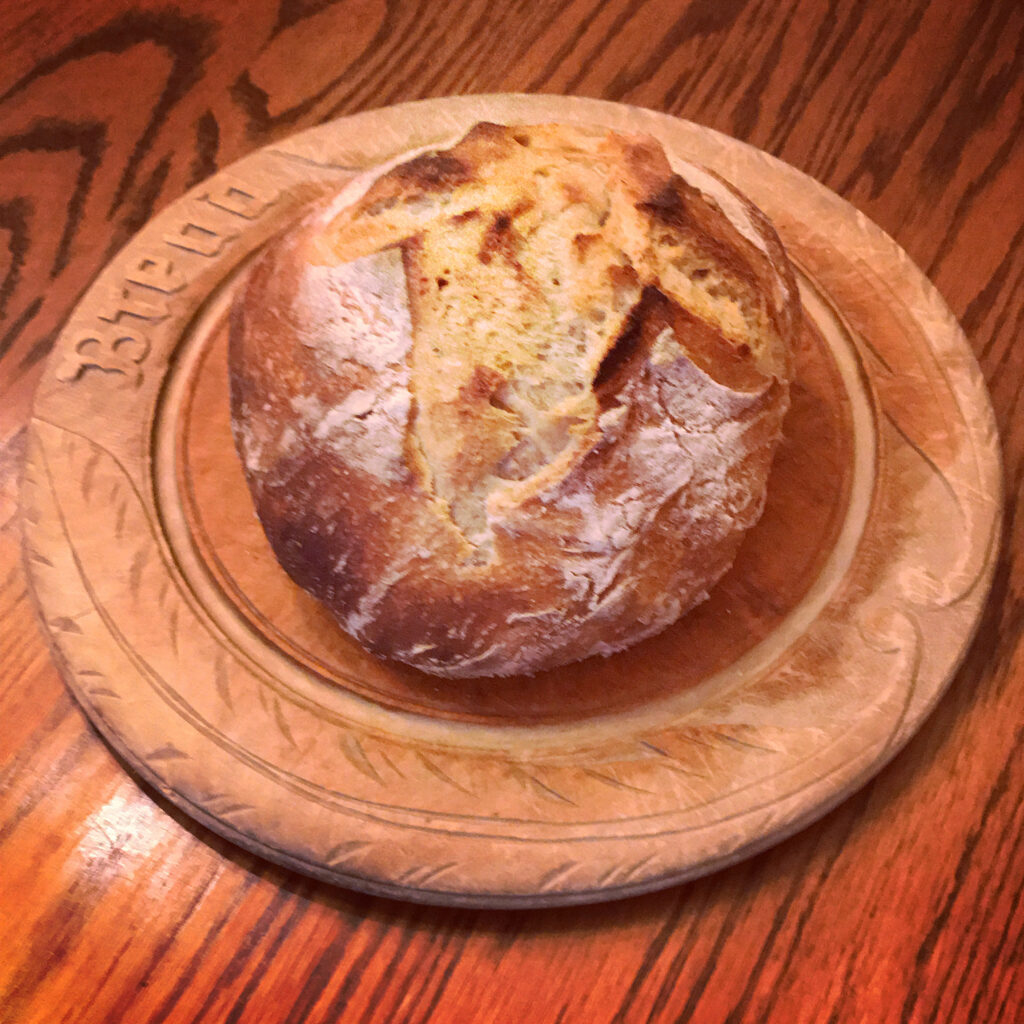 I made cheese soup for Sunday Dinner this week, and baked a nice peasant boule to go with it.
The cheese soup recipe is one my sister gave me many years ago. It was one of the specialty dishes of a restaurant in the town where we grew up (The Brown Jug in Decatur, Illinois). It's one of my favorites, especially during the autumn and winter, with cooler weather.
The bread is the master recipe from Artisan Bread in Five Minutes a Day. Claudia had requested the book for Christmas many years ago, but didn't really get into it. At some point I became interested in trying to rely less on "manufactured food" and picked up the book, thinking that I would bake bread for us every day.
I haven't picked up that habit yet, but I do love the way these loaves turn out, and nothing could be much simpler to make, once you get your hands on a Danish Dough Whisk, a wooden peel and a baking stone (which are all pretty necessary to the process).
I used 5 1/2 cups of all purpose flour and 1 cup of whole wheat. That gets stirred together with 3 cups of lukewarm water, and 1 1/2 tablespoons each of kosher salt and yeast. Once it rises overnight, I'm ready to bake, and the dough that's left will keep in the refrigerator for a week or two. I usually get three or four nice sized boules per batch.
One of these days, I'd like to try my hand at sourdough. Claudia gave me a copy of the Tartine Bakery's book, and I may delve deeper into it one of these days. But it is honestly hard to beat the AB5 bread for ease of preparation, time invested, and the simple, delicious beauty of the finished product. It has the combination of chewy crumb and crunchy crust that I adore, and the addition of some whole wheat flour, or whole wheat and a little rye, gives it just enough funk for my taste.
The bread board was my mother's, and I believe that it had originally been her grandma's, so it is likely over 100 years old. It's something else that I love for its simple beauty.