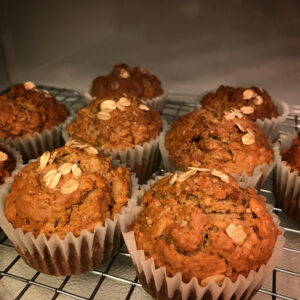 Each month, during shelter season, I take at least one meal to the Fortitude Community Outreach homeless shelter. Sometimes it's for an evening meal, but most of the time lately it's breakfast.
This week, one of the items on the breakfast menu was "muffins, banana bread, or similar." Not being the baker in the family, I was a little insecure to sign up, but I figured I could always opt for store bought if necessary.
Luckily, I found this recipe for Oatmeal Muffins from John Kanell's site and it looked simple enough for even a novice like myself.
I used Old Fashioned Oats, and they turned out great. Not only tasty, but also lovely to behold. Yay.
I made these according to the recipe, substituting oat milk for the dairy. At some point I'll experiment with using applesauce or chia seed instead of egg to keep it 100% plant based.