Sunday Dinner – 24 March 2019
Yes, we do an annual Greek Fest in our house. No, we are not Greek. It's usually in the winter to early spring as it's a hearty, comforting meal. It only happens annually because it took me a solid 5 hours in the kitchen this year, and that's with assistance from Brian, Mom and Aunt Pat. It takes me that long to recover!!!
When we went to Steubenville OH several years ago for the annual Dean Martin Festival held on Father's Day weekend, we stumbled on the Greek Orthodox Church's annual festival on the Friday and I think it's fair to say that it changed my life. I went back to work and explained to my coworkers this amazing food I'd eaten, and that's how I got the moussaka and spanakopita recipes – a photocopy of a newspaper article from 1983 that had the recipes that I still use today.
Lots of chopping and multiple steps to this meal. Nothing inherently tricky from a cooking or baking perspective. But it is worth every minute!
To start we had a Greek salad with romaine hearts, thin sliced red onions, cucumbers, tomato, oregano, kalamata olives and feta tossed with a homemade balsamic vinegarette (olive oil, balsamic, salt, pepper, sugar & oregano).
The spanakopita was served with the salad while the moussaka finished baking. I will say that to have another set of hands to deal with the phyllo is critical (at least for me). That and keeping the dough in a dampened cloth so it doesn't dry out too much. (scroll down to the end for the recipe)
The moussaka was beautiful. If you're unfamliar with this dish, it's Greek lasagna, but using sliced eggplant instead of pasta, and bechamel instead of a heavy amount of cheese. I used three eggplants, which my husband pre cooked on the grill to save me some time, but I could've used four. I also use 1 lb of lamb and 1 lb of ground beef to add another dimension to the flavor. And as typical of my style, I used more cinnamon that the recipe called for, as well as additional tomato paste and wine (1 C instead of 1/4). The bechamel was easy peasy, but I had to use ground nutmeg instead of fresh (since I dropped my last nut in the bread pudding from Mardi Gras weekend). Normally I just buy shredded parmesan but this time I bought a wedge and grated it for each of the layers. (keep scrolling for the recipe)
So I have a confession. I'm afraid of frying anything using more than just a scant coating of oil in a pan, so my usual dessert for this dinner is cream puffs. But that didn't feel authentic enough for me. Boy do the Greek people like their deep fried dough or what??? I didn't want to overload on phyllo, either, so baklava was out. A search for Greek desserts resulted in this Revani cake. It wasn't too intimidating as I'd made a Basbousa cake when we fixed Palestinian food. The beating of the meringue separately was new, and the orange flavor was different. But it was very good, especially with the cinnamon/brandy syrup. Whipped up some homemade whipped cream and it was DELICIOUS. I would definitely make this again.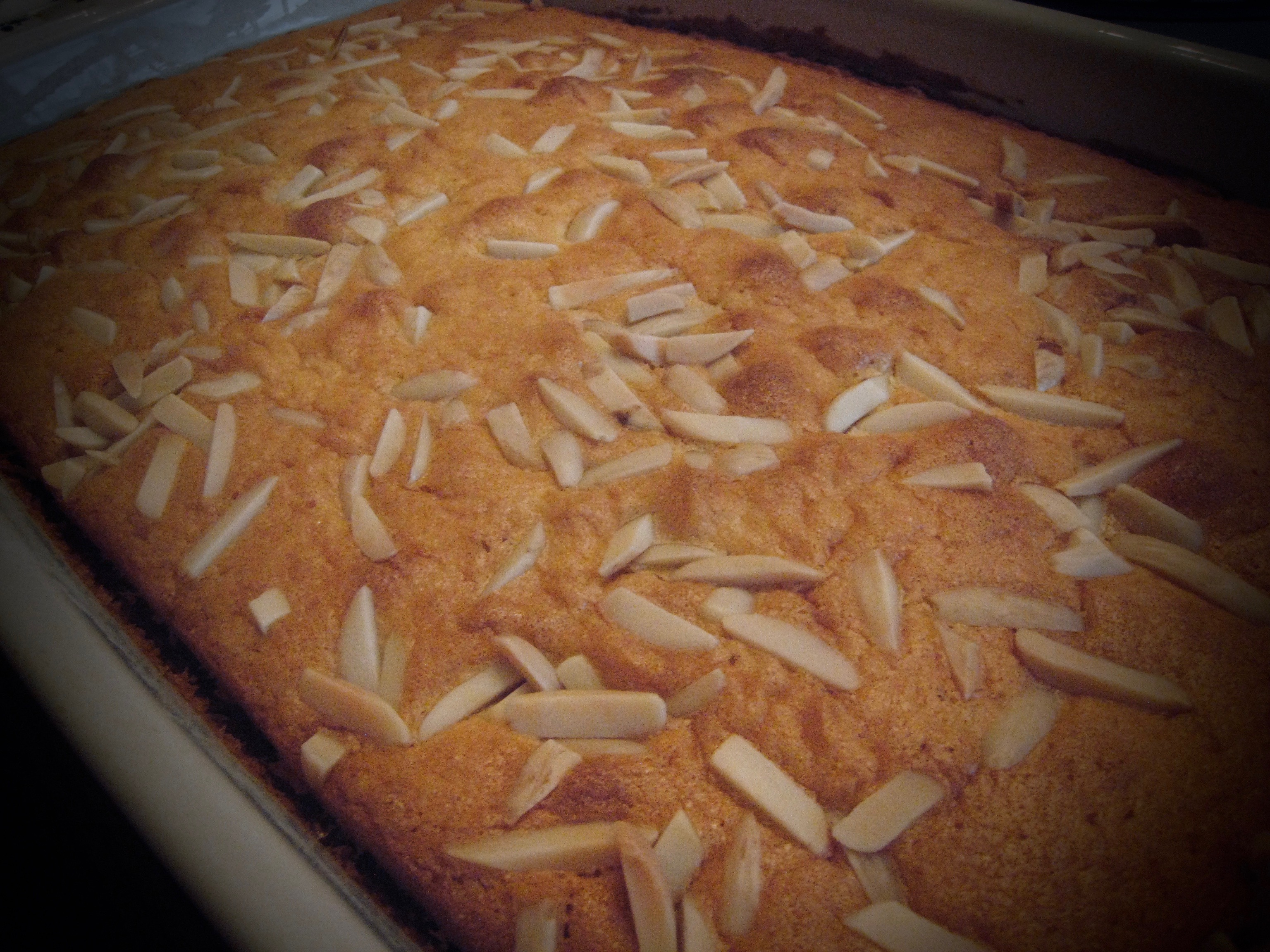 We started with a Greek Retsina wine from Tsantali, which was supposed to have hints of pine. Totally tasted like cheese that just started to mold to me. That didn't stop me from finishing my glass though. The ladies around the table agreed it was not a favorite, so we switched to a bottle of F. Stephen Millier's Lodi Shuraz instead. MUCH better pairing for me.
Aside from the leftovers in the fridge, it'll be 2020 before I eat this meal again. Although I do have a roll of phyllo dough left to do something with…more spanakopita it is!
Here are the recipes, as printed in the Mattoon Journal-Gazette on 23 June 1983.
Moussaka
2 lbs ground beef
3 med. eggplants
Butter for frying
4T.butter
3 Ig. onions, chopped fine
3 T. tomato paste
1/4 cup red wine
3 T. chopped parsley
14 tsp. cinnamon
Salt and pepper
2 slightly beaten eggs
1 C. freshly grated Parmesan cheese Breadcrumbs
White Sauce:
4 T. butter
6 level T. flour
2 cups hot rich milk
12 tsp. salt
Dash of nutmeg
2 egg yolks, well-beaten
Cut the eggplants (unpeeled) into thick slices and fry quickly in butter on each side until light brown. Heat 4 tablespoons butter in a large skillet and saute the meat until brown. Add onions and cook for 10 minutes longer. Add tomato paste, diluted with wine, the parsley, cinnamon, salt and pepper. Simmer over low heat, stirring often, until liquid has been absorbed. Remove from heat and when cool, mix in eggs. Meanwhile, combine ingredients for white sauce: Heat butter and blend in flour, stirring steadily; when bubbling slightly, add milk slowly, stirring constantly. Continue cooking over low heat until smooth and thickened. Remove from heat and add salt and nutmeg. Pour finished sauce over the beaten egg yolks. Grease a medium-sized, square or oblong roasting pan and sprinkle with bread crumbs. Arrange alternate layers of eggplant and meat with' bottom and top layers of eggplant. Sprinkle each layer with cheese and bread crumbs. Cover with white sauce. (The sauce forms a thick . crust on top of the Moussaka.) Sprinkle with remaining cheese and bread crumbs. Bake, in a 375 degree oven for about 1 hour, or until top is golden. Remove from oven and allow to set for a few minutes before serving. Cut in squares.
Spanakopita
3 pkgs. frozen, chopped spinach, thawed
1/2 lb. phyllo sheets
1/2 lb. cottage cheese
1/2 lb. butter, melted
2 T. parmesan cheese
1/2 bunch parsley
2 small dry onions
1/2T.salt
1 T. dried mint leaves
1/2 C. grated Greek Cheese, (feta)
8 eggs
1 stick butter
1/2 bunch green onions
1 T. dill weed
1/2 tsp. pepper
4T. flour
Chop onions and soften in 1 stick butter. Take thawed spinach and squeeze dry. Put in large bowl. After onions are softened, add parsley. Beat eggs. Cool onions. To the spinach add cheese, egsg, dill, mint, flourv cottage" cheese; " and pepper: t Stir. Add onions after they have cooled. Oh bottom of 9-11 pan place ten buttered sheets of phyllo.
Put spinach mixture over phyllo in pan. Cover with 14 more buttered sheets of phyllo. Cool in refrigerator for about 15 minutes. Cut the top of the Spanakopeta (like a cake, 4 down and 6 across). Bake at 350 degrees for 45 minutes to 1 hour. Let cool before serving.