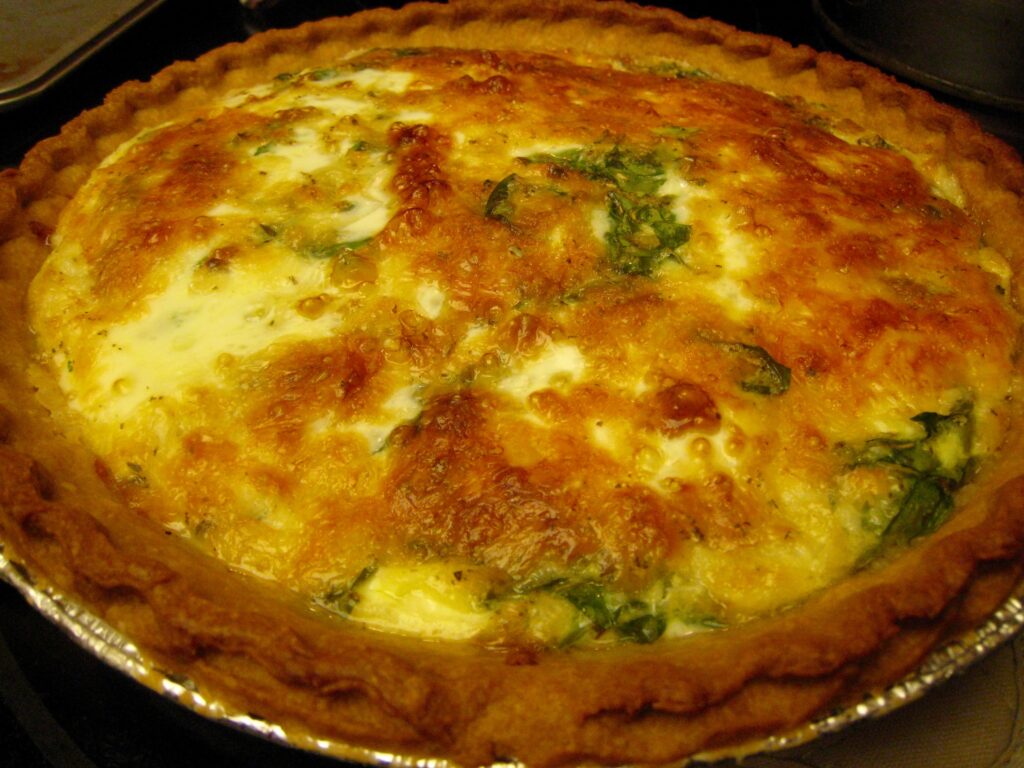 For a simple and delicious dish it's hard to beat the classic French custard tart. Last weekend's Wall Street Journal had an article about Quiche, and I didn't wait long to make one.
Since this was a quick meal on a Tuesday evening, I used a frozen pie crust, and cooked it in the oven, but I hope to make my own pastry dough and bake one in the Weber Genesis soon.
We opted for Quiche Florentine instead of the more standard Quiche Lorraine, thinking that the spinach would be a bit more healthy than bacon. I chopped up a couple cups of fresh spinach and put them in the bottom of the crust, shredded a cup of Emmental Swiss on top, and then poured the custard mixture over it. Since I didn't have whole milk, I used three eggs and 1 1/4 cups of skim, plus a little salt, pepper, Herbs de Provence and fresh grated nutmeg. It baked at 375 F for about 40 minutes. It turned out a little watery from the skim milk, so I'd definitely use whole next time and adjust the proportions to 2 eggs and 1 1/2 cup of the milk, which is how Julia Child's recipe goes.
It was tasty, none the less. We served it with a mixed spring greens salad and a nice glass of Spanish Rosé, the perfect rustic and elemental meal for a summer weeknight.
Calling a dish "Florentine" or "à la Florentine" dates back to 16th Century France, by the way. Catherine de Médicis, from Florence, married the French Dauphine (heir to the throne), Henri. She brought her own cooks with her, and they brought spinach seeds, which had not been grown in France prior to their arrival. So "in the style of Florence" means "with spinach."
The folks at WSJ Off Duty also made this podcast episode about Quiche which I thought was fun.
Make America quiche again.