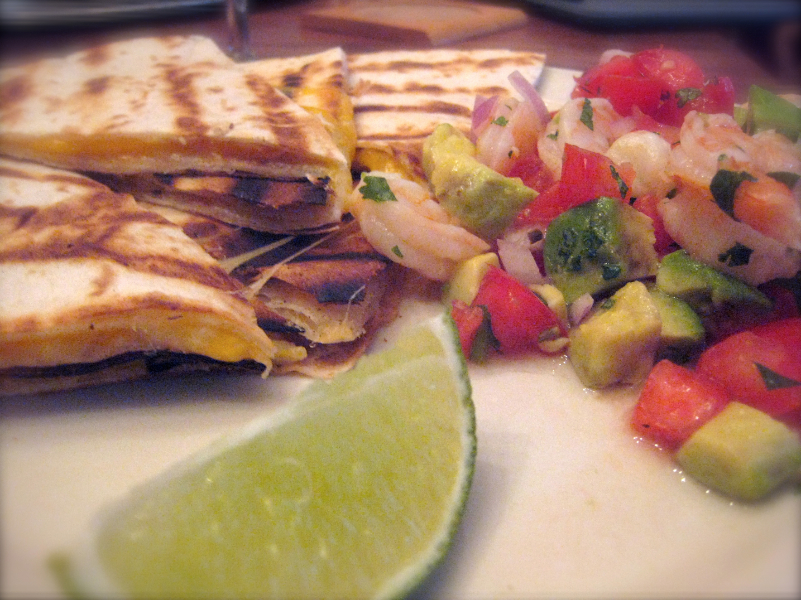 I'll be honest. The only part of this dish that was done on the grill was the quesadillas, but I had to share the photo anyway.
I fixed this last Friday evening and it truly was delicious. Here are the ingredients.
Ceviche
About a Pound of Small Cooked Shrimp
1/2 Cup of Fresh Squeezed Lime Juice
1/2 Cup of Fresh Squeezed Lemon Juice
1/2 Red Onion, Finely Diced
1 Cup of Chopped Fresh Seeded Tomatoes
1 Serrano Chili, Seeded and Finely Diced
2 Teaspoons of Salt
Dash of Ground Oregano
Chopped Cilantro
Diced Avocado
Just mix all of that together in a big glass bowl and let it cool in the refrigerator for an hour or so. Although ceviche is traditionally made with raw seafood, the taste and texture of the shrimp was just right, and the dish was perfectly balanced — bright, fresh-tasting, savory.
The quesadillas were dead easy too. I simply sandwiched some shredded Mexi-cheese between two flour tortillas and grilled the for a few minutes over low heat.
This is definitely a meal that we'll keep in mind, particularly for warm weather when we want something light and tasty.