Sunday Dinner – 15 April 2018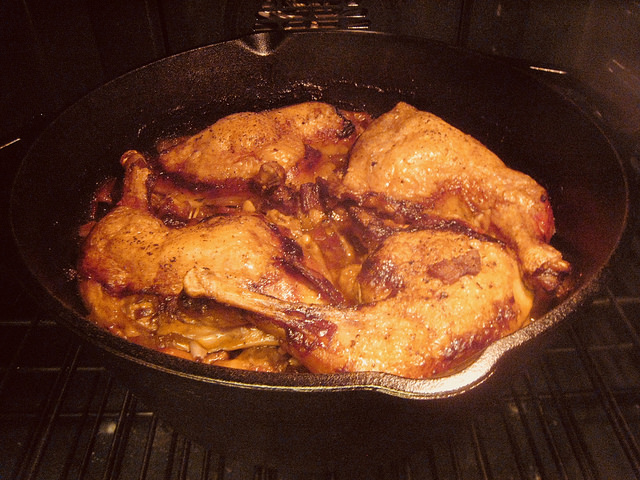 This is a dish that I've been wanting to attempt for some time, but the prospect of finding duck and preparing the confit was daunting. Fortunately, I ran across this article from the Serious Eats Food Lab explaining that cassoulet shouldn't be prescriptivist, but is actually a "medieval peasant dish designed to make do with whatever was around." Writer and Chef J. Kenji López-Alt explains that with so much flavor packed into the cooking liquid you can use chicken and won't miss the duck. Moreover, in head-to-head tests fresh poultry was actually juicier in cassoulet than the preserved duck, since it was cooked only once.
I did take some other liberties with the recipe, substituting thick cut bacon for the salt pork, and leaving the vegetables in. I also left out the cloves and added a few other spices, and some diced tomatoes.
I started at about 9 AM, frying up a pound of hickory smoked bacon in the Dutch Oven. Once it was removed, I seasoned four chicken leg quarters with pepper, and cooked them in the bacon fat, two at a time, skin side down first for 6 minutes, then the other side for 3 minutes or so. Next I browned some mild Italian sausages.
I drained all but a few tablespoons of fat from the pot, and sautéed chopped onion, carrot and celery, adding a few cloves of minced garlic after a few minutes. Just a little red wine went in to deglaze, then came a pound of small white beans that had been soaking overnight in salt water, some bay leaves, thyme, rosemary, and paprika, a can of diced tomatoes, and a quart of chicken stock with three packs of Knox unflavored gelatin dissolved in it. This simmered, covered on the range top for 45 minutes.
The bacon and sausages went in next, and the chicken nestled on top before the pot was placed in a 300°F oven, uncovered. After a couple hours, I kicked the temp up to 350, and checked every half hour, disturbing the crust with a spoon. The chicken was plenty done after four hours, so I pulled it off to a plate and let everything else cook for one more hour before serving.
I don't think I've ever tasted more tender, juicy or flavorful chicken, and this grownup version of "beanie weenies" is the heart and soul of comfort food – perfect for a dreary, chilly Sunday. We served the meal with Wulff Salad, a couple baguettes, and a very nice Cabernet Sauvignon from Bordeaux.
For dessert, Claudia made chocolate mousse with fresh whipped cream. Absolutely incredible.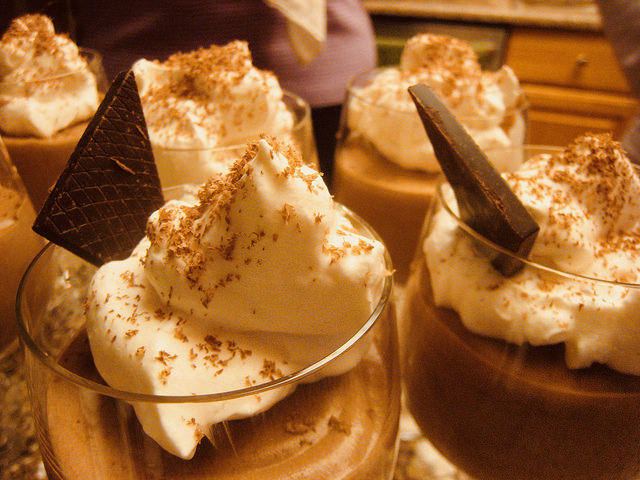 When I think of "French Cooking" in the abstract, it seems so high tone and refined and snooty. But it turns out that my favorite French dishes (coq au vin, beef bourguignon, cassoulet) are all hearty peasant food. This meal did take some planning and quite a bit of work to prepare (more than two hours before it was assembled and in the oven), but it was certainly worth the trouble.
Our favorite local butchers, Southside Meats, do carry duck, so I'll be tempted to try it next time. Although at 99 cents a pound, the chicken will be pretty hard to beat. 🙂