Sunday Dinner – 3 June 2018
Our neighborhood grocer had pork loins on sale, so this week's Sunday Dinner was a Trader Vic's inspired faux Polynesian feast.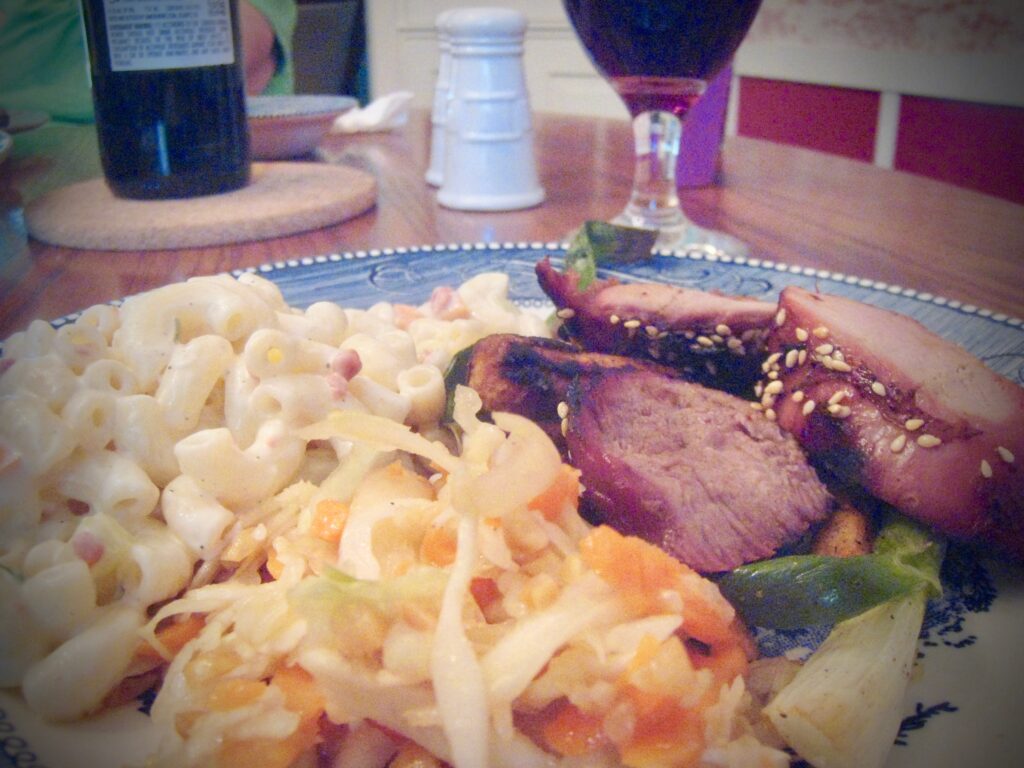 I began preparations on Saturday with the marinade for the pork. The Char Siu recipe comes from an old Trader Vic's cookbook, and consists of equal parts brown sugar, hoisin sauce, soy sauce and ketchup. That all went in to a ziplock bag with the pork loins.
The sides for this meal came from Rebecca Crum's Ezra Pound Cake site. I put together the Hawaiian Macaroni Salad on Saturday evening before we left for Mass.
I still hadn't decided on the vegetable side until Sunday morning. Finally went with an Asian-flavored slaw, based loosely on Rebecca's recipe. It was a package of slaw shreds, some chopped roasted peanuts, and this dressing.
Asian Slaw Dressing
1/4 cup peanut oil
3 tablespoons white wine vinegar
juice of 1/2 lime
sesame seeds
1/2 Tablespoon powdered ginger
2 Tablespoons brown sugar
1/2 Tablespoon soy sauce
---
Sunday morning at 9 AM maybe wasn't the best time to perfect a Mai Tai recipe, but adversity builds character. After a couple of failed attempts (too strong, too sour) here's the final concoction.
1 oz Bacardi Gold
1 oz Myer's Dark Rum
1 oz Orange Curaćao
1 oz Crème de Almond
1 oz Rose's Lime Juice
1/2 oz Grenadine
Juice of 1/2 Lime
Shook the heck out of that with crushed ice, decanted into a tumbler with cubes, and garnished with an orange wedge, a pineapple chunk and a cocktail cherry.
---
The appetizer recipe came from a site that, sadly, is no longer online. It's a healthier, vegetarian version of Trader Vic's Rumaki (chicken livers and water chestnuts wrapped in bacon, smothered with brown sugar). The water chestnuts are still there for the crunch, the smoky bacon flavor comes from liquid smoke in the mushroom marinade, and pineapple chunks add some sweetness.
Veggie Rumaki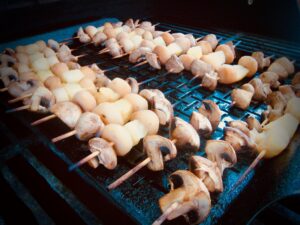 1/2 cup soy sauce
4 T white vinegar
1/2 t garlic powder
1/4 t powdered ginger
Pour some of the marinade over 2 cans of water chestnuts.
Add a teaspoon of liquid smoke to the remainder, and pour it over a pound of white mushrooms cut into bite sized pieces.
Let these sit in the fridge for a couple hours, then skewer them with chunks of pineapple, and cook them on the grill or in a 450°F oven for about 15 minutes. We served these while the rest of the meal was cooking
---
I cooked the pork loins on the Weber Kettle, over direct heat with some Hickory wood. I made another rookie mistake this week, pulling the loins off when they "looked done" instead of checking the internal temperature. So they had to go back out for another five minutes over high heat. They probably cooked for 25 minutes total. The last step was to sprinkle toasted sesame seeds over the top.
I also roasted some baby carrots and scallions on the Genesis gas grill while the pork was cooking.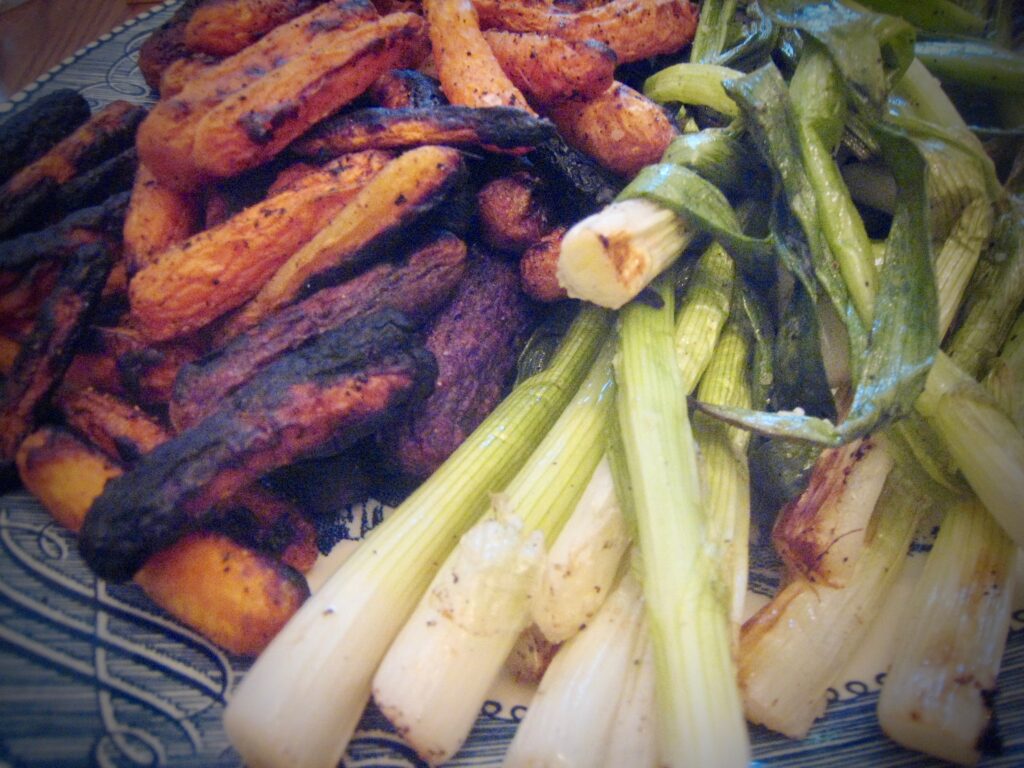 The pork can be served with mustard and sweet sour sauce on a King's Hawaiian roll as a slider.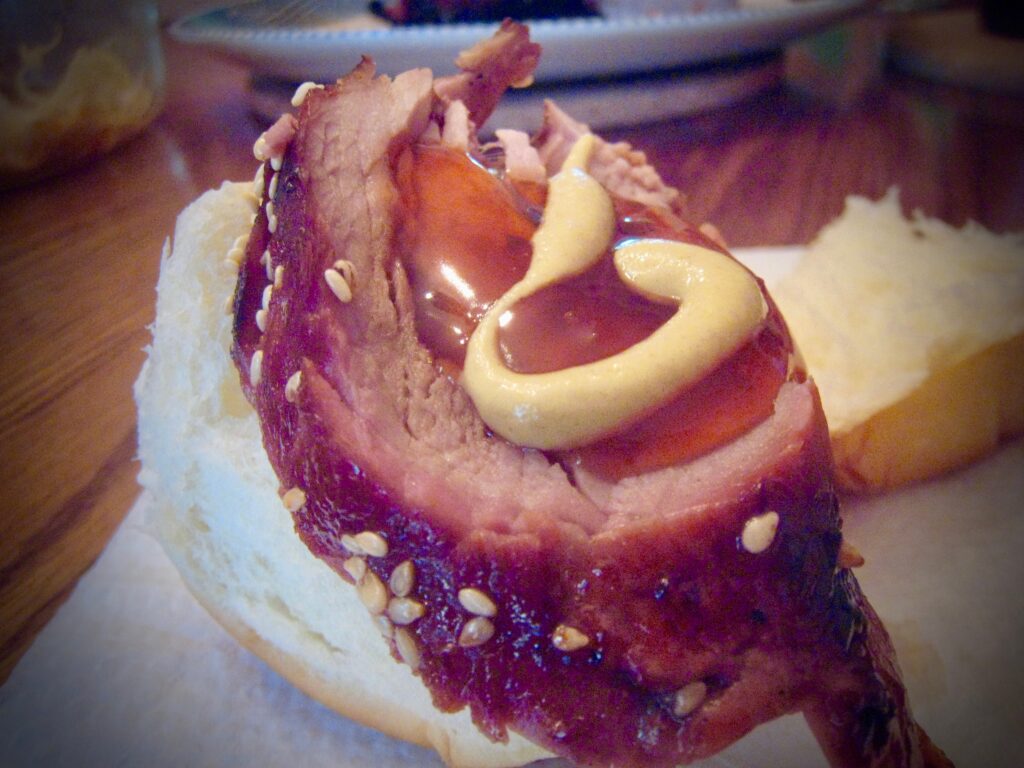 We had a nice bottle of Stephen Millier California Zin with the meal. I managed to sneak in a Shiner Bock or two during the afternoon as well. It's the Cowboy Way.
For dessert, Mrs. Noe baked an Angel Food Cake, and cut it into pieces for dipping in a simple orange/chocolate fondue, along with pieces of apple, banana and strawberries. Had I not been an idiot and forgotten about the pineapple chunks we had left, we would have dipped them too.
Music for the afternoon was courtesy of Jason Croft's Bachelor Pad Radio. I've been listening to his show on Friday nights for decades now, and it always delights.
Overall, it was a satisfying meal and a lot of fun. The only thing that needs work is the macaroni salad. It just didn't have much zing. I added some soy sauce, ginger and Bacos to try to kick it up a bit, but it was still a little bland. Maybe need to add some more vinegar next time, or some cheese shreds or something. Tarragon, maybe.
Until next week, Aloha ʻOe!