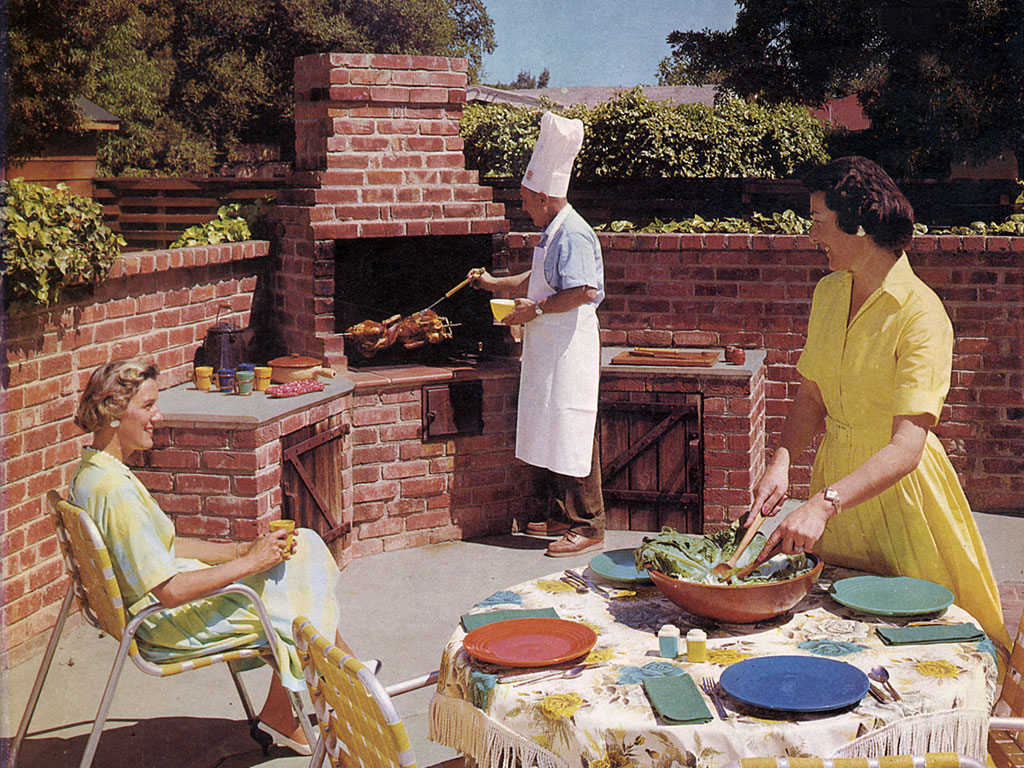 In the backyard of the house my father built there was a brick barbecue grill. As I remember it, it sat on a concrete slab just back of the breezeway, and to my toddler eyes it looked like a huge red throne. There were concrete caps on each side of the hearth, with grill grates fashioned of rebar stretching between them. The grates were at eye level to me, and the chimney on the back was about as tall as my dad.
I'm certain that he built it with his own hands, perhaps with some help from one of his union brothers or a neighbor, but I don't remember him ever cooking on it. After his passing, it was just another interesting thing for us to climb on, like the orchard trees he had planted, the tall iron swing set and the big metal septic tank.
Like so many other things about my father that I don't remember and therefore had to conjure, the image of him tending the fire and food is all the more vivid to me.
That's probably the main reason I so love to cook outdoors. Whether or not my father actually made much use of his fine brick barbecue grill, my ideal American backyard or patio wouldn't be complete without a spot for flames, and a guy cooking there.
While I was growing up (after my father passed away), my family didn't grill out much. I do remember occasional weenie roasts or cookouts at the homes of uncles and aunts, and my mother used a hibachi for cooking hamburgers once in awhile. My first recollection of truly awesome grilled or smoked food would be from the county fair, or the local apple and pork festival in a neighboring town.
My own outdoor cooking pursuits began in my early twenties with one of those cheap metal tripod grills you could buy at the hardware store for $3.99. It was essentially a round metal tray with legs and a small grill grate that fit on top. We would climb out the window of a friend's apartment on to a flat section of roof with the grill, a bag of match light and some burgers or hot dogs, and half an hour later we'd be living the dream.
I soon graduated to a Weber Smokey Joe when the cheapo model fell apart, and I began to learn how to cook things other than burgers and dogs. My first full-sized Weber Kettle came not long after.
Thirty years later and my patio is still home to a vintage Weber Kettle, along with a Genesis gas grill we added this Summer and a portable fireplace for roasting marshmallows and such. Either a Komado style smoker or a Weber Smokey Mountain water smoker is yet to come, but every now and then I still dream of building my own custom brick grill and oven one of these days. My ideal would be something similar to the one pictured at the top of this post. The image was created for the cover of a book from Sunset titled Ideas for Building Barbecues which was first published in 1962. Yes, I do have a copy.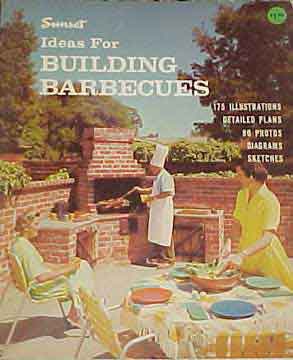 Or maybe my barbecue would be like the Chinese oven Trader Vic used to create all of those amazing Polynesian-inspired dishes for his restaurants. Or perhaps just a simple red brick and concrete hearth like my father's.
I may never build it, but it's nice to imagine.
For now, I'll be tending my fires, be they fueled by gas, charcoal or wood. Each time I take tongs or spatula in hand, I'm a man from Kentucky with a toddler on his shoulders – in a backyard in Oreana, Illinois on a fine Summer day – a long, long time ago.