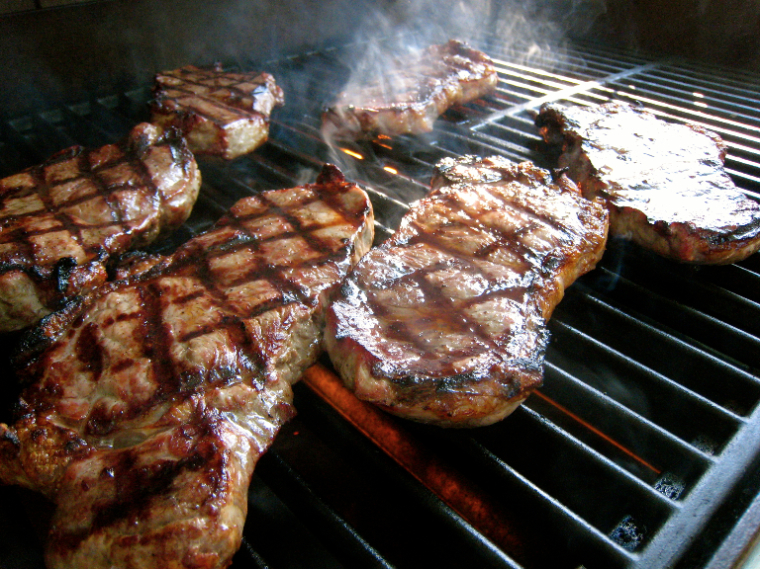 How do you get those perfect grill marks on a steak? It's easy.
First of all, I like to let the steaks rest at room temperature for a little while before grilling, with a little kosher salt and cracked black pepper sprinkled on each side. This not only adds flavor, it also helps to prepare the surface for a nice sear.
Secondly, be sure to pre-heat the grill as hot as you can get it. On the Weber Genesis, this means all three main burners, plus the sear station burner, on full blast for ten minutes. Make sure you clean the grates once they're good and hot.
Step three is the real trick to perfect grill marks. Put the steaks on the grill diagonal to the grates. Pretend that there's a clock's face on the grill, with twelve o'clock pointing to the back and six o'clock to the front. You'll want the steak to lay across the clock in a line from 10 to 4. Cook with the grill closed as much as you can, and then check with your tongs to see if the steak will pull up easily from the grate after a minute or two. If it's still sticking, give it another minute until it releases easily. Wait! Do not flip it over. Simply rotate it until it now lays across the imaginary clock face in a line from 2 to 8. Depending on the heat of your grill and the thickness of the steak, it ought to be ready to flip over in another two to three minutes after you rotate it. From then on, simply cook to your desired doneness, likely anywhere from another two to six minutes. There's no need to rotate it again, just use your nice diamond pattern as the presentation side facing up when you plate it.
Sometimes I'll spray the steaks with a little olive oil before they go on the grill, but sometimes I forget. It doesn't seem to matter much. It does help to have some experience with your grill to know how high to set the burners after pre-heating. I usually have to back my burners down a bit or the outside of the steaks will get too charred before the inside is a nice medium rare. Since I'm new to the gas grill, I'll cook a lot of New York Strips, Ribeyes, Sirloins and T-Bones before I attempt a big aged Porterhouse or Filet Mignon.
This picture is making my mouth water. I may have to grill some nice steaks tonight.
Happy Friday!
P.S.: If you'd like to see a nice demonstration on how to get the perfect quadrillage on a steak, watch this video from Weber with Jamie Purviance. Yep. Quadrillage. That's what they call it.