Sunday Dinner – 22 April 2018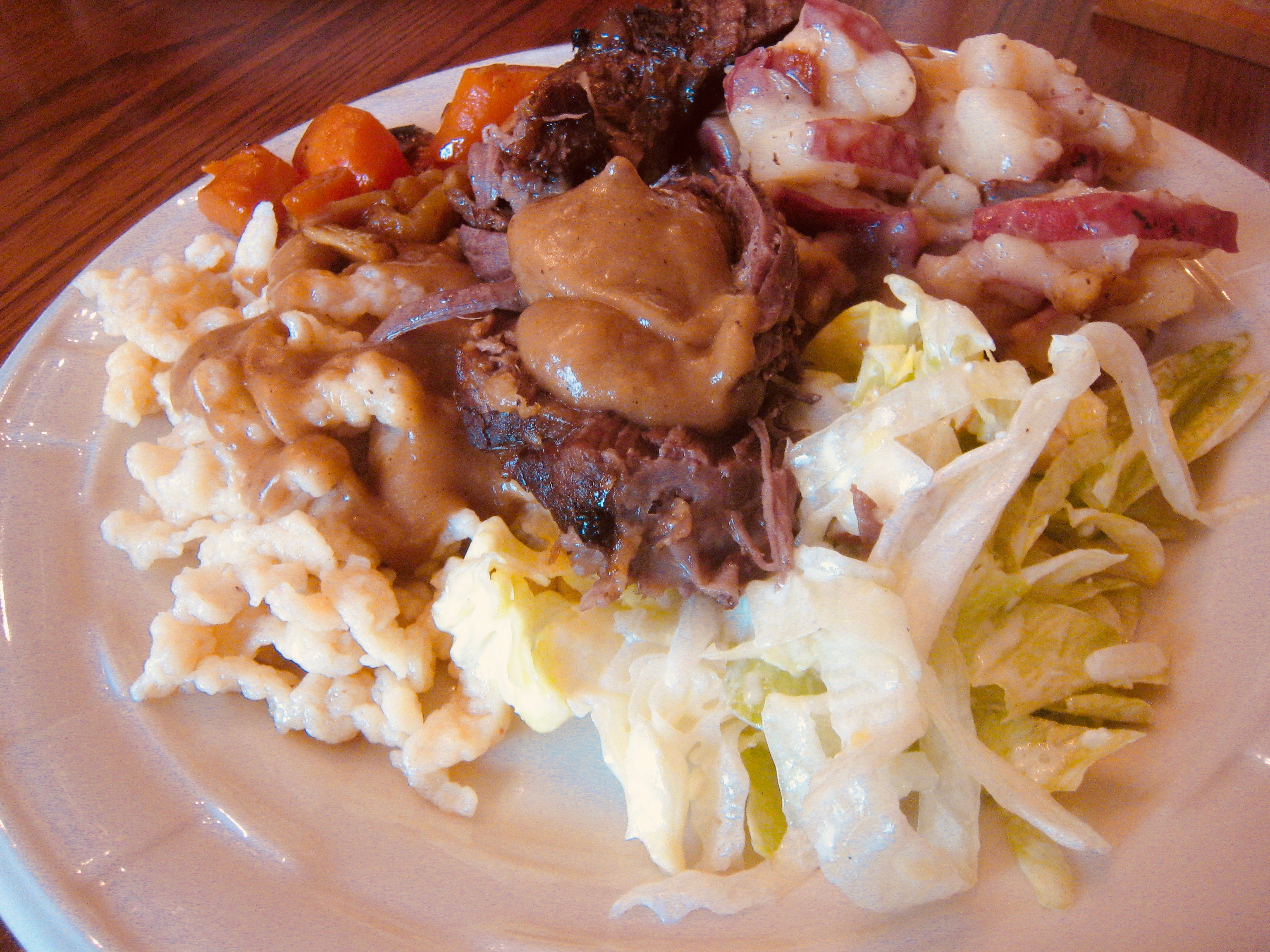 This week for Sunday Dinner we had our own private Oktoberfest. Though it isn't the right time of year, it was certainly a delicious meal.
Sauerbraten with ginger snap gravy and roasted veggies was the main course. We also enjoyed hot German potato salad, homemade spaetzle, a lettuce salad with apple and blue cheese dressing and an amazing cherry streuselkuchen for dessert.
The sauerbraten got started marinating on Wednesday evening, in a container of vinegar, spices and Coke. Here is the full list of ingredients.
2 2.5 LB Boneless Chuck Roasts
1 1/2 c Apple Cider Vinegar
1 can Coca Cola
3/4 c Water
3 Onions, sliced
10 whole black peppercorns
10 whole cloves garlic
3 Bay leaves
2 T Sugar
1 1/2 t Salt
I turned the container over every day in the fridge. Four days is just about right prior to cooking.
Sunday Morning, 6 AM
We were up early on Sunday, since we were competing for oven space and Claudia wanted to get her crumb cake done before the Sauerbraten went in. She used the recipe from The Oma Way website, opting for cherries instead of apples.
I started on potato salad, washing, slicing and boiling 3 pounds of red potatoes in a large pot of salted water. Once the potatoes were done and drained, I fried 6 slices of bacon in the pot, then pulled out the bacon and sautéed 3/4 cup of chopped onion in the grease. Next 2 T of flour, 2 T of sugar, 2 t salt, 1/4 t celery seed and a grind or two of black pepper joined the onions in the pot. That got good and bubbly, then I added 1 cup of vinegar and 1/4 cup of water. That boiled for a minute, then it came off the heat and the potatoes and crumbled bacon were added. A gentle mix, a bite or two, and I added a little more sugar, vinegar and celery seed to taste.
Way back in the late 1970s, it was my habit to visit Altamont, Illinois each year for their Schützenfest. It was there that I first sampled the delicious, hot, gooey, pungent, sweet revelation that is German Potato Salad. Ever since, it has been like the Quest for the Grail to either find or prepare some that is even half as tasty. This batch finally hit the mark.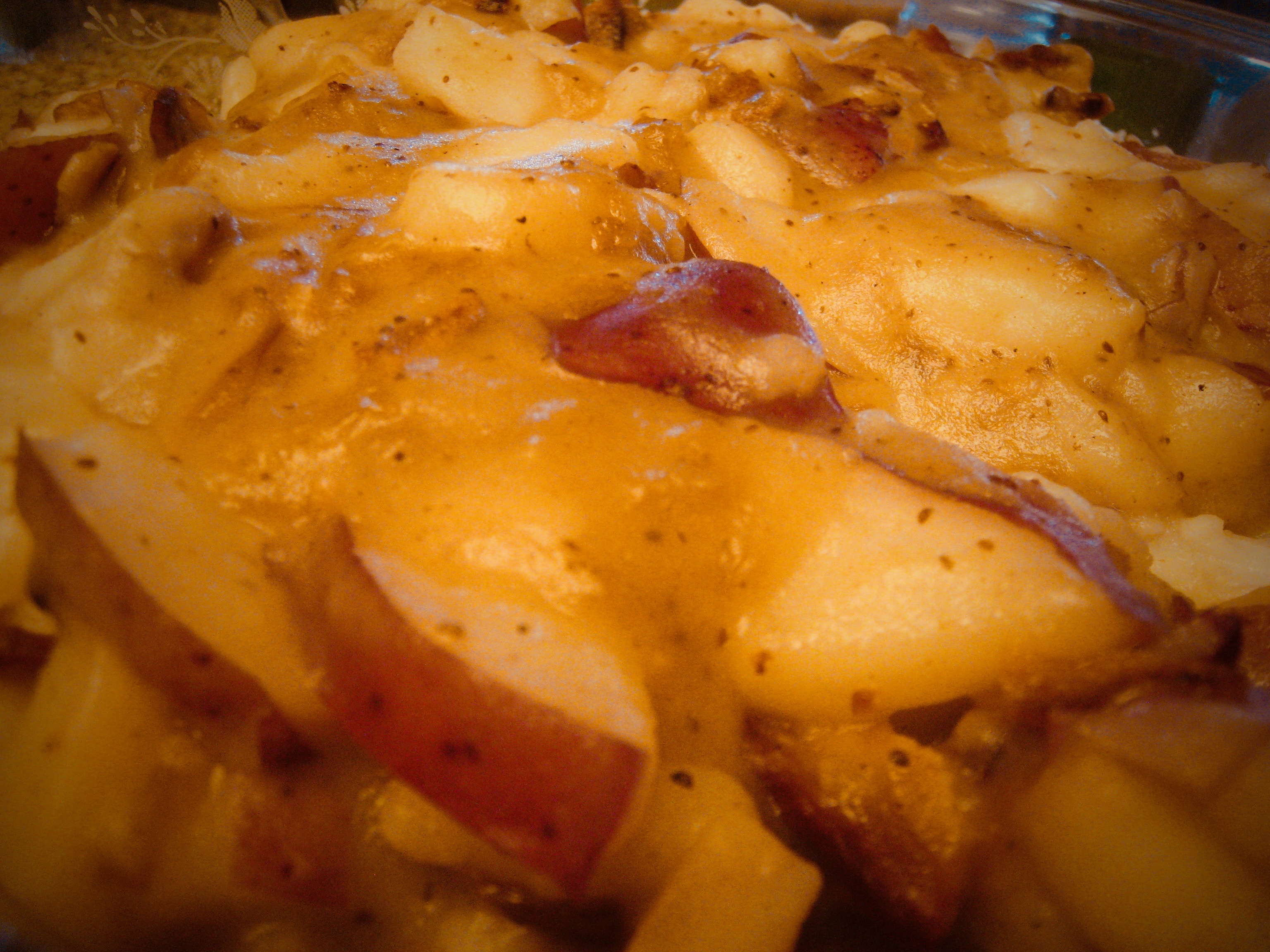 Mrs. Noe had headed out to Sunday Morning Yoga, so I blasted the Polka Jamboree from WDEZ radio while preparing the Sauerbraten. The meat is removed from the marinade, patted dry, floured, seasoned with S&P and browned in a Dutch Oven (one roast at a time). Then 1 cup of strained marinade is used to deglaze before adding 6 chopped carrots, 6 chopped celery ribs, and the spices, onions and garlic from the marinade. The roasts go on top, and the whole thing goes into a 350°F oven, covered, for 4 hours.
This might have given me time to nap, but instead I roasted coffee for the week, and piddled away time with the Internet and reading. 🙂
When Claudia got home, it turns out that she actually sort of enjoyed the Polka Music, because it reminded her of the dances they used to have a her home parish (St. Mary's in Kankakee) when she was growing up.
Sunday Afternoon
Once it was time for the sauerbraten to come out, I removed the roasts and veggies from the pot, and added 5 T of ginger snaps and 5 T of flour that had done a few dozen revolutions in the blender's food processor attachment, thanks to Mrs. Noe. Over low heat, that made a nice roux with the drippings, and the rest of the marinade was added to create the gravy.
I had never made spaetzle, and, in fact, we had a store bought bag ready in case things went South. But it turns out it was sort of fool proof. You beat three eggs, add a cup of milk, and then slowly combine with the dry ingredients (3 c flour, 1/2 t salt, 1/4 t nutmeg). This goes into the hopper of a spaetzle maker, sitting atop a pot of boiling liquid (in this case water and beef broth). You move the hopper back and forth, and let gravity do its work. After about two or three minutes, the little noodles float to the top and you nab them with a spider and reserve them to a bowl, then move on to the next hopper full.
If I were to adjust this at all for next time, I'd maybe add a little salt to the cooking liquid too.
Just before serving the meal, Claudia made an incredibly delicious iceberg lettuce salad with apples and blue cheese, again from the Oma site. I added just a little of the stock/water liquid to the gravy (over heat) to loosen it up, and we were ready for our Oktoberfest.
The wine was a Riesling that Claudia's sister, Chris, had brought back for us from Colonial Williamsburg. It was the perfect light, crisp accompaniment to this meal. I also had a Brandy Old Fashioned for starters, and at some point Aunt Pat and I may have shared a can of Feldschlösschen Maibock (from Aldi's yet) that was surprisingly super awesome.
When we were sitting around the table after this meal, Claudia commented that it was like Thanksgiving, she really wanted a nap. I think several of us felt that way.
But we saved room for some of that splendid cherry streuselkuchen that she had made.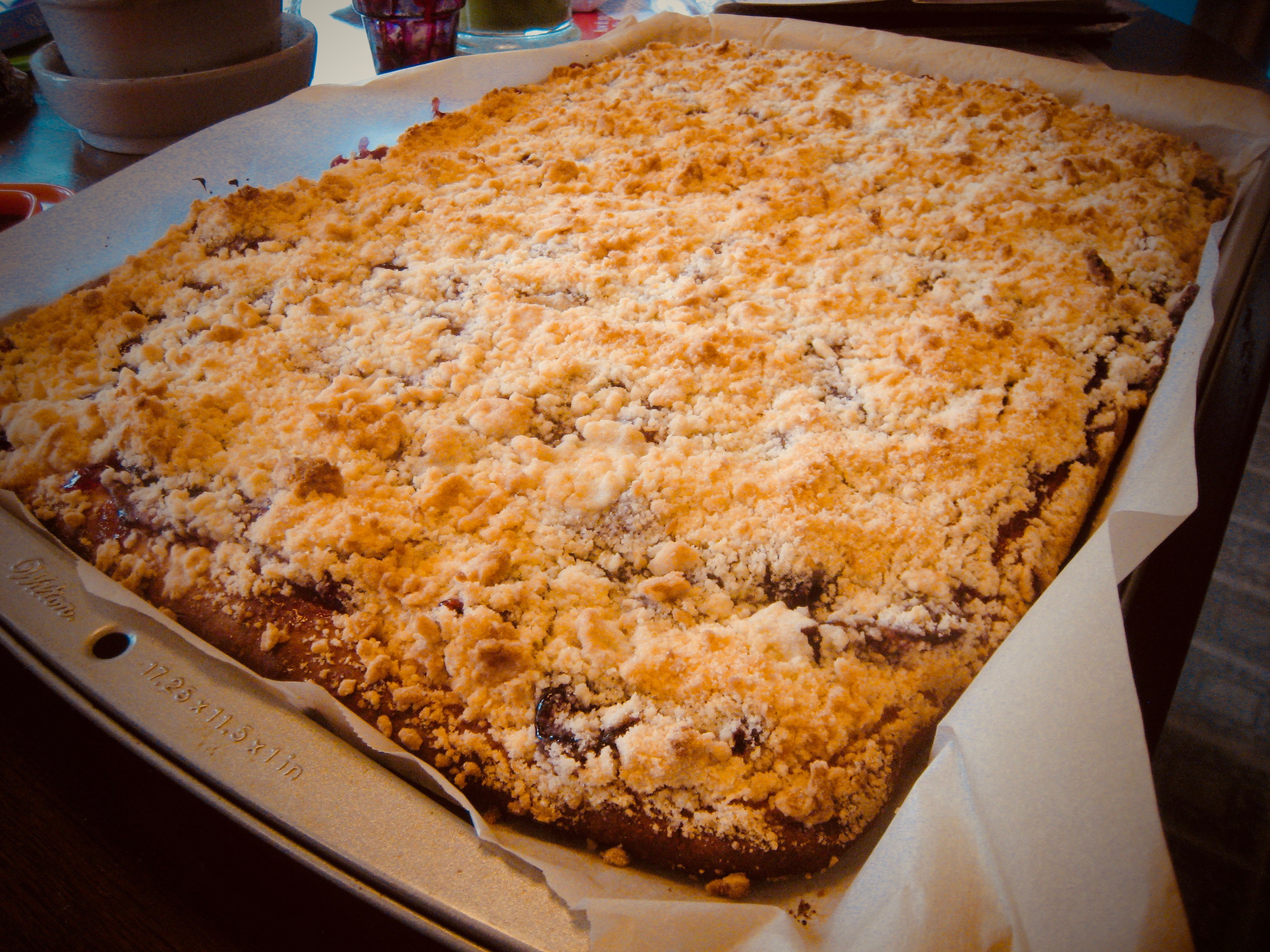 Ein Prosit!
My mother's family identified as German American to some extent. Her maiden name was "Hirstein." I took four years of German in high school (and one in college) and asked my grandfather once if he spoke the language. He taught me a little tame profanity.
It's been many years since I have celebrated my German heritage, limited as it is. This meal was the perfect way to get back in touch with it. I think that's what the best meals do. They help us to remember.
Eins, Zwei, G'suffa!