With Chinese New Year coming up on Tuesday, February 5th (Year of the Pig, if anyone is interested), this Sunday was our New Years celebration.
I tend to maybe go a little overboard when I do themed meals…I always want to make sure there is something for everyone, and that no one walks away hungry. Although, really, I'm not sure anyone leaves our house hungry!
Details are important to me, and we usually put on background music that is appropriate for the cuisine. Brian asked if I'd like to listen to Chinese music, and at first I was like, "Ugh, no", but then I said "You know, if you can find some relaxing Chinese music, like if you go to a nice Chinese restaurant and you hear it in the background."  He found just the right channel and it reminded me of being in a spa. Louie seemed to like it…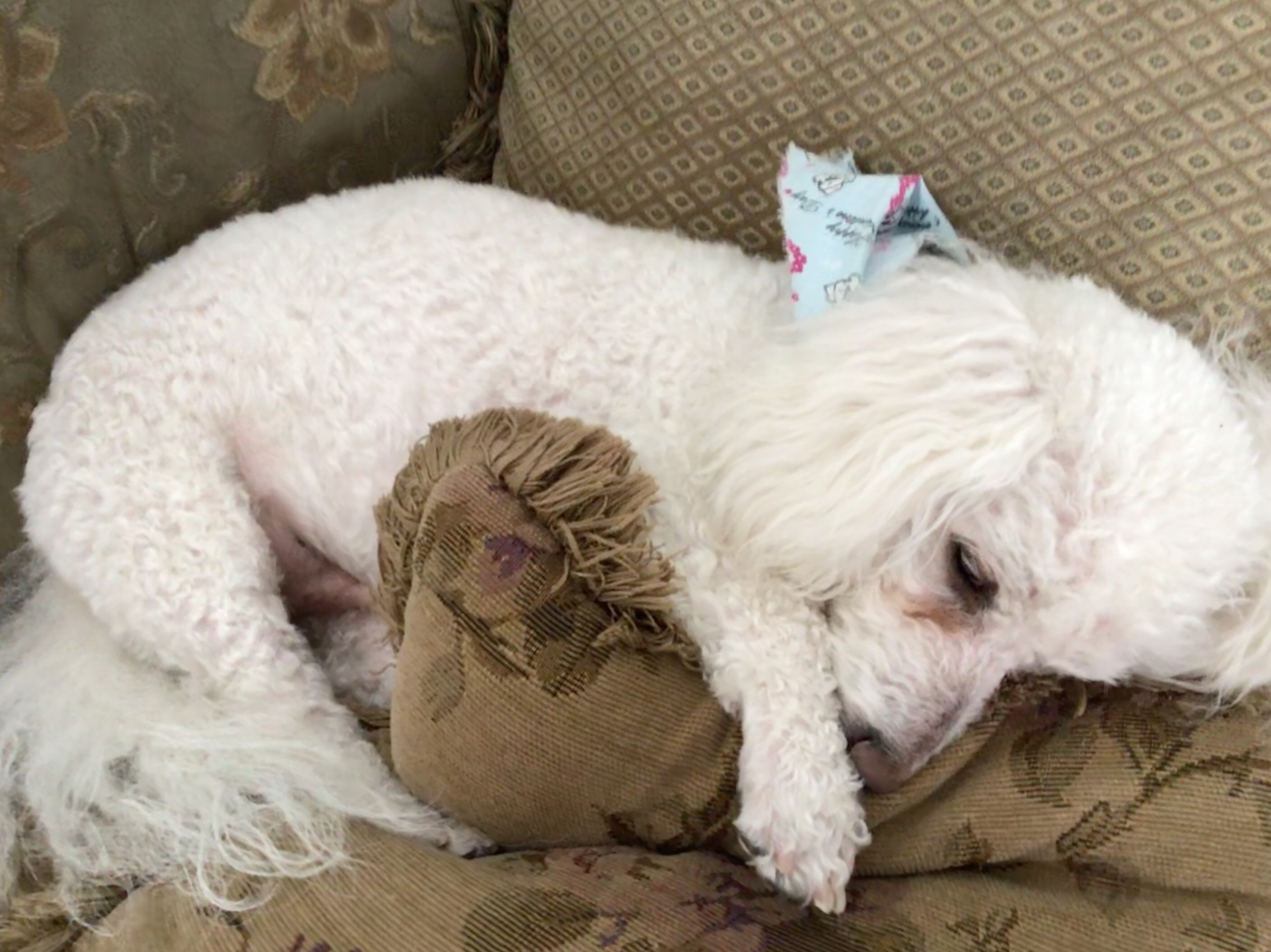 Place settings that I bought in Chinatown in San Francisco in probably 2009 created just the right tablescape.
I started planning the meal probably in the middle of the week. Lots of research and figuring out what to fix. I knew I would make Crockpot Beef with Broccoli because it's good, easy and I've made it before. I always seem to Google for a recipe whenever I make it, and I'm not sure I've made the exact same recipe more than once. But, I found this recipe at Damn Delicious, and it's a keeper.  Couldn't be easier, and I had all the ingredients on hand anyway. Hardest part was slicing the chuck roast, and that was a cinch after having been gifted some proper chefs knives from a very dear friend. Recipe can be found here – seriously, super easy. And if you don't have oyster sauce in your fridge, you totally should! At all times!!!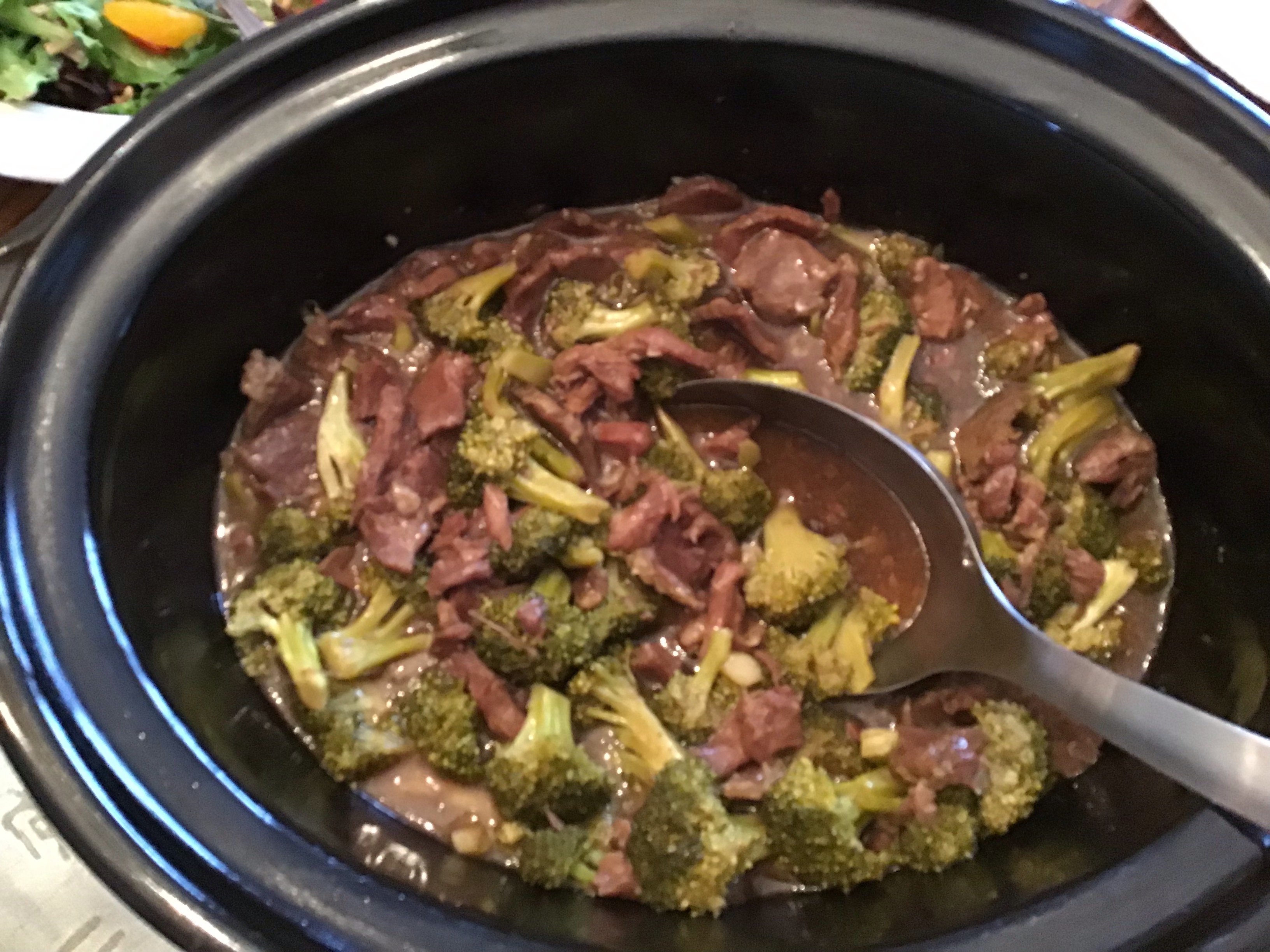 Because one entree didn't seem to be enough, I started thinking about other options. I've made fried rice, but figured with the jasmine rice, we didn't really need more rice. I've also made vegetable lo mein, but for some reason, I was thinking about chicken. I don't know that I've ever had cashew chicken before, but I like chicken and cashews, so what could go wrong? It didn't take long before I settled on this recipe from Ree Drummond. She's never led me astray before, and this time was no different. I did substitute red and yellow pepper for the green that the recipe called for. After I completed the recipe, I put it in the crockpot to keep it warm as I worked on other things. I did wait to put the cashews in until about 60 to 90 minutes before serving. The cashews held their shape but were tender. Sliced scallions and sesame seeds served as garnish.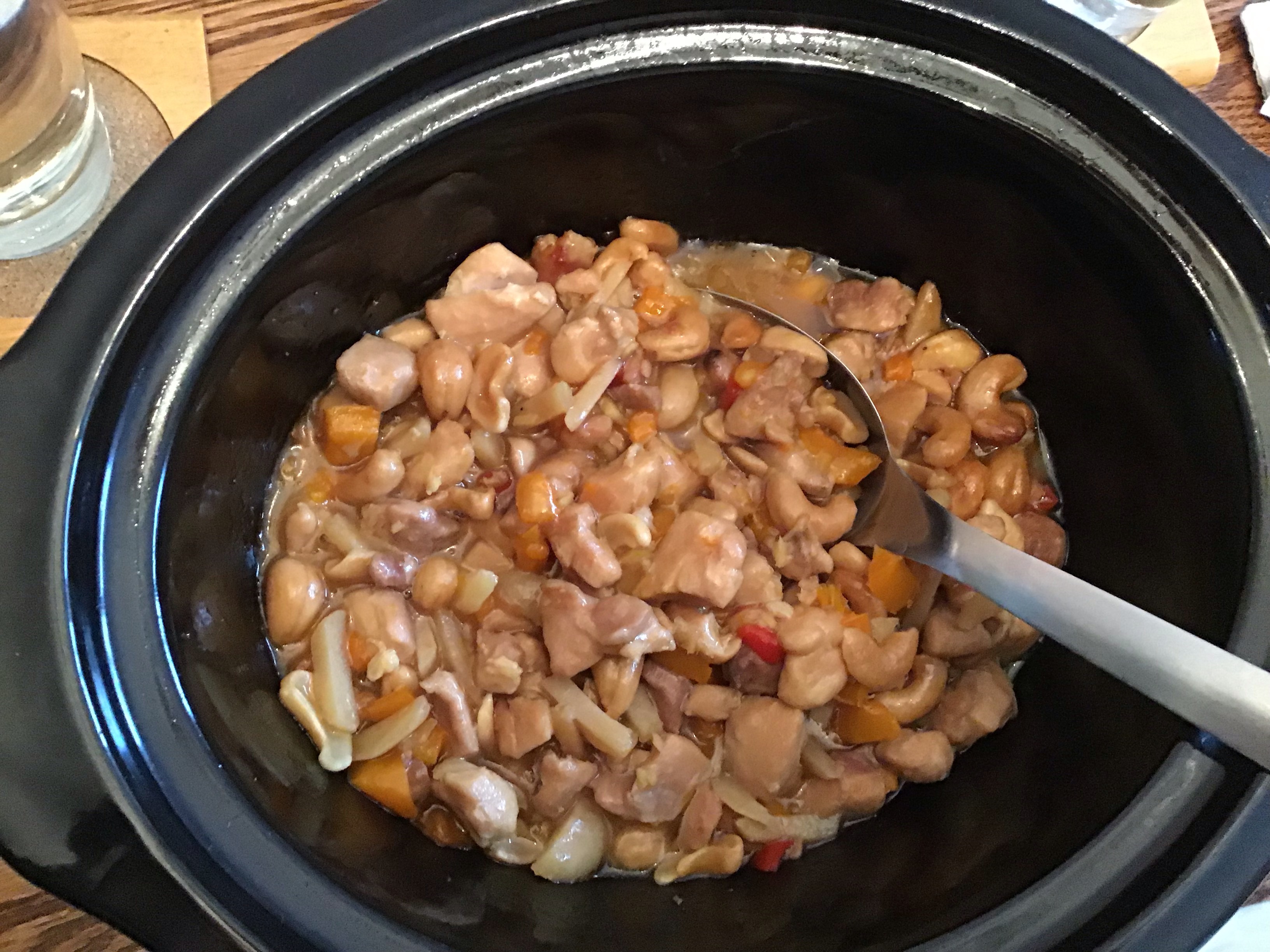 I love Chinese appetizers, and knew I was going to get egg rolls from the store, and thought about crab rangoon or shrimp toast (YUM!). But a person has to know their limits, and I wanted to make a dessert instead.
Dessert was much harder to decide on, as we don't live in a metropolitan area and the Chinese section in our local groceries is somewhat limited. Some of the recipes were intimidating, others I would've needed to plan farther ahead so I could order ingredients from Amazon. I thought about egg tarts, but the last time I made them was a little frustrating. Almond cookies were also a consideration, but I knew I'd be picking up some Fortune Cookies (next time I might try making those myself!). Chinese donuts found on a buffet would've been OK if I weren't scared to death of deep frying things. Then I stumbled on these Easy Chinese Moon Cakes from a link to 10 Easy Desserts on Yummly. Sounded a lot like a thumb print cookie, and bonus, I had all the ingredients (although I did pick up some higher quality strawberry preserves to use). I think this is completely Americanized (no offense to Shirley the contributor)…if I'd had access to some red bean paste, I would've been happier. But, they turned out well and were tasty. The only think that I would change in this recipe is to use the egg white that was left over from the yolk in the dough. Wasn't really impressed with using a yolk for the egg wash, just not visually appealing.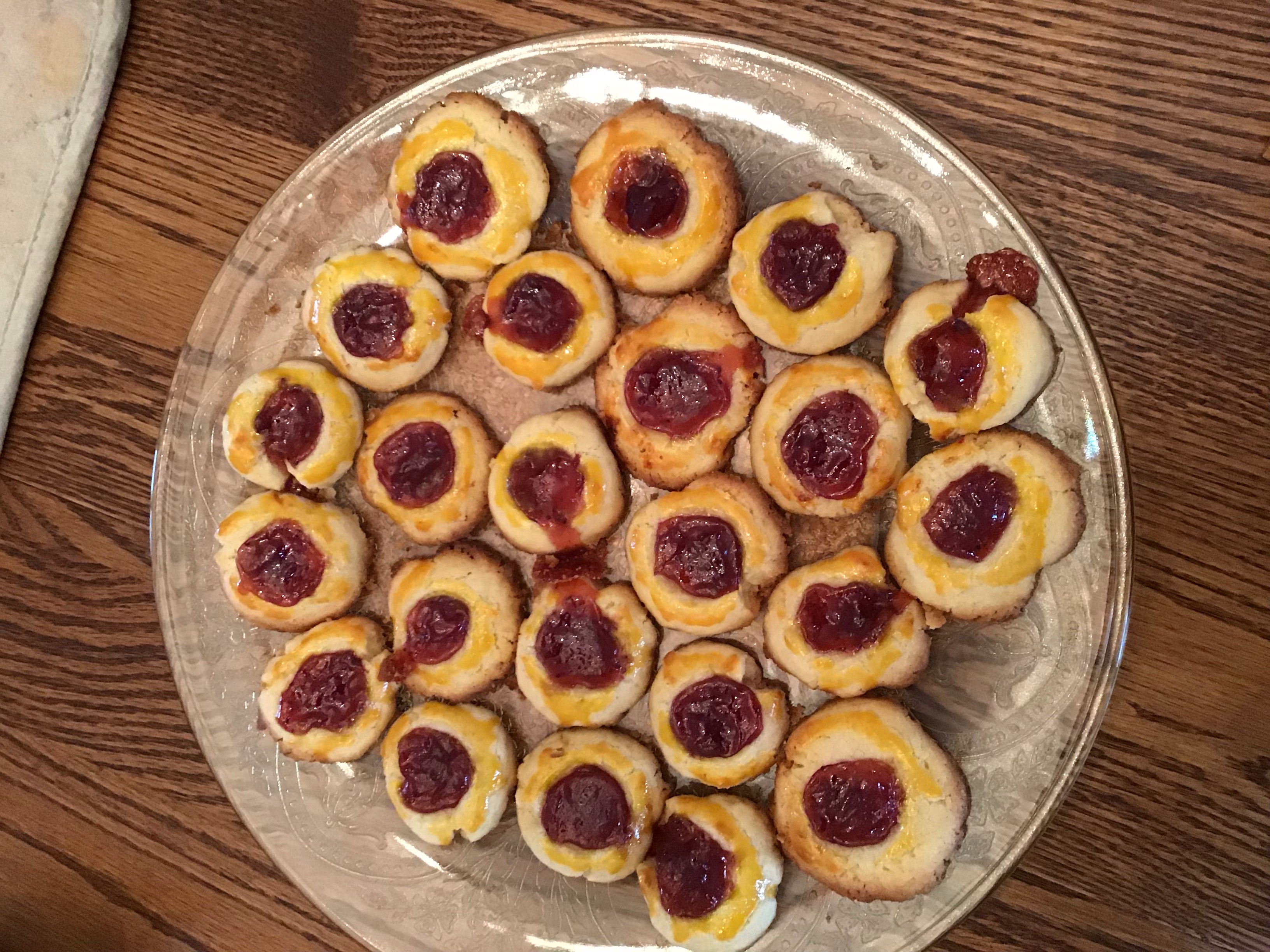 Because it just wouldn't be Sunday dinner without a green salad for me, I decided on Spring Mix (because I always have some on hand anyway) with Mandarins and chow mein noodles (instead of croutons). But what to use for dressing, that was the question. I was inspired by the other flavors in the main dishes so I started with a base of avocado oil, used rice vinegar, adding a dash of soy sauce, fresh minced garlic and ginger, and agave to balance the sour. I wish I could give measurements, but the only one I know for sure is that I used 2 small cloves of garlic. What can I say – some of my best cooking is completely impromptu. Added some scallions and chopped red pepper for color, and I must say, it was pretty darned good!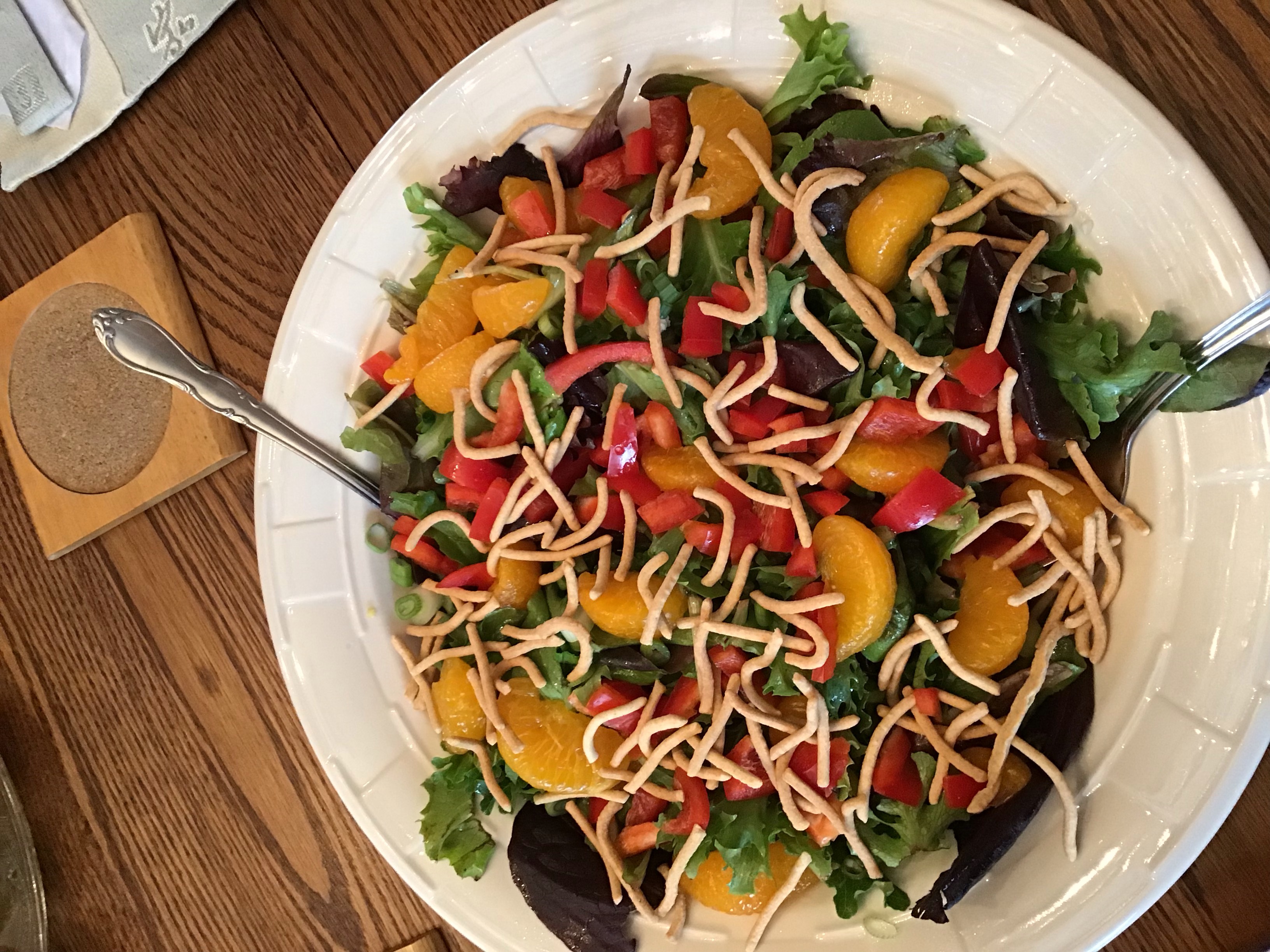 I wanted something special to drink, and love the Lychee martinis from Koi Asian Bistro, so I set out to find canned lychees. But absolutely no place had them. Even Koi didn't have any to spare to sell me. However, Jewel had fresh lychee nuts, so I picked up about three quarter of a pound and hoped we could figure it out. Brian, being the cocktail master and ever inquisitive being that he is, found a recipe to make the lychee simple syrup, and peeled and pitted them. Aunt Pat, mom and I had the lychee martinis with the first course (mom even let dad eat the lychees that were the garnish in her drink), while Brian had his usual martini. And because we were uncertain how the martinis might turn out, Brian picked up a bottle of Sake and Plum Fu-Ki wine, just in case. We had the wine with the main course, and it was a hit! It was on the sweet side, which for Brian and I is unusual, but it was very pleasant. We saved the sake for a digestif, served at room temperature. Bracing would be an understatement. So we heated it in a carafe submerged in hot water. Better. Warming it even more was even better. Brian was ready to dump the rest of the bottle out, but I'm thinking I could use it still to deglaze while cooking. At any rate, if I never drank sake again (and this was our second attempt), I wouldn't be upset. Perhaps it's an acquired taste, or our selections have been limited. I can't even come up with adequate words to describe it…pure grain alcohol is the only thing I can think of!
Here is the menu, just to recap:
Appetizers: Chicken and pork egg rolls, Lychee martinis
Salad: Spring mix with mandarins, red peppers, scallions and chow mein noodles dressed with a ginger and garlic vinegarette
Entrees: Beef with Broccoli and Cashew Chicken, both served with jasmine rice. Plum Fu-Ki wine made a nice pairing
Digestif: Sake
Dessert: Easy Chinese Moon Cakes and Fortune Cookies
It's a good thing that Chinese New Year only comes around once a year. While none of the recipes were particularly difficult, there was a lot of preparation involved. I'm thankful that I have a husband that also likes to cook and help out in the kitchen. Having someone clean up my messes is so very nice! Not to mention having my own personal bartender. I think I'll keep him.
Kung Hei Fat Choy, everybody!