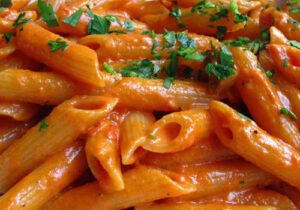 Our Valentine's Day celebration came a day late this year, since Claudia was out of town for work on the 14th. I wanted to make something special to welcome her home.
I had prepared  Penne alla Vodka once before, and it had turned out badly, the typically clumsy boozy and hot mess that gave the dish a bad reputation. This time around, I used a recipe from Cook's Illustrated, and was determined to get it right.
Improvising a bit, instead of canned whole tomatoes, I used diced, blending up half of them to help form the clingy sauce. Otherwise I followed the recipe down to the last detail, and it yielded the promised results, sweet, tangy, spicy and creamy.
Since the BTE link above is behind a paywall, you can check out the recipe at Urban Drivel.
At first I was thinking about a simple green salad for the side dish, but did a little research and decided on Italian Peas with Mushrooms. I let this cook just a bit too long, but otherwise it was savory and delicious.
Claudia is the baker in our household. She's an ace with cookies and confections of all sorts, and I rarely bake (other than simple boules and Irish Soda Bread). But I did try these 4 ingredient Red Velvet Cookies last year for Valentine's Day and they turned out well, so I made them again this year. They will probably make an annual appearance just for novelty's sake.
We drank our "house red" (Bota Nighthawk Black), which was a fine accompaniment, although a dry Chianti might have been even better.
We'll definitely keep these dishes in our repertoire.