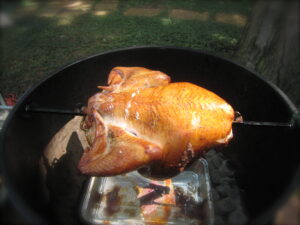 In preparation for this year's Thanksgiving Dinner, I roasted a whole turkey on the rotisserie over the weekend. In some ways, this is one of the most challenging things to cook, since it's difficult to get the dark meat done enough without overcooking the breast.
Overall, it turned out just "alright." Having done a marvelous job with a turkey breast awhile back, and a series of awesome whole chickens, I expected this to be over-the-top delicious. It certainly wasn't bad, especially for a first attempt, but there are several things I would do differently next time.
1) Use a fresh turkey. The frozen turkey I cooked was "pre-basted." This sounds like it would be a good thing, but it's actually not. The addition of a brine solution prior to freezing actually changes the texture and taste of the bird in a way that is inferior to proper dry brining. For Thanksgiving, I'll look for a locally raised fresh turkey.
2) Take more care with the seasoning and brining. Because the turkey was pre-basted, I didn't want to overdo my own seasoning, particularly the salt. I limited my efforts to a little kosher salt, black pepper and herbs de provence rubbed on the skin a couple hours prior to roasting. I also didn't stuff the cavity, thinking that this was a "dry run" anyway, and the additional aromatics wouldn't add much. Next time, I'll take care to properly dry brine a fresh turkey the day before, and to add plenty of citrus, onions, garlic, etc. to the cavity before cooking. My wife usually works some olive oil under the skin just prior to putting the bird in the oven as well. Although the rotisserie helps to keep food moist through self-basting, we may try her trick as well.
3) Choose your smoke wisely. I've been on a Cherry wood kick lately, loving the subtly sweet flavor it added to pork ribs and beef roast. In the case of turkey, I think a bolder smoke flavor would have been nice. I'll likely use Apple, Hickory, or a mixture of the two next time.
4) I need an ice pack. One of the tricks Mike Vrobel suggests when roasting turkey on the rotisserie is to put an ice pack on the breast while it comes to room temperature before going on the grill. This has the effect of increasing the cooking time for the white meat, and allowing the legs and thighs to get up to well done without overcooking the breast. It's listed as an "optional" step in his instructions, but I'll definitely use it next time. The breast turned out alright, but the dark meat could have cooked just a bit longer to achieve "fall off the bone" tenderness.
A friend of mine sensed my disappointment in describing the meal as "alright" and commented that every meal doesn't have to be a masterpiece. I suppose that's right, although as much time and effort as goes into this particular dish, I'll want to get it perfect next time. I think the adjustments mentioned above will make it worthy of our Thanksgiving table.