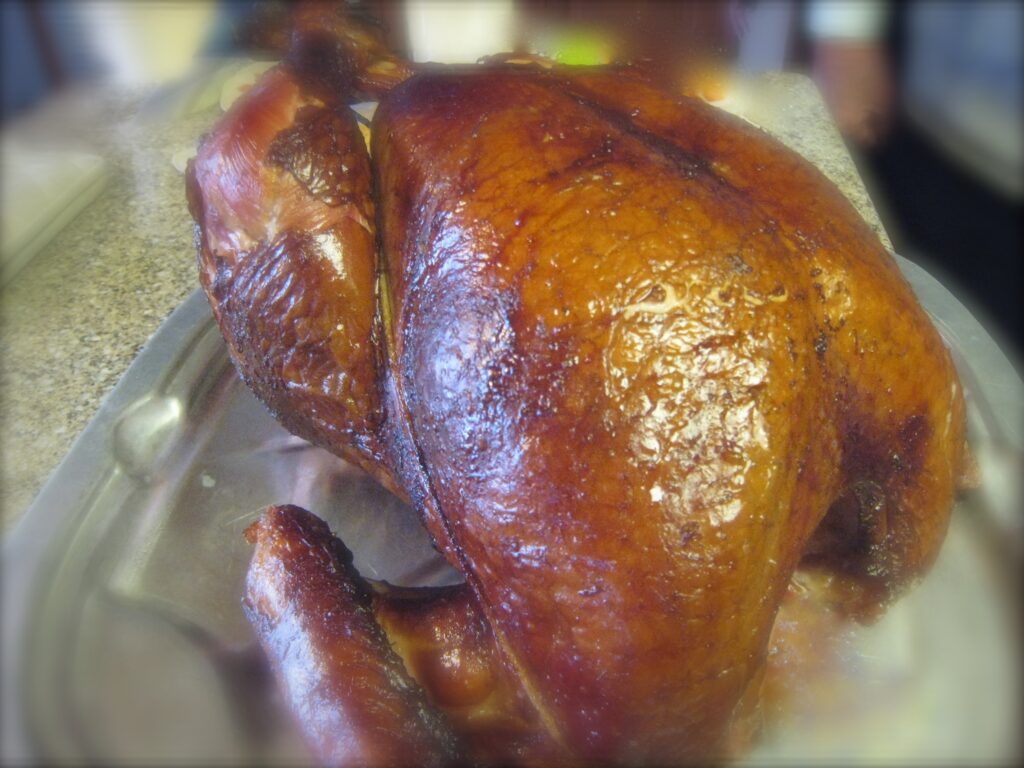 My apologies for not posting this earlier. I'm sure that you've been waiting impatiently to hear how our Thanksgiving Turkey turned out on the rotisserie.
I did make some adjustments from the trial run, using a fresh turkey, taking care to properly dry brine and stuff the bird, using hickory wood for smoke, and icing the breast prior to cooking to help keep it rarer. After the charcoal was nearly gone under the rotisserie, I moved the turkey to the gas grill to finish cooking so that I could use a probe thermometer to monitor doneness more easily.
In short, it turned out really well. Here are just a couple of observations.
1) I'm not sure that I'd spend the money on a fresh bird again. This one turned out better than the trial run bird, but I'm not sure that it can be attributed to a fresh bird. I expected it to be "out of this world" better than any turkey I'd ever tasted, and it just wasn't. Nothing wrong with it, but nothing notable in texture or taste that is distinctive to it not having been frozen. If a frozen bird is good enough for Alton Brown, I'll save myself $60 next year.
2) My wife thought this was the best turkey she'd ever tasted. My father-in-law thought that the dark meat was a little dry. I thought that the doneness and texture was perfect, but it was missing a savoriness for me. This may be because I'm used to turkeys that come "pre-basted." We'll see if next time the combination of pre-basting for flavor and my own dry brining for additional flavor and texture will strike the right balance. The worst thing you can say about a Butterball or other pre-basted bird is that you're essentially paying for brine. As cheap as supermaket birds are, I won't object to that.
Part of the issue may be that I'm comparing the rotisserie turkey to rotisserie chicken, which always seems to turn out mouth-watering delicious. I want the turkey to be like that. Guess we'll just have to keep working at it.
Or maybe I should cook chickens for Thanksgiving next year.