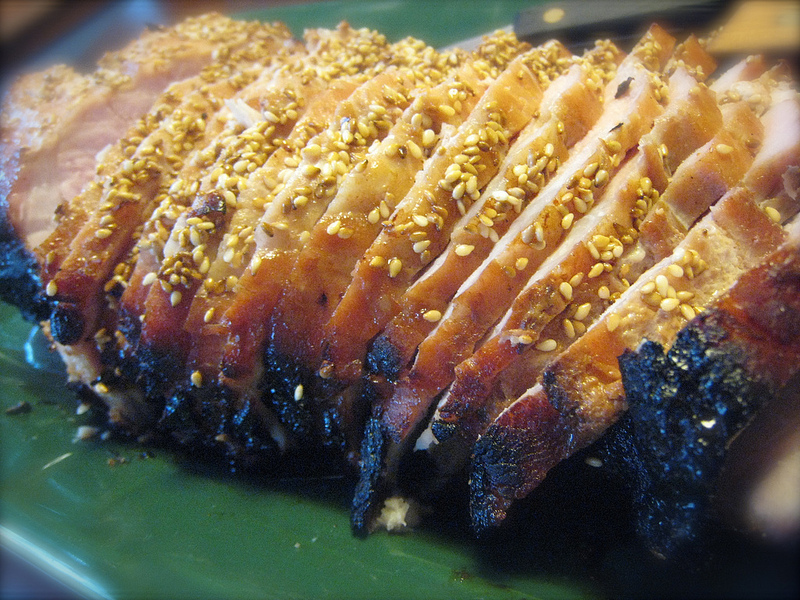 My Mother-In-Law had brought me a nice pork loin awhile back for cooking on the rotisserie, and this past week we decided to get it out of the deep freeze and cook it for Sunday dinner. I began researching recipes and ran across several for Char Siu, which is a Chinese pork barbecue. The literal translation is "fork roast" meaning roasted on a skewer. This sounded like just what I was after.
After a little refined searching, I found Trader Vic's recipe for the dish. Although obviously Americanized (the marinade includes ketchup), it seemed easy enough to prepare with ingredients that were readily available to me, and recipes from Vic's have always pleased my palate in the past.
The loin was about 5 3/4 pounds, so the first problem that presented itself was that I didn't have anything large enough to marinate it in. I had seen in one of my reference books (Weber's Way To Grill) that you can tie two pieces of loin together with butcher's twine to make a properly sized roast for the rotisserie, so I cut the pork in half, removed much of the fat cap, and placed it in a gallon ziplock bag with equal parts ketchup, sugar, Soy Sauce and Hoisin (about half a cup of each). It marinated in the refrigerator overnight.
About an hour before cooking, I removed it from the fridge, trussed it together with the fat toward the outside and put it on the skewer, taking care to get the tines into both pieces of the roast. I cooked it over indirect high heat on the Weber Kettle with some Hickory chips on the charcoal.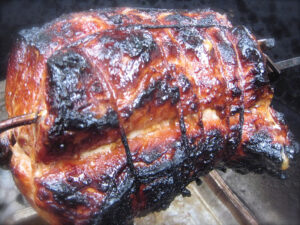 After about 50 minutes, it was getting close to 140 degrees (my target temperature was 140-150). At this point I removed it from the rotisserie, cut off the twine, and placed it fat side down in a 9×13 pan on the gas grill over indirect medium-high heat (about 450). I kept a close eye on the probe thermometer, and when the internal temperature of the meat topped 140, I removed it and brought it in to rest at room temperature. I toasted some sesame seeds and sprinkled them over the top of the roasts as a finishing touch.
We served this with mustard and sweet/sour sauce as condiments, with awesome garlic mashed potatoes and sweet corn that my wife had prepared as side dishes. She said later that it was the best pork she'd ever tasted in her life.
The flavor was quite a bit more subdued than I had anticipated. It was just sweet enough and just savory enough, with none of the strong flavors in the marinade overpowering the dish. The meat was perfectly done, juicy and tender. This is definitely a recipe that I'll make time and again.