Sunday Dinner – 29 July 2018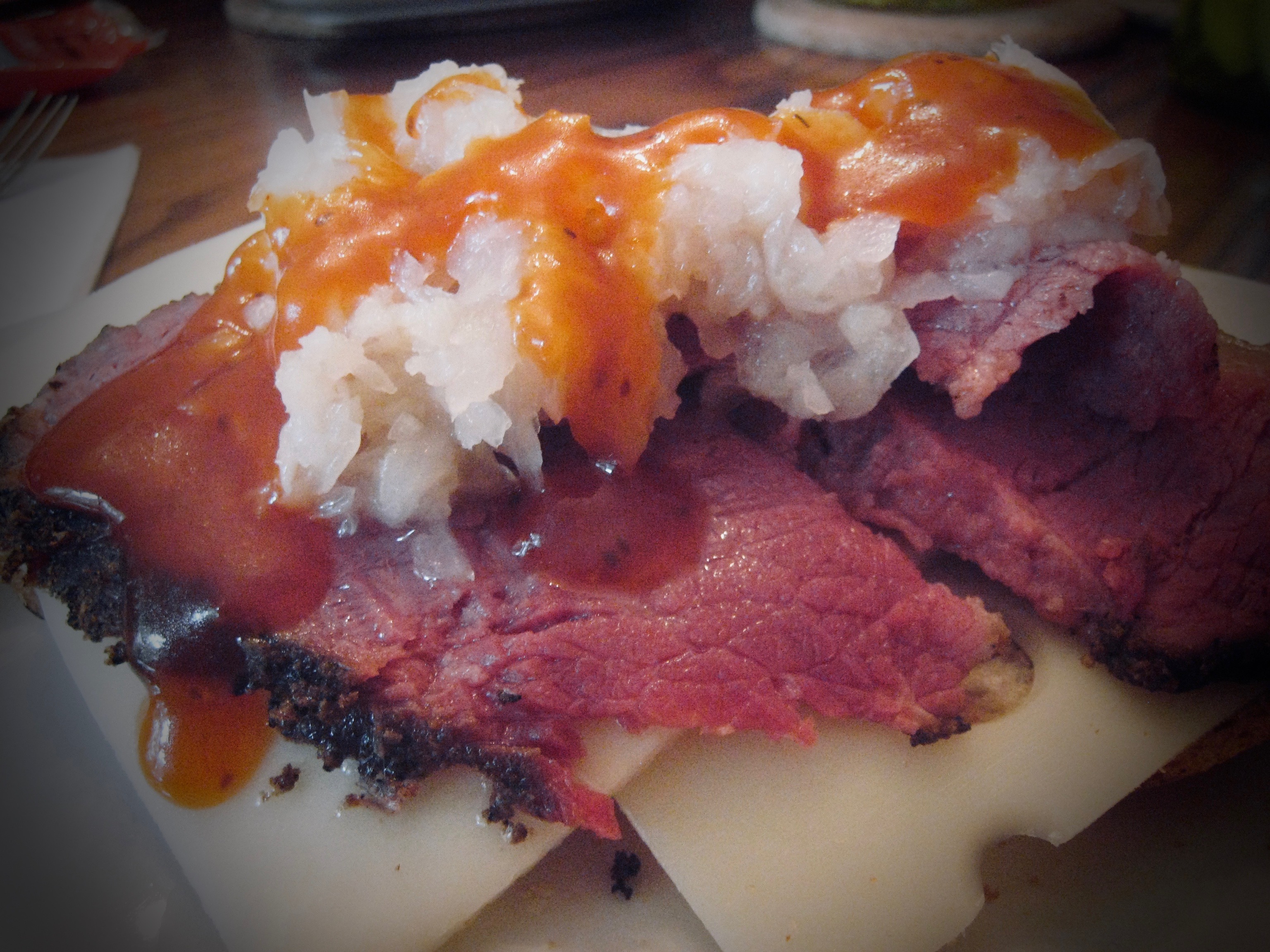 This week we made a Katz Deli style Pastrami.
Mrs. Noe has been encouraging me to clear out our chest freezer, so I thawed a corned beef brisket and mixed up some Pastrami rub.
4 tablespoons black pepper.
2 tablespoons coriander powder
1 teaspoon mustard powder
1 tablespoon brown sugar
1 tablespoon paprika
2 teaspoons garlic powder
2 teaspoons onion powder
Since this recipe requires smoking and steaming, I decided to do the barbecue portion of it on Saturday. I rubbed down the nearly four pound pre-brined brisket and set up the grill for a long cook.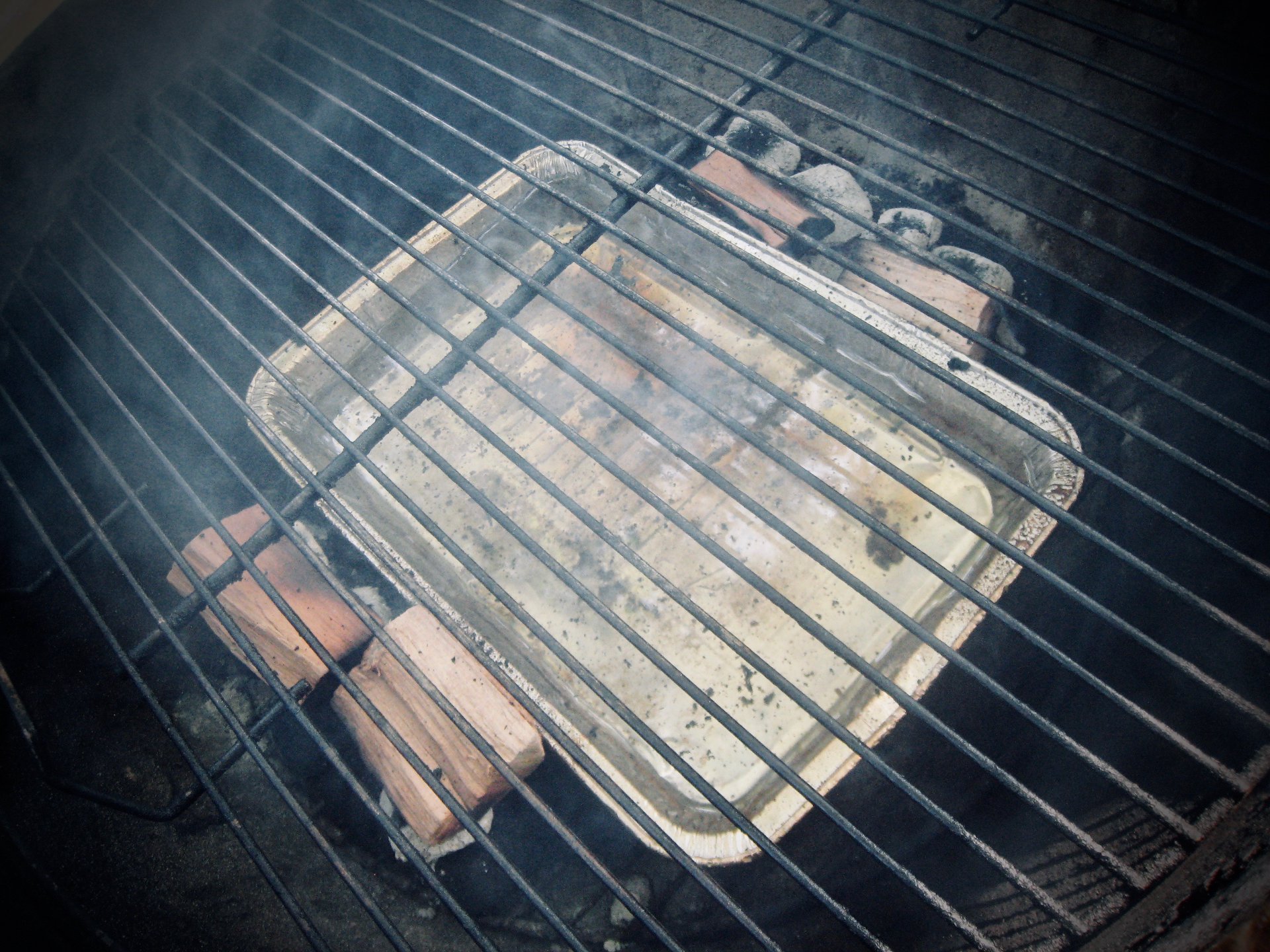 Here's how the Weber Kettle is set up for water smoking. The drip pan is about 3/4ths full of water. There are ten unlit briquettes, four live coals and two chunks of wood (cherry, in this case) on each side of the pan. One bottom vent is full open. One is completely closed, and the other is about halfway open. The top vent is full open. This creates lots of smoke and keeps the temperature steady at about 225 °F.
After four hours of smoking, the internal temperature of the brisket registered 137 °F. I wrapped it in aluminum foil and put it in the refrigerator.
Thinking of sides for the meal, latkes were a natural, but since Claudia's family is Lithuanian, and I already had a decent recipe, I decided to substitute Kugela. So I cooked 12 ounces of bacon in a foil pan on the Weber Genesis to have it ready. I also saved the grease.
Come Sunday Morning, I placed the brisket on a rack in our Nesco roaster with a couple of bottles of Schlitz in the bottom of the pan, and set it to 250 °F for steaming. The center temperature registered 207 °F in just a couple hours, so I turned the roaster down to keep the cut warm until time to serve.
With the brisket in the roaster, I got busy peeling 5 pounds of red potatoes. I grated those in batches in the food processor, putting them in a bowl of water to keep them from turning brown.
After that I sautéed some grated onions in a bit of the bacon fat, then put the potatoes in a colander and pressed out the water with a plate before adding them to a bowl with the onions and crumbled bacon. Then I beat 6 eggs, and added them to the bowl with 1 can of Milnot, and some salt and pepper. Since the mixture was pretty wet, I added about half a cup of farina and combined it all before pouring into a greased 9 by 13 casserole. I topped it all with the remaining bacon grease. It went into a 400 °F oven for 15 minutes, then I brought the temp down to 350 and baked for another 55 minutes.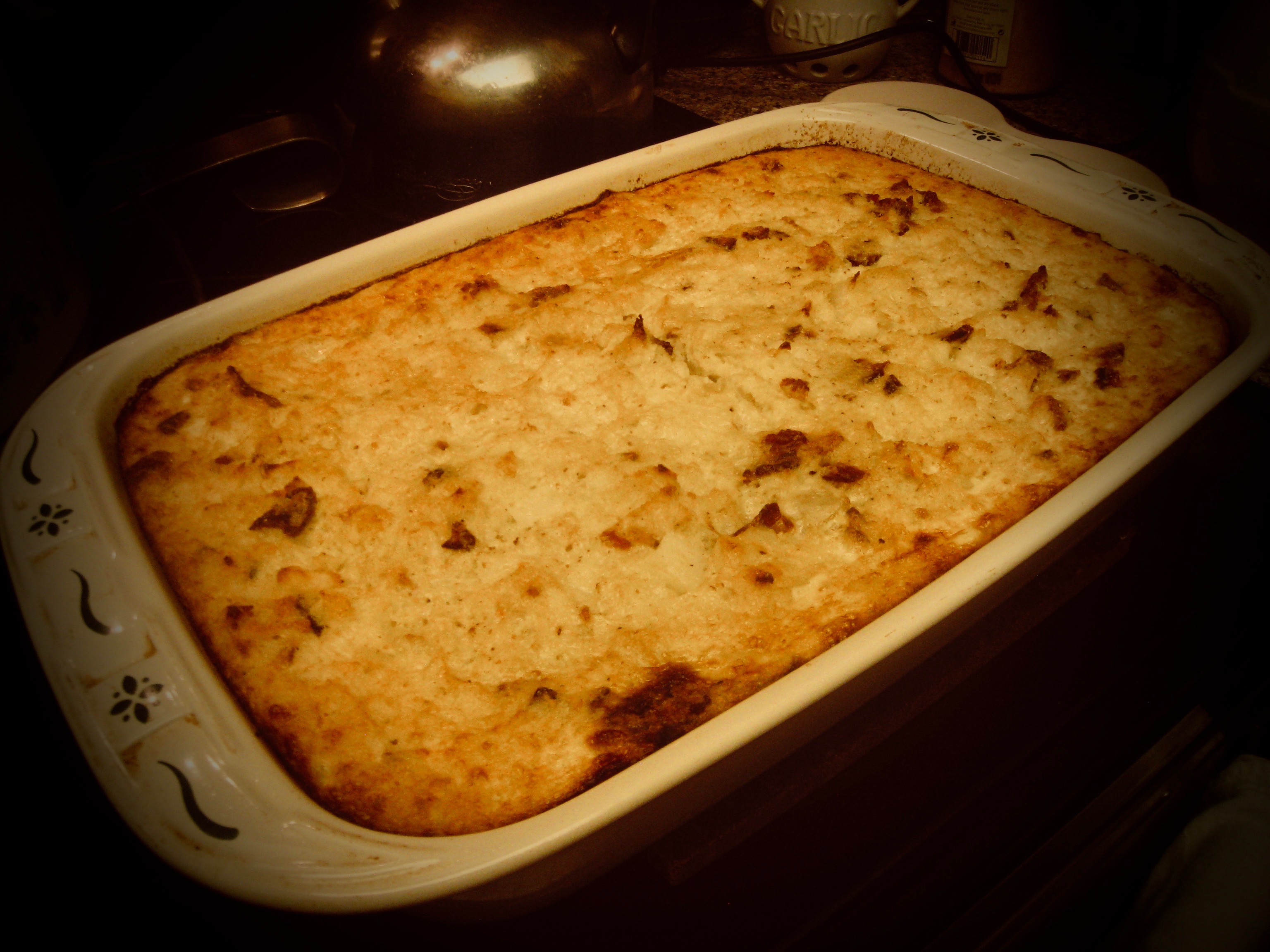 Once it was out of the oven, I sliced the Pastrami while Claudia mixed up a Wulff salad (with white wine vinegar in the dressing). She had also baked a cake earlier in the day and put together a nice trifle for dessert.
We made Reubens of the Pastrami, rye bread, sauerkraut, Swiss Cheese and Russian Dressing. Kugela topped with sour cream and Claudia's delicious salad were the perfect accompaniment. We also opened a bottle of excellent Aussie wine (a Merlot and Cabernet Sauvignon cuvée called "Road to Nowhere" from 2011).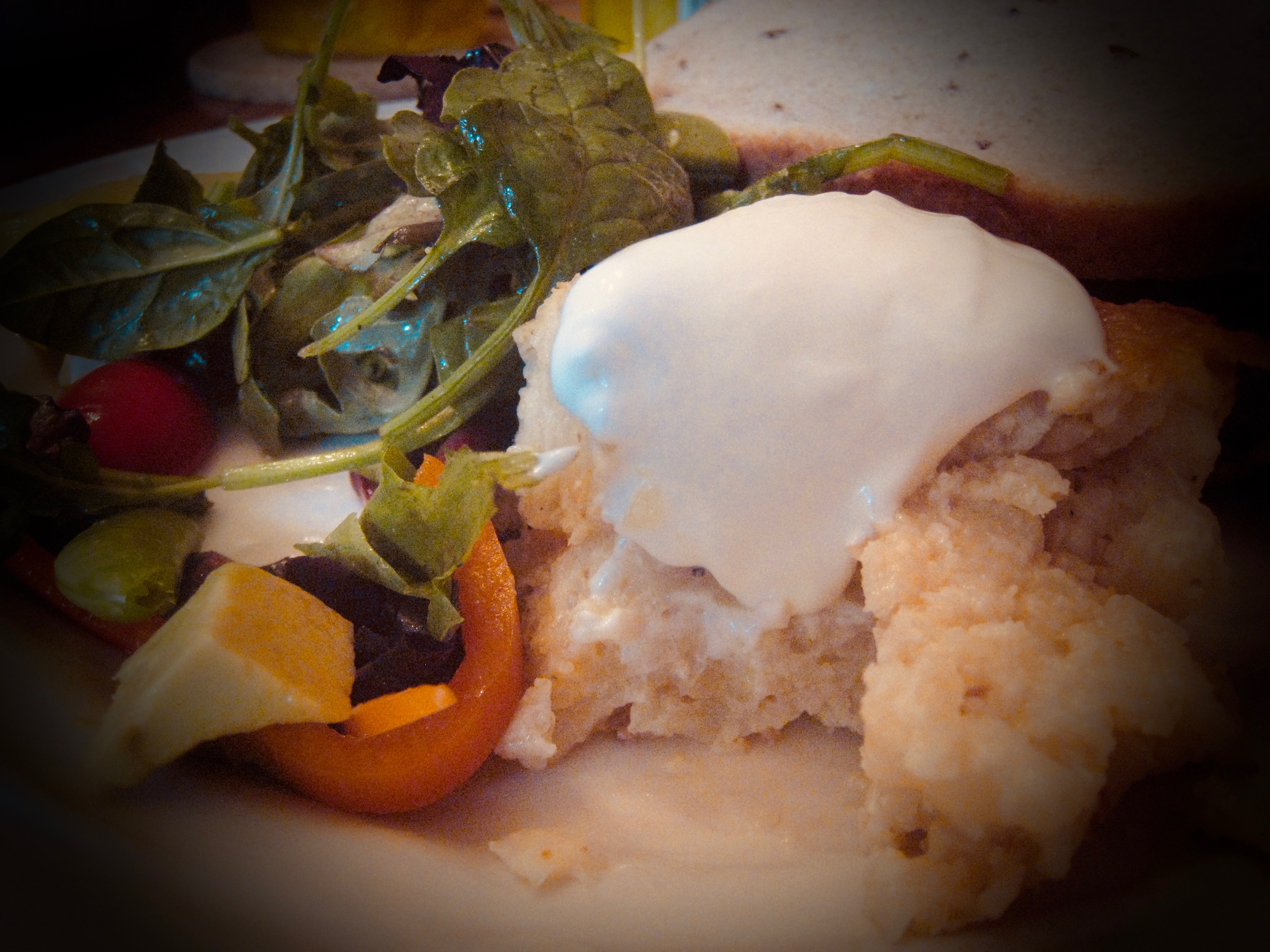 The trifle was incredible. I shook up a round of Pink Squirrels for the ladies too. 🙂
The part of this meal that had me most nervous was the Kugela, since previous attempts at it had come out a little bland to my taste. Happy to have gotten it right this time.