Sunday Dinner – 3 March 2019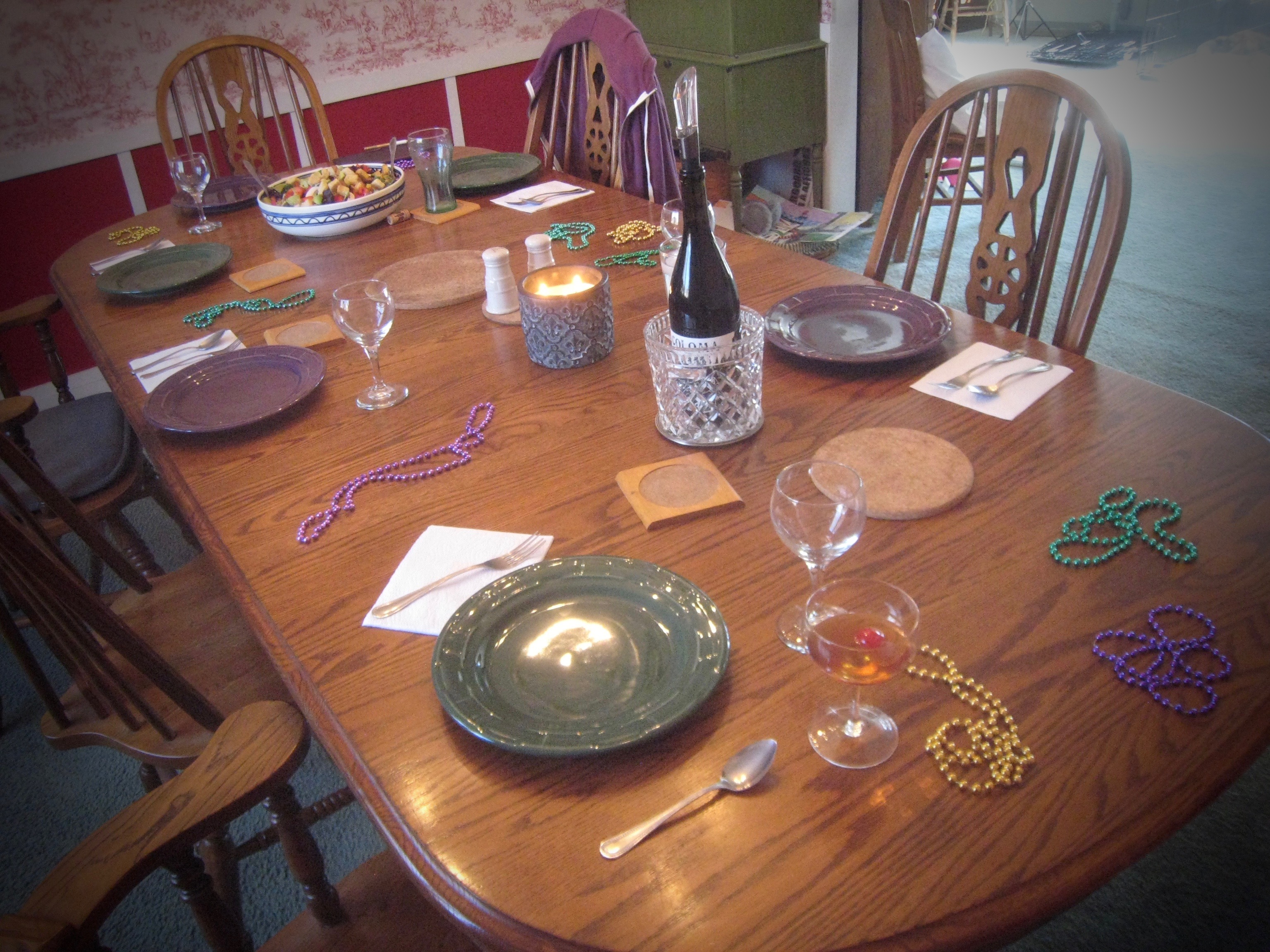 We have certain "go to" meals that we fix for specific annual events. For years now, I've fixed jambalaya and bread pudding with whiskey sauce on the last Sunday in ordinary time before Lent begins.
A friend and co-worker from my days in Mattoon brought Jambalaya to work for a potluck one time and it was soooo good I had to have the recipe. I can tell you that I've never made it with chicken. This recipe really is easy and I'm not really sure why I don't make it more often!
Jambalaya
Seasonings:
2 bay leaves
1 1/2 tsp white pepper (I cut it down to just 1)
1/4 tsp sage
1 1/2 tsp salt
1/2 tsp black pepper
1 tsp thyme
1/8 to 1/4 tsp cayenne pepper
Vegetables:
1 C chopped onion (I just chop up a whole onion…it's probably more than a cup)
1/2 C chopped celery (again, I probably double that)
1 bell pepper, chopped (you can really use any color…I think I prefer the flavor of the green in this)
3 cloves garlic, minced (or more to taste)
Meat:
1/2 lb smoked sausage (I just used a 12 oz package)
1/2 lb shrimp or chicken (I always use shrimp, and always use then entire 1 lb bag)
Other: 
1/2 C tomato sauce (the cans I get are 8 oz so I just use the whole can)
2 1/2 C vegetable broth (you could use chicken stock if you're using chicken instead of shrimp)
1 1/2 C uncooked long grain rice (I usually use a brown rice, but I had a lot of jasmine in the pantry)
2 Tblsp olive oil
Instructions:
Mix seasonings together in a small bowl and set aside
Chop vegetables and set aside
If making with chicken or raw smoked sausage, brown meat in 2 Tblsp olive oil
Add chopped vegetables and cook about 5 minutes til soft (if not using raw meat, I just start at this step)
Stir in tomato sauce, broth, rice and seasonings.
Bring to a boil and simmer until liquid is absorbed (don't lift the lid), about 45 minutes to an hour.
I add the shrimp at the very end since I'm afraid of raw shrimp and buy the precooked
Alternatively, after bringing to a boil, pour the mixture into a greased 13 x 9, cover with foil, and back @ 350 degrees for about an hour, until liquid is absorbed.
In addition to the jambalaya Brian baked a  bread boule, and it wouldn't be Sunday dinner at the Noe household without a green salad. This week I decided to make Penzey's Green Goddess dressing to help balance out the seasonings from the main dish.
I stumbled on this recipe from Emeril Lagasse for bread pudding with whisky sauce and it is ah-maz-ing! I do alter it slightly, though. The first time I made it I read the the cinnamon as TABLESPOONS instead of TEASPOONS, only realizing it later when I decided to write it down on a recipe card. But you know what, it's really, really good with that much cinnamon in it, so I make it that way all the time now. I also put in 1 cup of raisins…half a cup just doesn't seem like enough.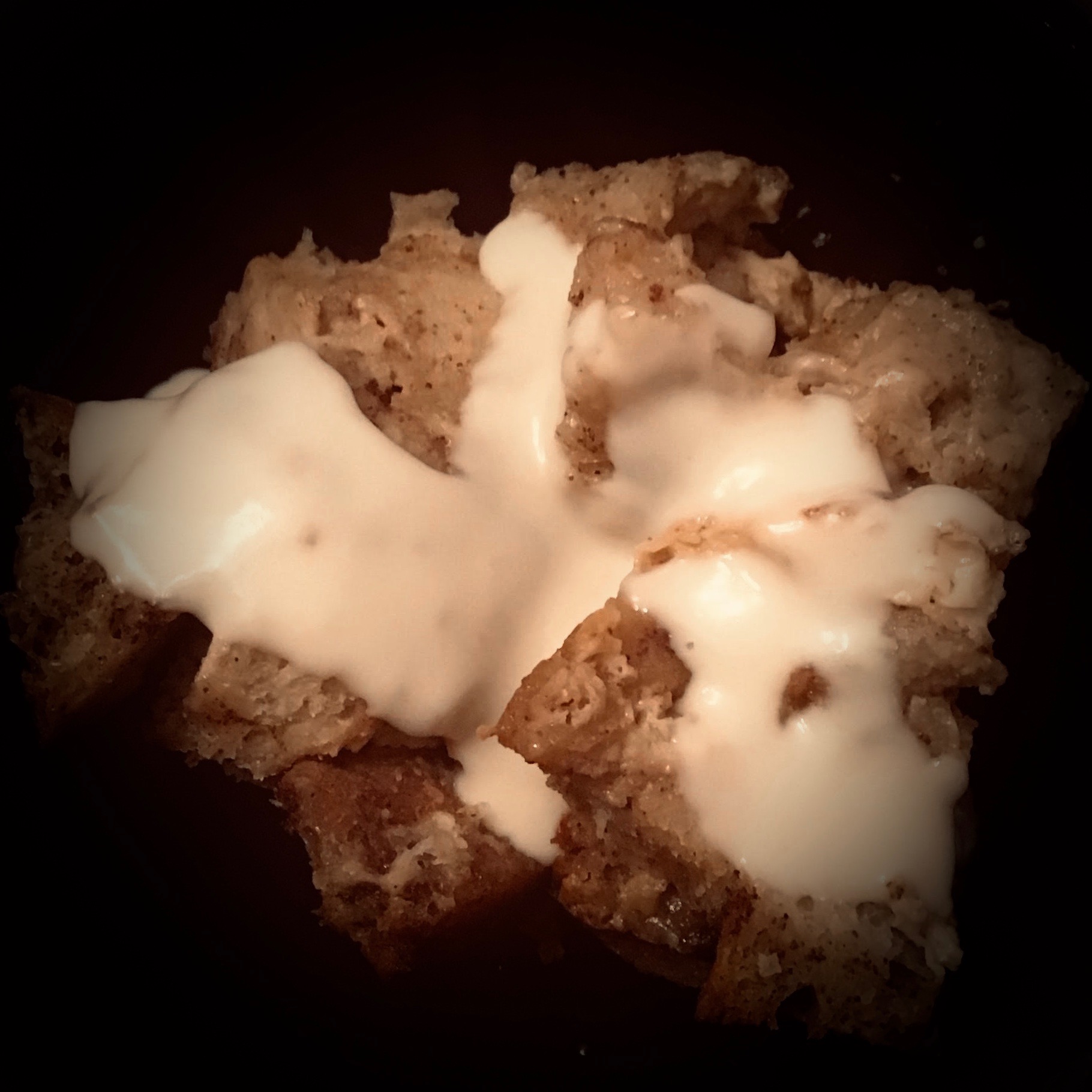 The meal was paired with nice Eldorado County Cuvée from 2016, the Coloma Mother Lode (55% Syrah, 35% Grenache, 10% Zin). This wine was Rhonish and delicious.
We'll see…maybe I'll make the jambalaya again some weeknight, otherwise, we'll see again next year before Lent!