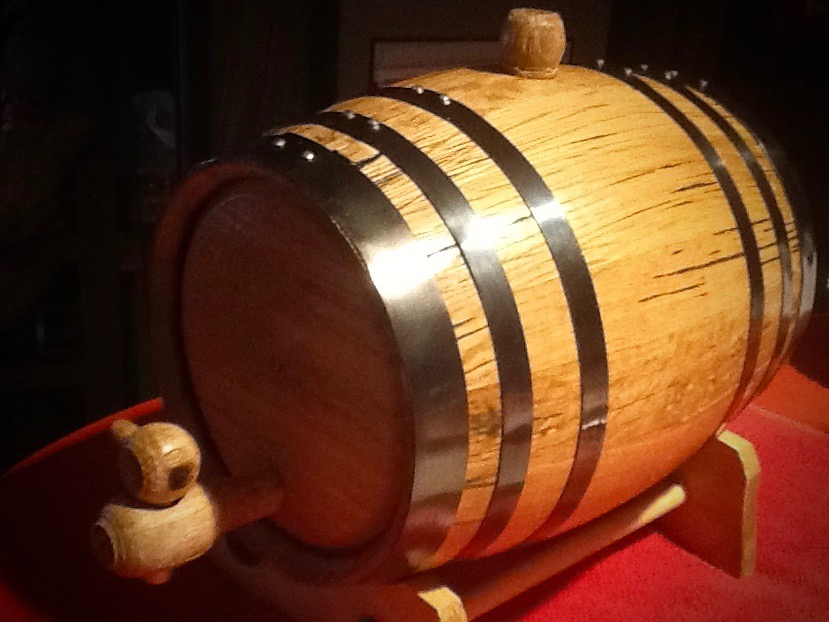 In July of 2012, I was visiting San Francisco for work. I had long wanted to meet a podcasting pal of mine, Tim Morrison (a.k.a. "Mr. Martini") from Behind the Bar Show, and he was living there at the time. So we got together on a Wednesday evening at Heaven's Dog (which, sadly, is now closed) for a couple of cocktails, and then walked back up to the Tenderloin (I was staying at hotel just north of Market) for one more. Tim took me into a joint with walls that were filled with small casks from floor to ceiling. He explained that because of the differences in surface area, a few months in a small barrel imparts the same aging characteristics to spirits as years in a large one.
As we sipped some dark rum that had been aged in a cask made from bourbon barrel staves, Tim explained that he casks Manhattans for his annual holiday gatherings. I was intrigued.
Mrs. Noe took note when I mentioned the conversation back home, and bought me a two liter uncharred oak cask for Fathers' Day of 2015. By October, I decanted the first delicious batch of barrel aged Manhattans.
The staves eventually started to pull apart on that first cask, so I emptied it for the last time earlier this year. I'd intended to just keep it for decoration, and began to research bottle aging oak strips, but while at Amazon added a cask from Golden Oak Barrel to my wishlist on a whim. Lo and behold, it was one of my Fathers' Day gifts this year.
After rinsing the new cask, adding the spigot and curing it with water, I added nearly two fifths of Old Overholt Rye, 400 ml of Sweet Vermouth, and 200 ml of Orange Curaçao. This final ingredient helps to transform the Manhattan into a very tasty variant called the Fourth Regiment. I wait until tapping to add Angostura Bitters, Orange Bitters and Celery Bitters to the cocktail.
Since the new cask has a medium char, I'm anxious to find out how this batch will taste. According to the Golden Oak website, this barrel ought to last decades instead of years. Fingers crossed on that count.
If you're interested in learning more about home casking, the folks at Golden Oak have put together a wonderful guide, complete with some recipes, that you can download here. They also have an informative series of videos on their YouTube Channel. Cheers!