Sunday Dinner – 23 December 2018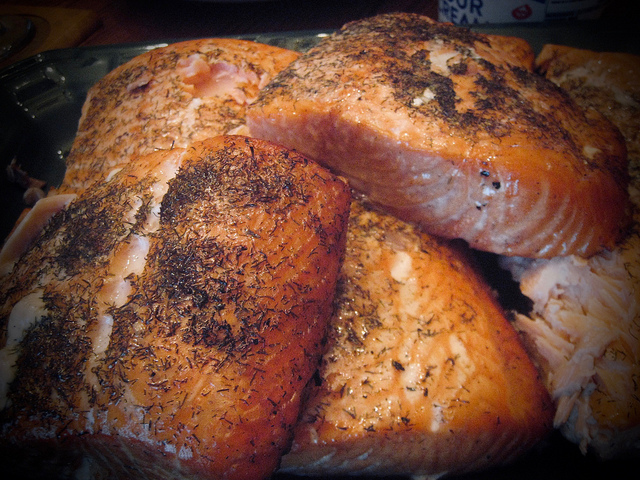 It was Alder Planked Salmon (and near disaster) this week.
We love salmon cooked on the grill, and alder wood is our favorite smoke flavoring for it. We've had good luck in the past cooking fish on cedar planks, so we decided to try alder planks this time. I soaked four planks in water for a couple hours before beginning to cook. Here's how they looked on the Weber Genesis.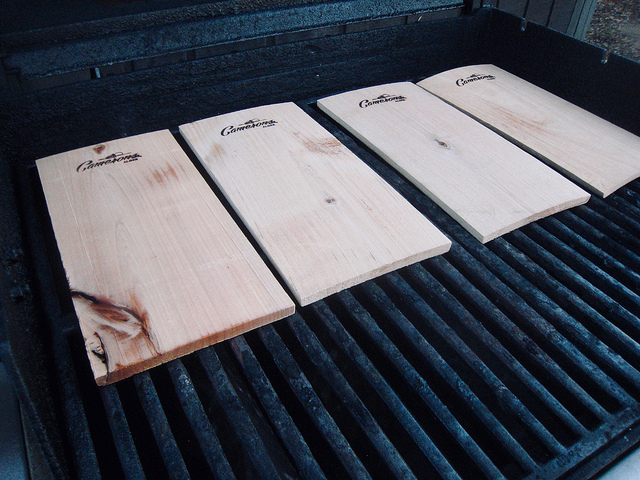 The process for the plank grilling is to char the planks on one side, flip them over, and then cook the fish on the charred side. The planks didn't get very charred in the first few minutes, so I turned up the burners to high. That was my first mistake. The second mistake was to leave them unattended for four minutes.
When I went back to check them and opened the hood, there was a backdraft and a huge flameup that singed the hair off my left forearm. I was lucky that it didn't catch my clothes (or rather longish hair) on fire. When the flames died down, the planks were nearly cinders.
Improvising, I scooped the mess toward the back of the grill, turned the burners to low, and closed the hood. I had four remaining planks that hadn't been soaked, and decided to risk using them to cook the salmon steaks on over very low heat. I watched them closely, peeking under the hood every two minutes. Fortune was with us, and they turned out delicious, despite more than a "kiss of smoke."
We'd grilled some asparagus and baked some potatoes on the Genesis earlier, and they were waiting in a warm oven while I finished the fish. Claudia also made a nice salad, and we served it with a simple creamy garlic dressing. That's always Grampy's favorite that he asks for when dining out. We found the old recipe from the Blue Mill restaurant in Decatur, Illinois online and decided to try it out.
1 qt Mayonaise
3/4 oz Lemon Juice
4 t Worcestershire Sauce
1.2 oz Grated Parmigiana
1 1/4 t Garlic Powder
1/4 c Water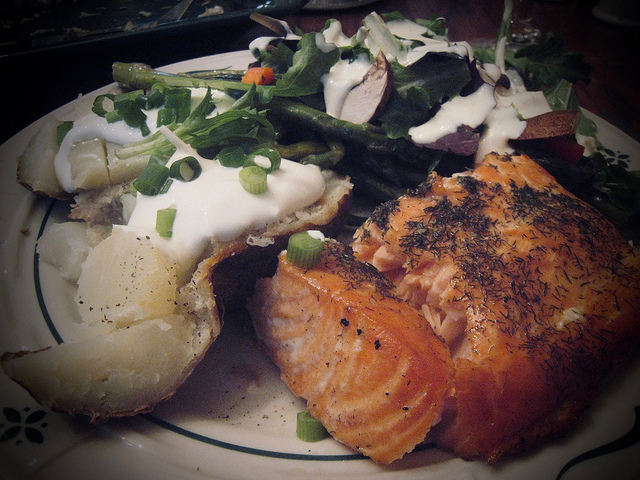 Wines were a 2016 Marchesi Sauvignon Blanc and a 2017 Jacqueline Bahue.